Kudos Diapers Review
This post may contain affiliate links. As an Amazon Associate, I earn from qualifying purchases. Please read my disclosure.
In this Kudos Diapers Review I take an honest look at this eco friendly, organic disposable diaper brand – answering all of your questions, providing you with the pros and cons, and helping you think through whether Kudos Diapers is right for your baby!
For new parents around the world, choosing the right diaper brand can be a challenging decision. With so many companies claiming to have the best disposable cotton diapers or the best eco diapers on the market, it's hard to know who to believe or how to pick the right diapers for their babies.
Sound familiar? As a diaper industry veteran (with years of experience in the busy parent department), I can relate. After testing diaper brands and extensive research, I have finally found the holy grail. Now, allow me to introduce you to my favorite diaper brand of all time: Kudos Diapers.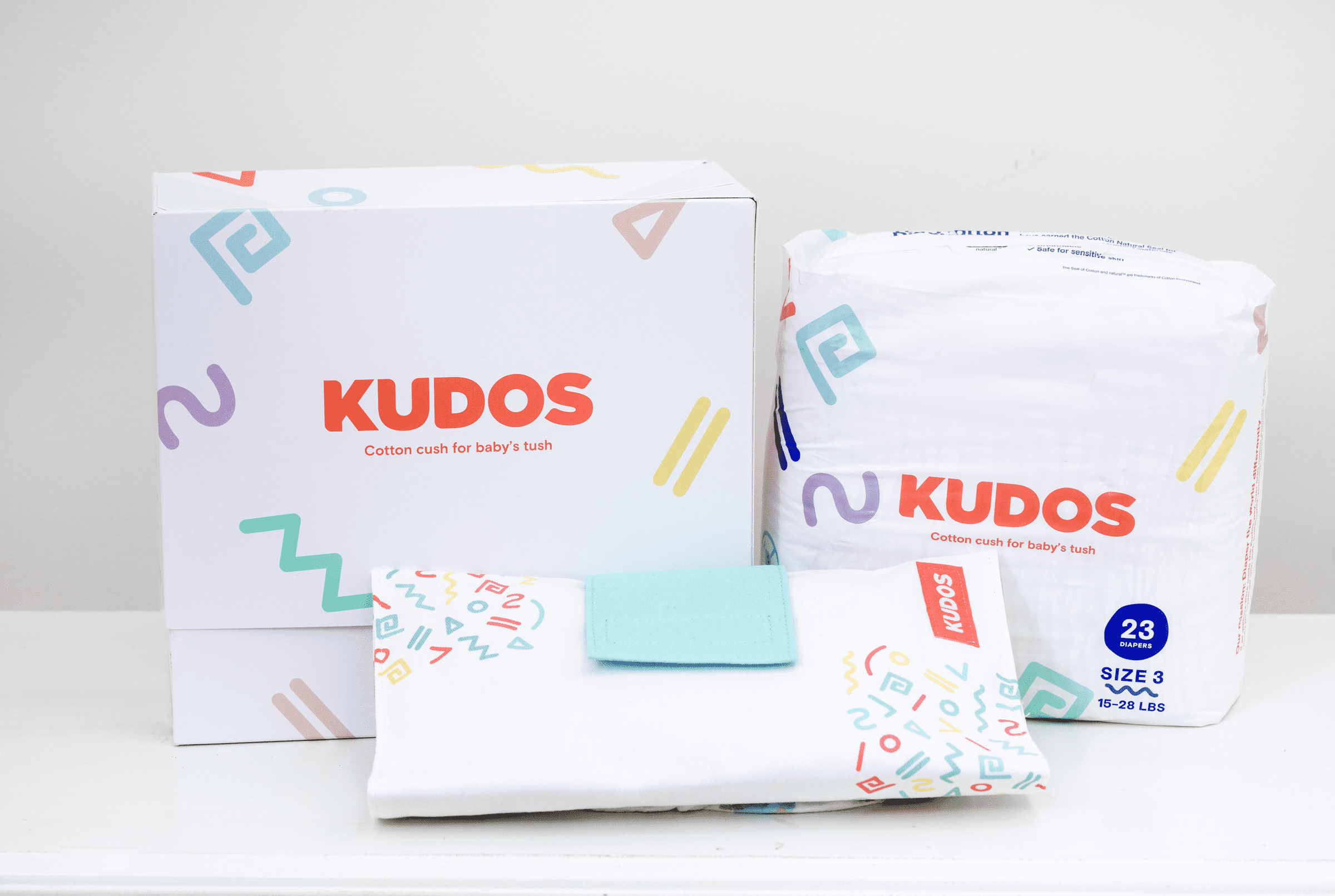 What Are Kudos Diapers?
If you're not already aware, the diaper startup Kudos Diapers have quickly taken the disposable diaper world by storm. They are the brainchild of CEO Amrita Saigal, an MIT alum who successfully created the very first and only disposable diaper that allows your baby's bum to touch only 100% soft, sustainable, sensitive-skin-loving cotton (instead of plastic).
Not only that, but Kudos Diapers are also made with 4x more plant-based materials than traditional disposable diapers. Their patent-pending DoubleDry™ technology (more on that later) boasts not one, but two absorption layers.
For these reasons and many more, Kudos Diapers were awarded the 2021 Hygienix Innovation Award (aka the personal hygiene industry's top award) and were deemed the #1 safest diaper on the market on Irinia Webb's website, I Read Labels For You.
What Are The Materials In Kudos Diapers?
As parents, we all want to make sure that we're feeding, bathing, and clothing our babies in nothing but the best that our price point will allow. When it comes to choosing the right diapers for your baby, it's important to know which materials are being used. You can think of the anatomy of a Kudos diaper like an onion with six distinct layers:
Top sheet. The outer layer of a Kudos diaper is a top sheet (aka the part that touches your baby's bum) and is made from 100% cotton. Many mainstream diaper brands make their top sheets with a plastic layer that is engineered to feel soft. However, because cotton is naturally soft, Kudos' top sheets are even softer and free from harmful ingredients and phthalates.
Acquisition/distribution layer (ADL). The second layer is the ADL, which is a wonderful piece of innovative engineering that is terrific for moving moisture away from your baby's sensitive skin and into the absorbent core of the diaper. While traditional disposable diapers only have one layer of ADL protection, Kudos Diapers have two—both of which are made from plant-based, sustainable materials.
Absorbent core. Kudos' core is made chlorine-free from sustainably harvested trees and premium SAP (super absorbent polymer). Currently, there aren't any bio-based SAPS available right now, but when there are, the Kudos company has vowed to make the switch. I'll update the post if and when this changes.
Barrier film. The fourth layer of the Kudos diaper is a barrier film made from breathable polyethylene, which works to keep moisture inside the diaper so it doesn't feel wet to the touch.
Back sheet. This refers to the super-soft material on the outside of the diaper. Traditional disposable diapers use plastic-made back sheets that are engineered to feel soft. However, the Kudos back sheet is made from sugar cane-derived polyethylene, which is both sustainable and softer.
Additional components. The final element of the diaper consists of small, additional components that are placed towards the outside of the diaper. While they are currently made of plastic, Kudos is working on plant-based prototypes for such items.
Note: Diapers made from bamboo are trendy at the moment, which makes them a popular choice for environmentally conscious parents. However, because the process of transforming the wood-like structure of bamboo into something soft is not so great for the environment, Kudos does not use it.
What Makes Kudos Different From Other Diaper Brands?
So, what makes Kudos Diapers different from other natural cotton diapers? Well, for starters, Kudos is the first company (and still the only company) to make a disposable diaper with a top sheet made from 100% cotton. Cotton is the #1 doctor recommended material for preventing/managing diaper rash & eczema, so having only cotton touch your baby's skin is important! As I mentioned earlier, many other big brand diapers use unsustainable top sheets that are made from plastic materials (that have just been engineered to feel soft).
Plastic is derived from fossil fuels, meaning it potentially contains harmful VOCs and phthalates that are absorbed through the skin and known to disrupt the endocrine system. These chemicals and phthalates in diapers can cause diaper rash and other issues.
To avoid this, Kudos Diapers use 100% cotton that is naturally soft (not just engineered to feel like it is!), sustainable (aka carbon negative), hypoallergenic, and is the #1 doctor-recommended material for those suffering from rashes and eczema. Now that's what I call elegant sustainability!
Pros: What I Like About Kudos Diapers!
If I'm being honest, there are a lot of reasons to like Kudos Diapers! If my kids were still in diapers, these would be the ones I'd be using. Here's why:
TruCotton. The Kudos Company Diapers are made with TruCotton, which is 100% natural cotton fiber that has been carefully cleaned to unprecedented levels. (Never bleached. Never scoured.) It's made with a breakthrough dry process that uses zero water, chemicals, or process heat.
Ultra-Soft. They are the only disposable diaper where the only thing touching your baby's bottom is 100% breathable cotton. Cotton is one of the most naturally soft, sustainable materials and is a softer material than what many other brands use!
Hypoallergenic. This means Kudos Diapers are made from renewable materials and are free from anything that will irritate your baby's skin including latex, fragrance, and the traditional, harsh chemicals in disposable diapers.
Absorbent. Did you know Kudos diaper's cotton liners absorb 7x more excess moisture than other popular disposable diapers? (Because they do.)
Mother Earth. Kudos Diapers are made with 4x more plant-based components than other leading disposable diapers. Not only that, but they are OEKO-TEX Standard 100 verified to be free of the top 100 most harmful chemicals.
DoubleDry™ Tech. Kudos' team of MIT and former Pampers engineers developed their DoubleDry™ Technology with two moisture layers (instead of one like other brands), which protects your baby's bottom from problems like diaper rash.
Cons: Other Things To Consider
While it's fairly obvious that I am a big fan of this brand, this is an honest diaper review so I've got to mention the potential drawbacks. Here are some other things to consider when buying Kudos Diapers:
Tabs. The tabs on these diapers are a bit tough to peel back. (However, are tough-to-peel tabs a reason not to buy great diapers? I'll leave that up to you.)
Size. These diapers are long, but they're not very wide. For this reason, they might not fit chubbier babies as well as we would like for them to.
Price. Kudos Diapers are on the pricier side, at $0.36-$0.52 per diaper depending on how many you buy at a time.
Are Kudos Diapers Right For My Child?
When it comes to choosing the "right" diaper for your baby or toddler, most parents will find they have to compromise. Cloth diapering doesn't fit into a lot of parents' busy schedules, and natural diapers boast "non-toxic" benefits, yet they compromise in other areas (like leakiness!).
That being said, it is up to every parent to decide for themselves whether Kudos Diapers (like any diapers) are going to be the right fit for their family. While I can't make that decision for you, I can say that Kudos are the only disposable diapers to have earned the cotton natural™ seal from Cotton Inc. for enabling baby skin to touch 100% cotton all day, which was something I personally valued for my little ones.
If you value an environmentally friendly diaper that's nontoxic, hypoallergenic, and about as all-natural as a diaper can be, then Kudos could be a good fit for your child!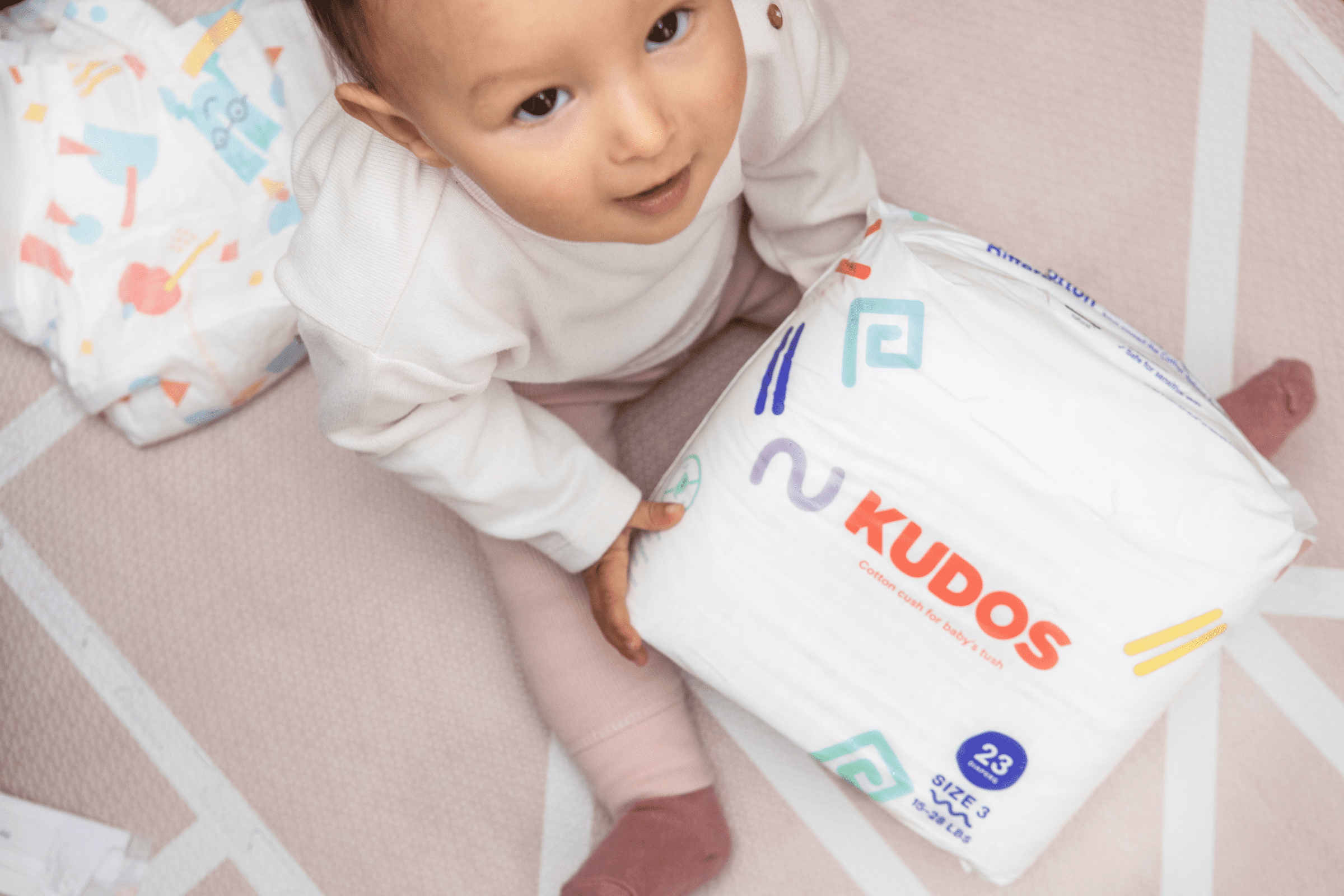 How Does The Kudos Subscription Work?
Are you interested in testing the Kudos waters? Wondering how the Kudos subscription works? Don't worry, it's simple. For just $78/month, you can have a monthly box (126 to 216 diapers) delivered right to your doorstep. This can be great for busy parents since you never have to think about ordering that next box of diapers, and you'll never end up in a situation when you don't have enough diapers!
Note that the exact number of diapers you receive depends on your baby's growth, as the more your baby grows, the fewer diapers they will need each day. Ready to get started? Pay a visit to their website to make either a one-time purchase or sign up for their monthly subscription.
Kudos Diapers FAQs
Here are the answers to some of the most frequently asked questions about these disposable baby diapers:
Are Kudos Diapers biodegradable or compostable?
As one of the leading eco-friendly diaper brands, you'd think that Kudos Diapers would be both biodegradable and compostable, right? Spoiler alert: no disposable diaper — even the "natural ones" — is 100% compostable.

It is true that Kudos Diapers are made from more plant-based materials than any other disposable diaper brand, but they still aren't fully biodegradable. For that reason, you should toss them in the trash when you're finished with them. That being said, Kudos did say they are exploring partnerships with industrial companies to break down the un-compostable parts of their diaper. So, stay tuned!
How much do Kudos Diapers cost?
The cost of Kudos Diapers changes depending on which purchase option you choose and the diaper quantity you need. A monthly subscription costs $78/month, which equates to about $0.36/diaper. A one-time purchase of a monthly box costs $88 or $0.41/diaper. Alternatively, you can purchase a half-month box for $45 ($0.42/diaper) or a sample supply for $14 ($0.52/diaper).
What is DoubleDry™ tech?
I think DoubleDry™ tech is one of Kudos Diapers' coolest features. In a nutshell, it is their patent-pending absorbent technology that boasts two absorption layers instead of only one (which is what most disposable diapers have). Its goal is to funnel moisture away from babies' bums as quickly as possible, leaving them comfy, dry, and leak-free.
Can I use Kudos Diapers overnight?
Yes! Natural cotton lets your baby's bottom breathe, making them ideal for 24/7 wear. And because the DoubleDry™ tech keeps moisture at bay, they are capable of lasting a full 12 hours. It's important to note that some customers reported that their little one wasn't able to get through the night in their Kudos diaper, but I think this is different for each child.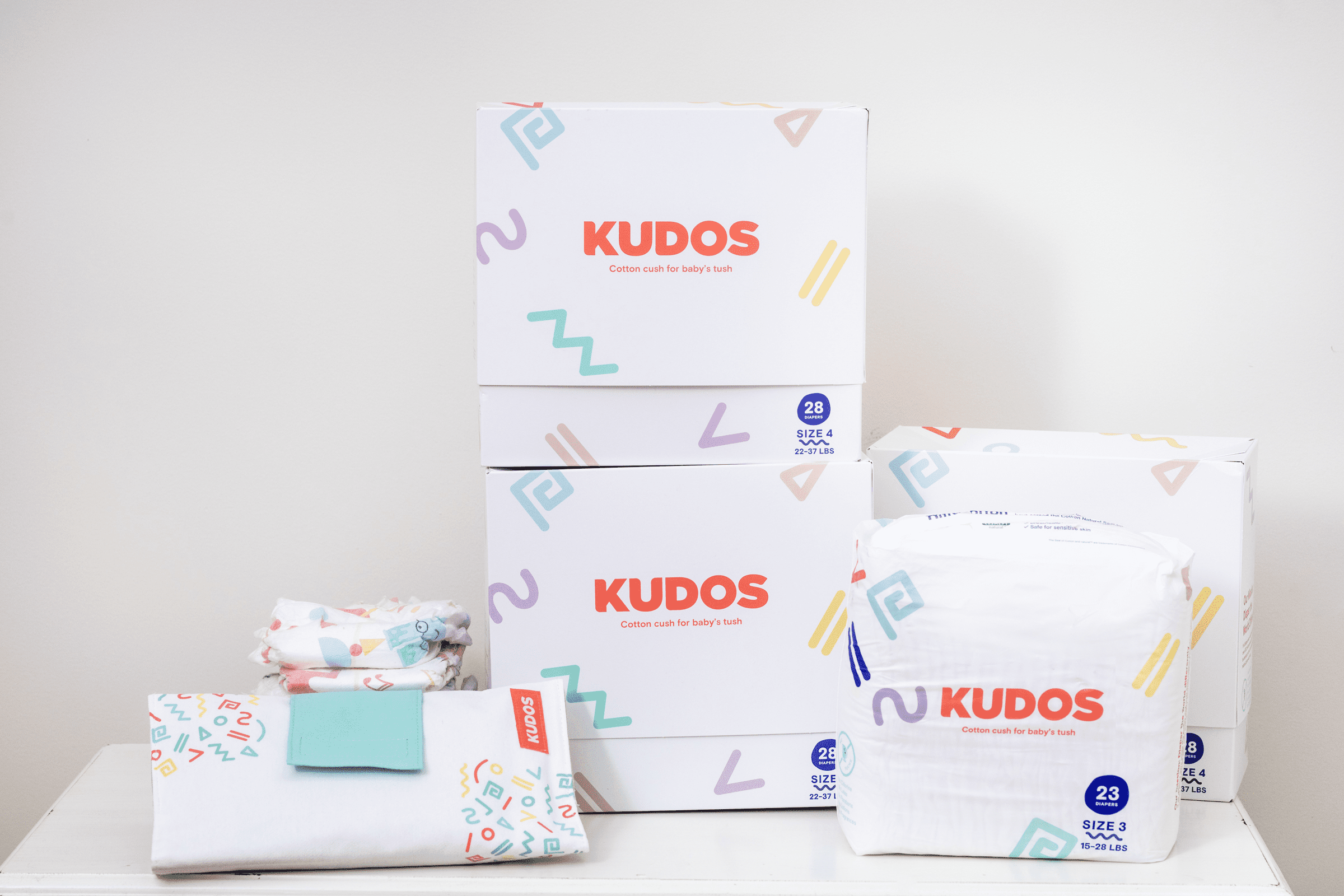 Final Thoughts
Contemplating investing in a box of Kudos Diapers? I hope this Kudos diapers review helped you to make a more informed decision. While choosing the right diaper will vary from parent to parent, Kudos is a trustworthy disposable diaper brand that is proven to keep your baby's bum dry, comfortable, and free from harmful chemicals.
So, I encourage you to try them out and let me know what you think! And of course, for more healthy baby recommendations, check out the other blog posts in my Healthy Kids series!
4 responses to "Kudos Diapers Review"