Is Nutella Vegan?
This post may contain affiliate links. As an Amazon Associate, I earn from qualifying purchases. Please read my disclosure.
Nutella is a classic silky-smooth spread known for its rich, sweet, hazelnut chocolate flavor. It's hugely popular and used in a variety of recipes. But if you're vegan, you might be wondering, "Is Nutella Vegan?" The short answer is: unfortunately not. Read on to learn more about this popular sweet spread, whether Nutella is vegan or vegetarian, key ingredients, and vegan alternatives to Nutella!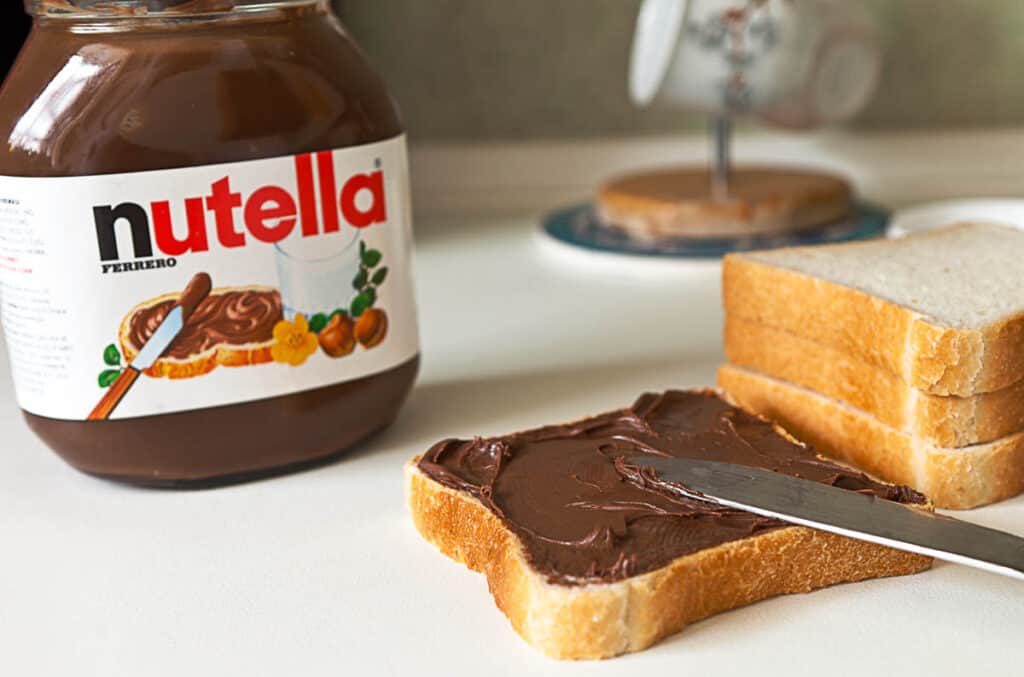 Alright, friends. Let's talk about the Nutella craze. Nutella is an easy way to jazz up breakfasts, snacks, and desserts. You can slather this hazelnut butter onto pancakes, bake it into sweet treats, or enjoy it by the spoonful. 
Now, if you're vegan, you might be wondering: is Nutella vegan friendly? Unfortunately, the answer is no. However, just because traditional Nutella doesn't accommodate vegan diets doesn't mean there aren't vegan alternatives out there. 
Today, we're doing a deep dive into the ingredients of Nutella, the best vegan versions of it, and how to make chocolate spread at home. Stay tuned to learn everything you need to know about this delicious chocolatey spread.
What Is Nutella?
Nutella was originally created back during World War II when its parent company, Ferrero, had trouble acquiring cocoa. To salvage what little cocoa powder it had, Ferrero combined their cocoa with hazelnuts and sugar. The result? An iconic, spreadable, chocolate-flavored paste that has since mesmerized sweet tooths worldwide.
What Are The Ingredients In Nutella?
Nutella has just a few ingredients, and Ferrero makes sure to put them front and center. However, while many assume the main ingredients are dark chocolate chips and roasted hazelnuts, this spread is actually mostly sugar and palm oil!
Of course, Nutella also contains skim milk powder (made by removing the water content from pasteurized non-fat milk), as well as soy lecithin (a common food additive and emulsifier) and vanillin (a flavor component naturally found in vanilla).
The official ingredients list for Nutella (as listed on the Nutella website) is: Sugar, Palm Oil, Hazelnuts (13%), Skimmed Milk Powder (8.7%), Fat-Reduced Cocoa (7.4%), Emulsifier: Lecithin (Soya), Vanillin.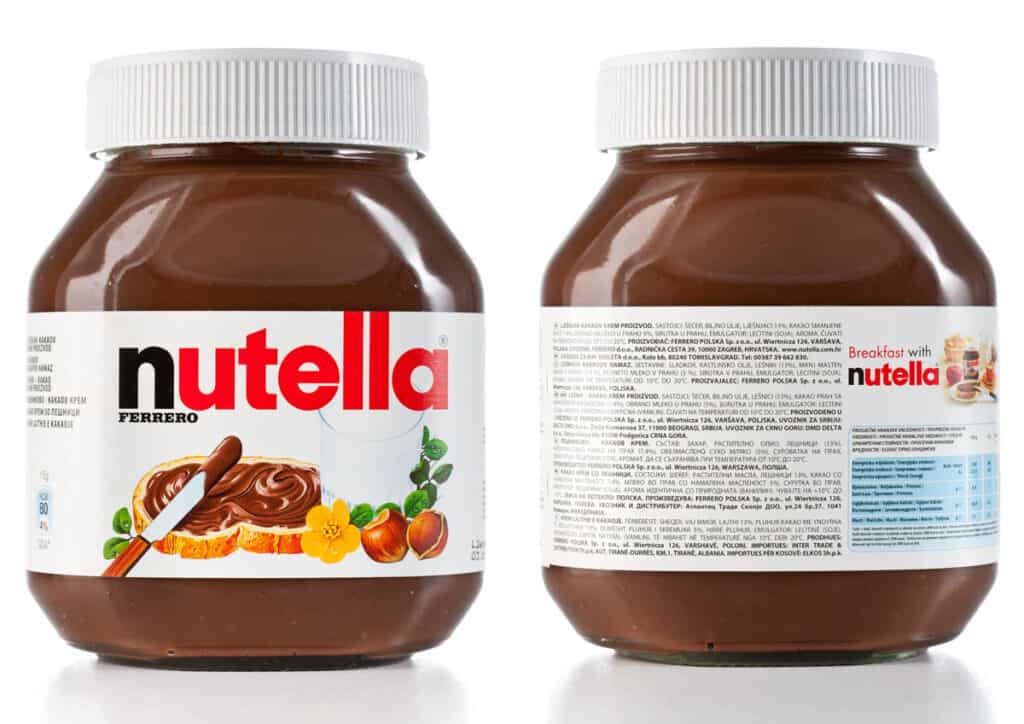 Is Nutella Vegan?
Unfortunately no! Nutella is not vegan. This is because Nutella contains non-vegan ingredients like skim milk, which makes this creamy spread not vegan or dairy free. Additionally, the sugar in Nutella is likely processed using bone char, which is not vegan. However, there are plenty of vegan-friendly spreads out there, as I'll explain in just a few moments. 
Is Nutella Vegetarian?
Is Nutella vegetarian friendly? Technically, because the sugar in Nutella is not organic cane sugar, which means it's likely processed using bone char, it is not vegetarian. However, depending on how strict of a vegetarian you are, this may not be an issue for you. Nutella doesn't contain meat, so if sugar potentially processed with bone char doesn't bother you, then it can be suitable for vegetarians.
What Is A Vegan Diet?
The vegan diet is entirely plant-based, meaning all animal products and all animal-derived ingredients are off-limits. While meat, cheese, and milk are obvious exclusions, eggs and honey are also prohibited. 
What Is A Vegetarian Diet?
While a vegan diet excludes all meat and animal products, a vegetarian diet simply excludes meat, poultry, fish, and seafood. It's important to note that there are some variations to this, and some vegetarians choose to eat or exclude dairy or eggs. For example, ovo-lacto vegetarians eat dairy and eggs but exclude meat, poultry, seafood, and fish. 
Is Nutella Healthy?
Now, the million-dollar question: is Nutella healthy? Unfortunately, no, it is not healthy!
While Ferrero does advertise Nutella as using sustainable ingredients, sugar is the primary one. A single serving of Nutella is high in sugar, calories, and fat content. And although Nutella does contain trace amounts of iron and calcium, they aren't enough for it to be deemed a 'healthy cocoa spread.'
One serving of Nutella (which is 2 tablespoons) has 200 calories and 20 grams of sugar! that's almost as much as a full sized Snickers bar!
Think of it in the same way you would a chocolate spread or chocolate syrup – a once-in-a-while treat to enjoy in moderation.
Is There A Healthy Version of Nutella?
Yes! If you're looking for a healthier version of Nutella, you're in luck. There are plenty of low-calorie chocolate spreads that you can find at your local grocery store. You can also learn how to make healthy Nutella or even white Nutella (like this white chocolate hazelnut spread) at home. See below for a recipe idea!
What Are The Best Vegan Alternatives For Nutella?
On the hunt for a dairy-free Nutella? Or perhaps an organic Nutella version? Don't worry, I've compiled the best alternatives for Nutella down below. If you were wondering "is Nutella dairy free" and were dismayed to learn the answer, don't worry – there are many other options for you to try!
Nut Butters
Store bought or homemade nut butters (like peanut butter, almond butter, sunflower butter, cashew butter, etc.) are terrific alternatives to Nutella. Nut butters have way less sugar than regular Nutella and are full of protein.
While the taste is nuttier, the texture and consistency are similar. You can also always mix nut butters with a few melted chocolate chips for that chocolate hazelnut feel.
Homemade Nutella
You can easily make your own vegan chocolate spread for a vegan friendly alternative to Nutella! This homemade vegan Nutella recipe is super easy to make, is healthier than traditional Nutella, is suitable for a plant-based diet, and is ready in just 30 minutes! All you need to do is throw your ingredients into a high speed blender or food processor, and blend until smooth.
The Best Vegan Nutella Brands
If you don't have time to make your own Nutella at home, you might be wondering, "What are the best vegan Nutella brands at the grocery store?"
Luckily, there are plenty of options! You can easily find an alternative to Nutella at most grocery stores – you won't have to forgo your sweet tooth to enjoy a dairy-free hazelnut spread. Many vegan chocolate hazelnut spreads give Nutella a run for its money. Here are my top picks: 
Justin's Chocolate Hazelnut and Almond Butter. Justin's Chocolate Hazelnut Butter is an easy-to-find vegan alternative. Thanks to the blend of nut butter, this vegan Nutella spread has a thick, smooth texture that differentiates it from the rest. 
TBH Chocolate Spread. TBH Nutella offers a healthier, more sustainable chocolate spread option. Not only is this non dairy Nutella alternative palm oil-free, but its packaging is entirely made of recyclable materials (making it a win-win in my book). 
Nocciolata Dairy-Free Organic Hazelnut Spread. This Italian company also makes a vegan chocolate hazelnut spread. Many reviewers claim it tastes better than store-bought Nutella, and it is USDA organic, non-GMO, kosher, and gluten-free. 
Nutiva Vegan Hazelnut Spread. This healthy chocolate spread is made with ingredients like cocoa, chia, and flax seed. Note that this vegan-friendly spread is made in a factory that also processes milk solids, so you'll have to decide where your vegan lifestyle draws the line.
Don't Go Nuts Chocolate Soybean Spread. This is one of the vegan Nutella brands that are nut-free, accommodating anyone with a nut allergy. Although this dairy free nutella alternative is not perfect, it has a similar sweetness, texture, and flavor.
Artisana Organics Hazelnut Cacao Spread. This is a popular Nutella alternative because it is super creamy and shares the same nutty flavor (of course, with a chocolatey kick). The good news is that it's made with natural ingredients. However, be aware that this dairy free hazelnut spread has a high sugar and fat content.
JEM Organic Chocolate Hazelnut Butter. This low-sugar hazelnut spread is organic, wholesome, all-natural, and gluten-free. Made with hazelnuts, coconut sugar, cacao nibs, vanilla, cacao butter, and sunflower lecithin, this organic Nutella alternative is both creamy and delicious. 
Other Dips and Spreads
Aside from nut butter, you can try plenty of chocolate-flavored spreads. Here are some of my favorite (vegetarian friendly, but non-vegan) options: 
Nocciota. This organic hazelnut spread with cocoa and milk tastes just like Nutella. It is thick and creamy and is made from roasted hazelnuts, cocoa, milk, and sugar.
Askinosie Hey, Hey Hazelnut. This spread is made with just four simple ingredients: hazelnuts, cocoa beans, sugar, and cocoa butter. The only downside is that it is more expensive than the competition.
Crema Novi. This healthy hazelnut spread has a thick, creamy texture. The brand boasts that its recipe is mostly raw hazelnuts, which gives it far more nutritional value than traditional Nutella.
How Do You Make Homemade Vegan Nutella?
If you want to create a low-calorie hazelnut spread, you can easily do so at home. My favorite healthy Nutella recipe is made with raw hazelnuts, dark chocolate or cacao powder, a little coconut oil, almond milk, vanilla extract, and sea salt, and is naturally sweetened with maple syrup. 
My easy vegan Nutella recipe involves roasting your hazelnuts on a baking sheet, blending them in a food processor or high-speed blender, then adding in the remaining ingredients.
The result is a crave-worthy, homemade Nutella recipe that your whole family will love. If you're on the hunt for the best homemade vegan Nutella, I highly recommend giving this low-sugar Nutella recipe a try.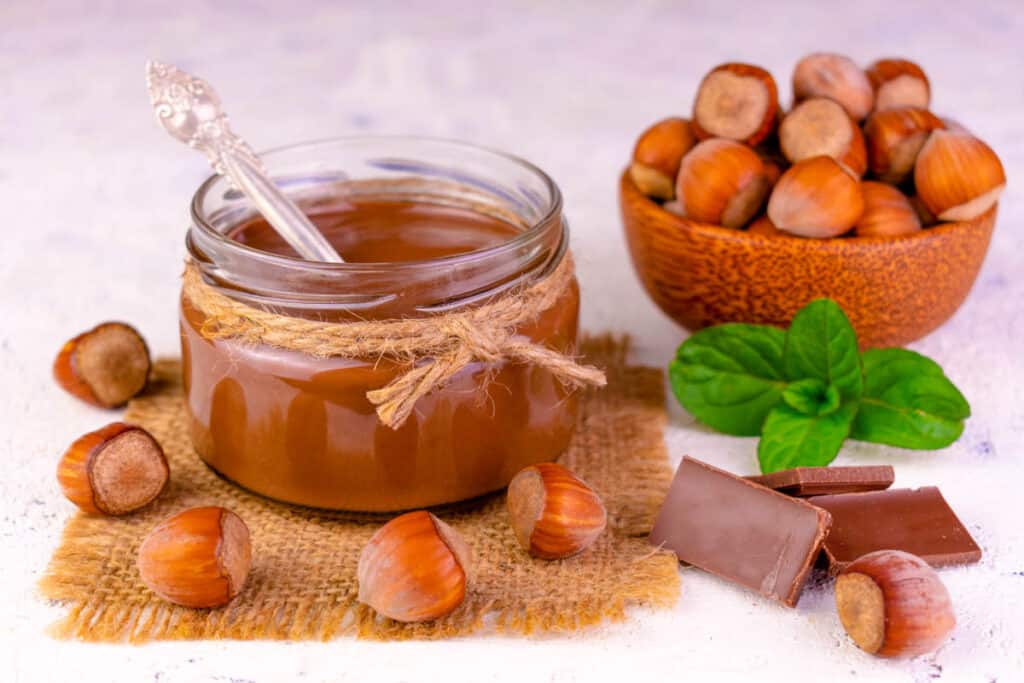 What Are The Best Snacks To Eat With Nutella?
So, what are the best healthy Nutella snacks? Lucky for us, there are plenty of delicious options to choose from. Nutella (or other healthy Nutella recipes) can be enjoyed for breakfast, dessert, or as an afternoon snack. If you need some inspiration, here are some healthy Nutella snacks ideas to get you started: 
Nutella Toast
For a dessert-like breakfast toast, slather some hazelnut chocolate spread on your favorite toast and top with berries, nuts or both. For a healthier option, opt for whole wheat bread and a low-fat Nutella alternative, or my homemade recipe for vegan nutella. 
Nutella With Pretzels
I don't know about you, but I find chocolate and pretzels to be an irresistible flavor combination. This sweet and savory flavor pairing is perfect for an afternoon snack or post-dinner dessert.
Dessert Pizza
Why not jazz up your dessert rotation with this Nutella Pizza recipe? This subtly cinnamon dough is topped with fresh banana slices, flavors of chocolate, hazelnuts, and shredded coconut. It's an easy-to-make, irresistibly sweet, and kid-friendly finisher to any dinner.
Nutella Donut Acorns
These playful and fun Nutella donut acorns come together in just 15 minutes. Essentially, they are decadent donut holes covered with chocolate sprinkles, pretzels, and Nutella (aka one of my favorite after-dinner indulgences). 
Other Ideas
You can also add Nutella to a variety of breakfast and dessert recipes like drizzled over this chocolate almond milk pudding, or on top of this breakfast fruit salad, or over this caramel nice cream!
Nutella FAQs
Below are the answers to some of the most frequently asked questions about this delicious chocolate spread:
Is Nutella lactose free?
Unfortunately, no. Nutella is not lactose free and is not suitable for dairy-free diets. Nutella gets its creaminess from skim milk, which is derived from cow's milk.
Is Nutella gluten-free?
Yes! Nutella is gluten free. It does not contain any ingredients that are derived from wheat, barley, rye, or oats. It is also kosher and peanut-free.
Is homemade Nutella healthy?
The answer is – yes, it can be healthy, and it's much healthier than store-bought!

Store-bought Nutella has a high sugar and fat content, which makes it more of an occasional dessert than a healthy treat. But there is such a thing as homemade healthy Nutella that you can make as a healthy alternative to Nutella.

By using natural sweeteners (pure maple syrup, agave syrup, or even monk fruit extract), you can make a healthy chocolate hazelnut spread without added sugars. Additionally, swapping in coconut milk will make your homemade Nutella dairy-free.
Is Nutella allergy friendly?
Some of the main ingredients of Nutella are hazelnuts, which are a type of tree nut and a common allergen. Nutella also contains allergens like soy lecithin and milk. Therefore, you shouldn't eat Nutella if you're allergic to tree nuts, dairy, or lactose.
Does Nutella have dairy?
Yes, Nutella does contain dairy! Since skim milk is one of the ingredients, Nutella is considered a dairy product.
Does nutella have egg?
Technically, no, Nutella does not have egg. It does have lecithin, which can be egg or soy based. The lecithin in Nutella is typically soy based, but if you have an egg allergy, you may want to avoid Nutella depending on how severe your allergy is.
More Healthy Eating Guides! 
Final Thoughts
So, is Nutella vegan? And is there a vegan Nutella? While Ferrero's classic Nutella is not suitable for vegan diets, there are plenty of plant-based alternatives you can try. So, whether you test one of the vegan versions listed above or curate your own chocolate vegan spread, I'm confident that you'll find something suitable for your palate. 
Have a favorite vegan Nutella alternative? Drop it in the comments! And if you have any questions, be sure to leave a comment below – I respond to every question I get!
Love this Eating Guide? Please leave a review in the comments section further down the page!
You can also FOLLOW ME on FACEBOOK, TWITTER, INSTAGRAM, and PINTEREST to see more delicious, healthy, family-friendly food, and if you have any questions, I'm here to help!