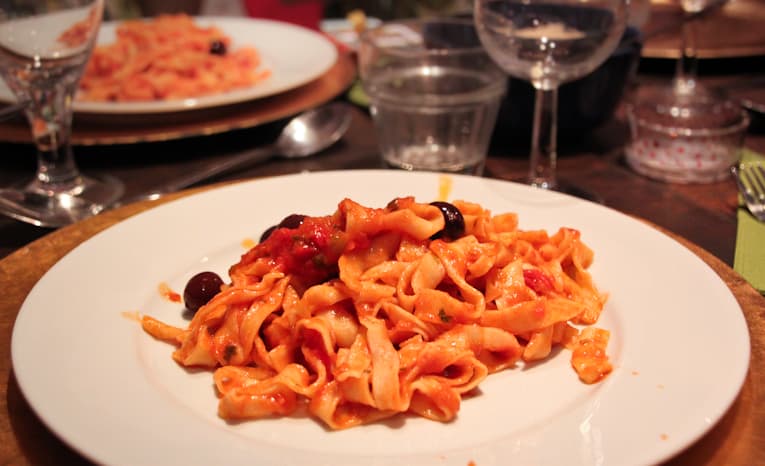 As many of you know, the husband and I recently returned from an amazing trip to Italy. One of the highlights of our trip was a day-long cooking class we took through Convivio Rome – run by a husband and wife team, Sally and Guido, in a tiny medieval town named Toffia.
We literally spent the entire day with them – from 10am-5:30pm and enjoyed every minute of it! And as a result, I came away with three delicious, authentic, healthy Italian recipes to share with all of you 🙂
So this is Part One of Cook like an Italian: Fettuccine alle Olive (or: Fettuccine made from scratch with a fresh tomato and olive sauce, served with shredded Parmigiano-Reggiano cheese)
Before I start with the recipe, I have to tell you a little bit about our cooking class experience. We took about a 45 minute train ride from Rome to a small town near Toffia, where Sally was there to greet us with a warm smile and enthusiastic welcome. On the drive to her and Guido's house, we learned a bit about the history of these medieval towns and what our day would be like. Toffia is a quaint, rustic, cozy little town that makes you feel like you are far away from the bustling city of Rome. It has gorgeous views with groves of fresh olive trees everywhere – and we couldn't resist taking a few pictures.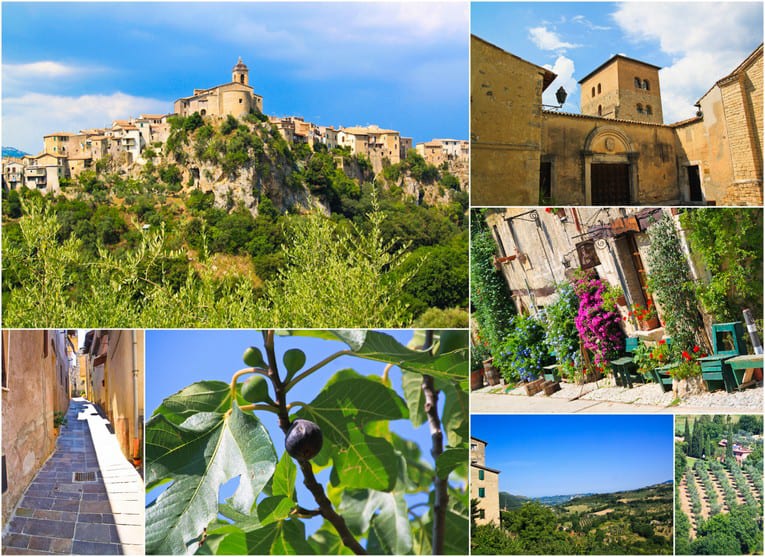 We arrived in Toffia and took a little walking tour through the town, picked fresh herbs from a nearby garden to use in our cooking (I nearly died when I smelled the fresh lemon verbena), and headed to meet Guido – our chef instructor for the day.
Our class started with making the fresh pasta from scratch – using nothing but our hands and an enormous wooden cutting board. First, we had to get all of our ingredients ready.
The Ingredients
For The Pasta: 
350g (about 1.5 cups) of flour (you can use any combo you like – we used half 00 and half 0 flour – but you can mix it up with whole wheat, semolina, etc.)
3-4 eggs
For The Sauce:
We all took turns kneading the dough because it was tiring 🙂 My turn next…
Finally when the dough is ready, it becomes super soft and a little shiny too.
Guido taught us a trick of rolling the dough around the rolling pin and spreading it out with our hands — helped to make the dough stay rolled out instead of springing back.
The dough kept growing and growing in size, getting thinner and thinner, as we rolled it out. Eventually it was almost paper thin! We really could see the cutting board through the dough.
Before we actually cooked the pasta, we started on the sauce.
And then, we started on the next two dishes on our menu – the stuffed zucchini blossoms and ricotta tart! But those two recipes are coming soon in a later post 🙂
Needless to say, we had worked up quite an appetite when we got around to eating!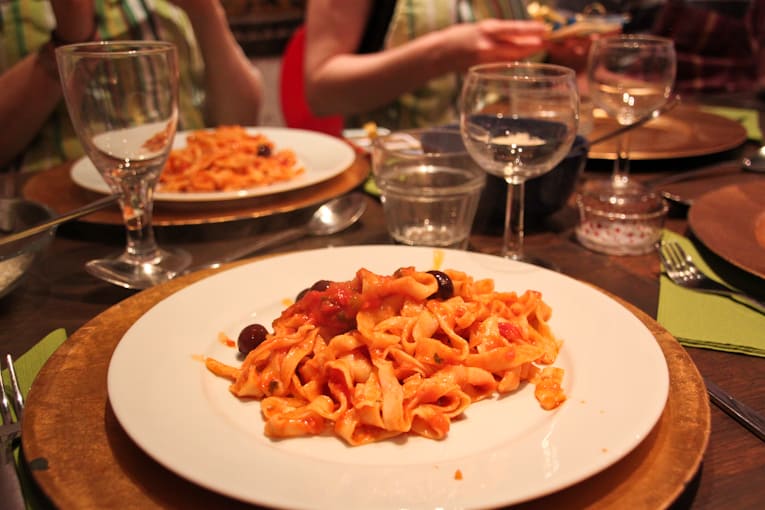 The pasta was perfectly cooked, the sauce was full of flavor, and I couldn't believe how simple this recipe was with just a few ingredients. You could really tell how fresh and high-quality the ingredients were, and it was undeniable that homemade pasta was in a different echelon of food.
It was truly slow food, hand-made, locally sourced, and felt healthy and hearty.
You can use this pasta recipe as a base for just about any additional ingredients – veggies, cheeses, etc. But sometimes it's just fun to eat the simple original version.
Don't you just want to take a bite?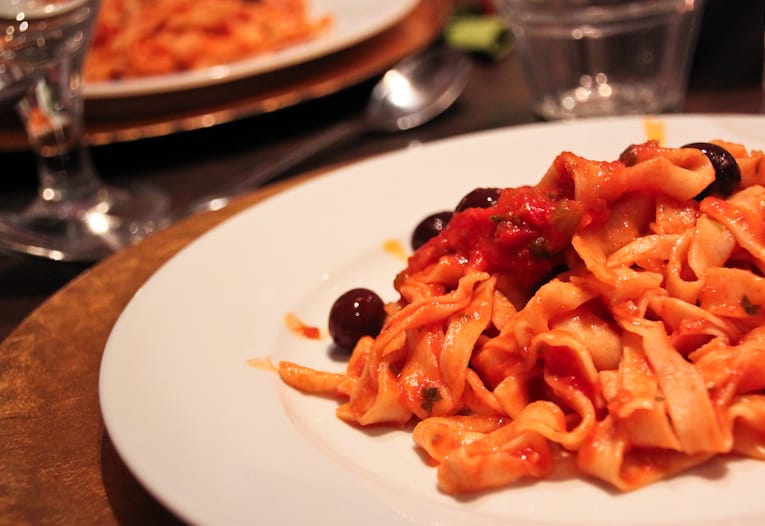 TAGS: entrees, italian recipes, kid friendly recipes, my travels, pasta, vegetarian
10 responses to "Homemade Fettuccine with a Fresh Tomato Olive Sauce"