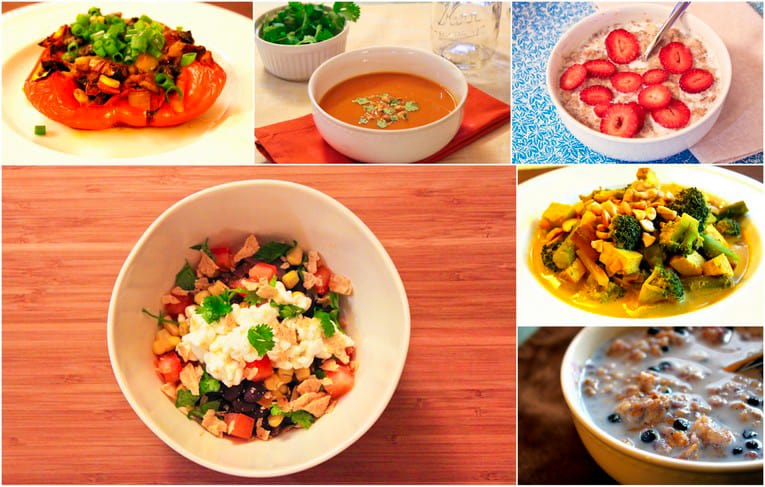 Tomorrow is the last day of February, which makes it the last day of Heart Health Awareness Month.
And in the spirit of keeping Heart Health Awareness Month alive in the coming months ahead, I thought I'd share some of my favorite heart-healthy recipes as well as a new giveaway!
These recipes are both delicious and nutritious, with ingredients that can help you to lose weight or maintain a healthy weight, lower your cholesterol, and support a healthy heart. The key themes that make these recipes heart-healthy are the fiber (soluble and insoluble fiber), flavonoids, omega 3 fats, lean proteins and vegetables.
For Breakfast:
This Perfect Bowl of Oatmeal has oats, flax seeds, walnuts and wild blueberries, and this Strawberry Shortcake Oatmeal puts a twist on the traditional recipe by mixing up the ingredients a bit.

For Lunch:
Try this Curried Sweet Potato Soup, which is light and tasty, but also quite filling.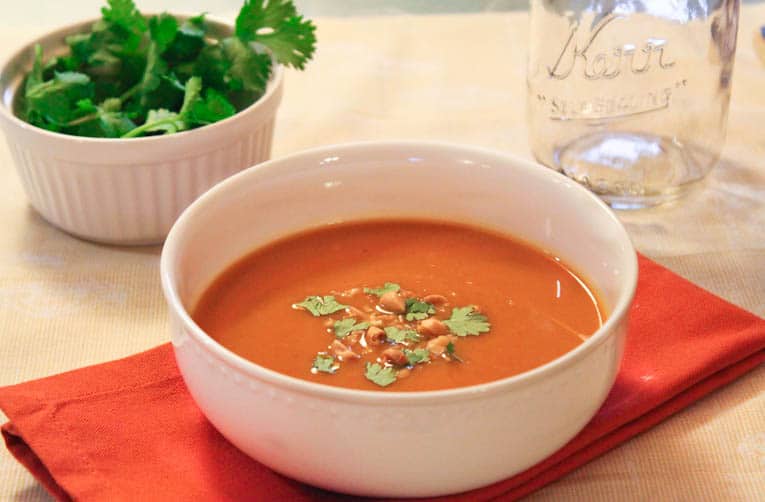 Or this Black Bean Burrito Bowl: a low fat, high fiber, hearty treat!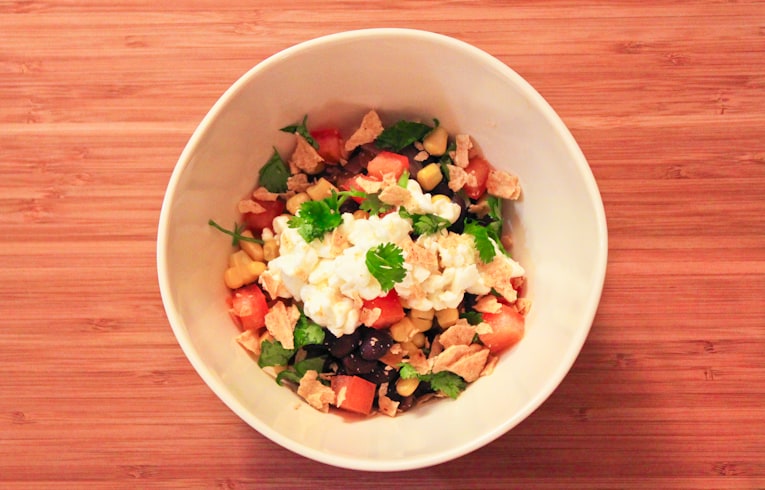 For Dinner: 
This Thai Yellow Curry is full of vegetables, tofu, and brown rice – but is still rich and creamy thanks to the light coconut milk in the sauce.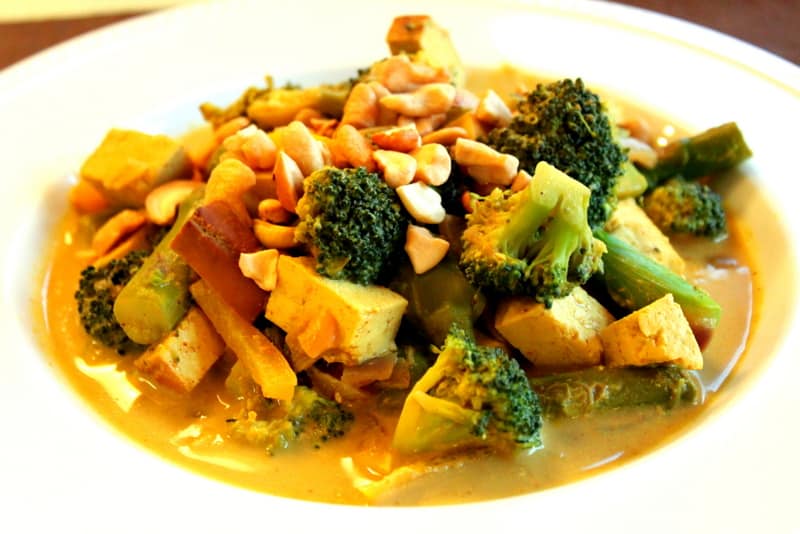 And these Black Bean Chili Stuffed Peppers are both fun to make and fun to eat!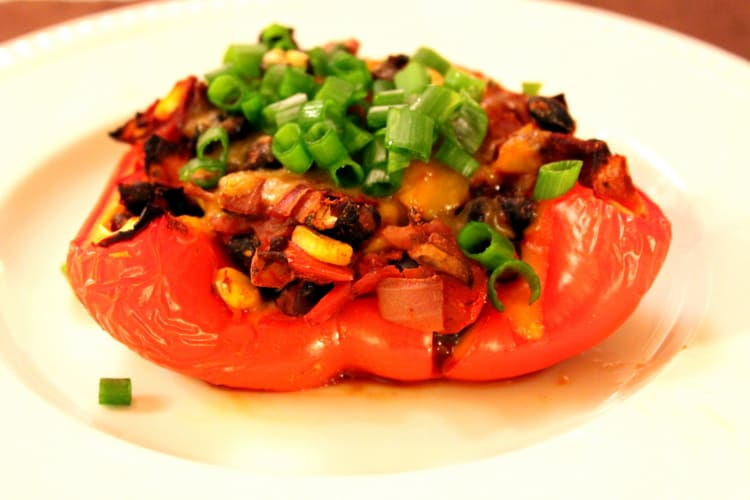 Now for the giveaway, from Stax Living Cookware and Teflon® nonstick coating – which honors this month through the use of hard anodized nonstick cookware!
The use of nonstick cookware is recommended by the American Heart Association and the National Stroke Association as part of a heart-healthy diet because it allows for cooking with minimal added fat. And as a bonus, nonstick cookware means easier cleanup and less time doing the dishes 🙂
One lucky reader will win this 3-Piece Hard Anodized 5-Quart Saute Pan Set from Stax Living and Teflon® (an $80 value)!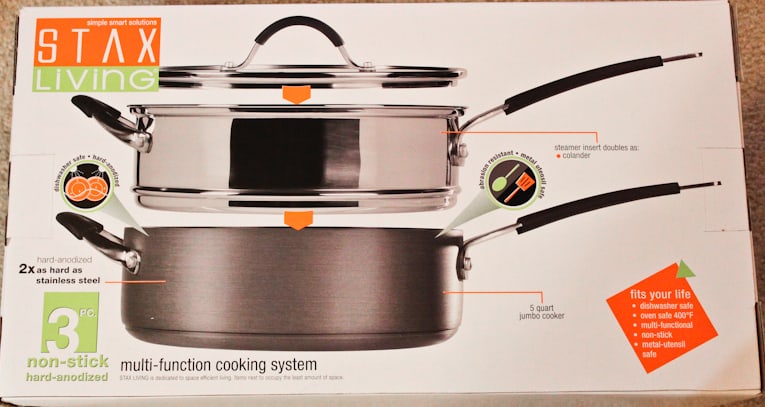 I loved using this 3 piece set. The hard anodized cookware is durable and has great heat retention and even heat distribution while cooking. The set includes:
A  5-qt. saute pan

A 5-qt. stainless steel steamer

A flat, tempered glass cover (shatter-resistant)

It's dishwasher and oven safe (up to 400F), abrasion-resistant, metal-utensil safe, suitable for all stovetops, and the pieces fit inside each other so it's great for storage too. Here's what all of the pieces look like:
It's great for cooking one-pot meals!
Now the important part –
To Enter: You can enter in one of five ways (each option below counts as a separate entry):
Then post a comment here for each option above that you chose. 
This giveaway will be open until Saturday, March 9th at 11:59pm PST. I'll be selecting the winner at random (via random.org) and will contact them via email. I'll be announcing the winners in the comments of this post on Sunday, March 10th. 
TAGS: breakfast, diet / weight loss, entrees, giveaway, gluten-free, kid friendly recipes, quick meals, vegetarian
445 responses to "Heart Healthy Recipes and a New Giveaway!"