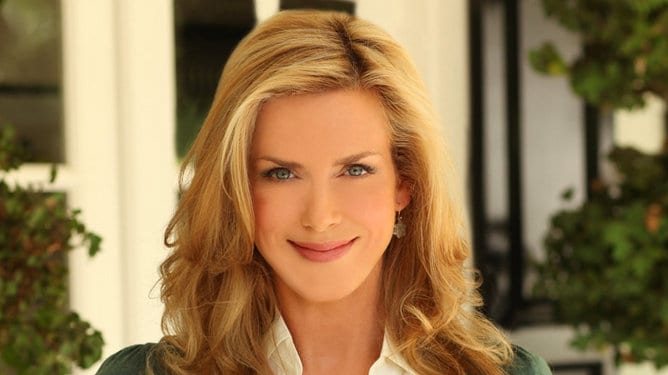 A big welcome to Kathy Freston!
If you're unfamiliar with Kathy, she's a wellness expert with a focus on conscious eating and a holistic approach to health and happiness. She is also the author of Veganist
 and the Quantum Wellness Cleanse
. Her tips are practical, helpful and easy to fit into your daily life. Kathy just released a new book, The Lean
, a revolutionary 30-day plan to transform your health and jump-start weight loss in the most gentle, easy, and automatic way possible!
I was able to connect with Kathy through OpenSky, a social network where you can connect with experts and shop for their favorite healthy living products. Her healthy living tips are insightful and I was so excited to be able to chat with her a bit about her food and health philosophy.
Here's the best part: Kathy has offered to give away a free copy of The Lean to one lucky reader!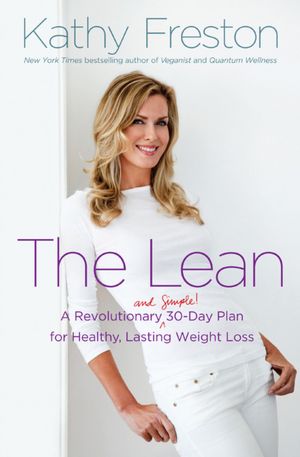 More information on the giveaway is below, but first: here is my interview with Kathy!
Q: What's your diet and food philosophy?
Kathy: I love food that tastes delicious and that also nourishes my body.  I don't want one without the other, and I DON'T believe in sacrifice! I also believe that if something is good for our body, it's also good for our soul.  So I wouldn't want to eat something (ex: meat, dairy, eggs, fish) if it breaks my heart to look at how it arrived on my plate.  Food should be joyous all around!
Q: What are some foods you just can't live without?
Kathy: I'm a creamy, cheesy FREAK!  So I couldn't live without
Daiya cheese (for pizza, grilled cheese, or melted atop anything)
Cashew cream (super easy to make by soaking raw cashews in water overnight, and blending at a high speed) for pasta cream sauce or creamy soups
Silk soy creamer (plain for coffee and tea; vanilla for more desserty type stuff)
Earth Balance (because life should not be lived without butter.. this is just a healthier, nondairy version of it)
Purely Decadent Cherry Nirvana soy ice cream.  Need I say more?
Q: What inspired you to become vegan? Are there any foods you miss from your previous non-vegan life, and if so, have you found a way to re-make them to be vegan-friendly?
Kathy: I was playing with my dog one day and thinking how much I love animals, and a little voice inside of me asked, "Then why are you eating them?".   Gulp.  Good question.  Because I was SO used to eating all things meat and dairy, I didn't know how to go about changing, so I just set my intention to become someone who didn't eat animals or their stuff,  and then leaned in to the path of finding delicious plant-based fare.
I don't miss a thing, because everything I loved – chicken and mashed potatoes, burritos, pizza, burgers, pasta and sausage – was actually better with vegan substitutes.   I think we can still keep eating all the things we grew up loving, but just opt for healthier versions of them.   (Gardein chicken and mashed potatoes made with almond milk and Earth Balance,  black bean burritos instead of beef, veggie burgers, and whole grain pasta with Field Roast sausage….. yum, hits the spot!)
Those are all comfort foods, obviously, and they fill in my week when I crave something traditional.  But I've continued to lean in to even healthier foods like pure whole grains, lentils and chickpeas, and lots of fresh veggies and fruits.  I really like those simple foods, too!
Q: Can you tell us a little more about The Lean? And maybe share some of your favorite tips from the book?
Kathy: The Lean is about getting lean in the body, but it's also about "leaning in" to the process easily and gradually.  You have one new task to do each of the 30 days of the plan, and what you do on Day 1, you will also be doing on Day 2, Day 3, etc; so by the end of the 30 days, you will have 30 wonderful new habits that will have crowded out some old bad habits!
Here are 3 tips to help you get started:
Eat an apple a day.  The fiber fills you up and keeps your blood sugar steady.  The pectin from apples is actually twice as good as other fiber, because it leaves your stomach twice as slowly so you feel fuller longer. Eat one before a meal and you'll eat far less calories!
Drink 8 glasses of water, 8 times a day.  This keeps your metabolism (and every other system in your body) running optimally.  In regards to weight loss,  it's called pre-loading:  people who drink 2 cups of water before meals in a study lost 5 pounds of fat more than people who didn't drink water in a 12 week period.  Easy peasy!
Add 2 Tbs ground flax seeds to your food every day (in a smoothie or soup, for instance, or mixed in with oatmeal); the fiber adds volume to your food and fills you up so you are satisfied for hours.  And flax has a powerful antioxidant in it called lignans, which are cancer preventative.
See how easy it is?!  And weight loss is totally tied to good health; the two go hand in hand!
Q: What are your top 3 favorite vegan meals?
Kathy: In The Lean, Chef Dayna McLeod came up with over 40 amazing (and super simple!) recipes, and I love each and every one of them. My faves, if I had to pick, are the Black Bean Cakes with Mango Salsa, the Pesto Pasta with Sausage and Veggies, and the Chocolate Pudding.  Delish!
Q: Who are your culinary idols and why?
Kathy: My friend Tal Ronnen is my idol because he invented the process of homemade Cashew Cream (his recipe is in the book, too!).  I'm a sucker for creaminess, and he made it unbelievably healthy and easy to have cream, whether its as a base for soups, a sauce, or a drizzle over my favorite desserts.
Q: What are some quick changes everyone can make in their lives to live a little bit healthier?
Kathy: It's super easy to switch out dairy for milks made of almond, rice, hemp or soy.  There's no loss, except for the pounds that come off as a result!  Eat a hearty, fiber filled breakfast like steel cut oatmeal or a bowl of brown rice with chopped dates, almonds, and agave with some warmed nondairy milk poured over.  And have a Power Smoothie filled with vegan protein and some blueberries after a workout to feed your muscles and keep you feeling strong through the day! See, you are already leaning in just by doing those simple things!
Thanks so much for sharing your thoughts with all of us Kathy!
Now, for anyone who wants to win a free copy of Kathy's Book: The Lean
To Enter: You can enter in one of three ways (each option below counts as a separate entry):
Follow me on Twitter (@pickyeaterblog)
Like The Picky Eater on Facebook
Then post a comment here letting me know which option(s) above you chose. If you already are a subscriber, follower, or like The Picky Eater on Facebook, just leave a comment indicating that!
This giveaway will be open until Saturday, May 19th at 11:59pm PST. I will be selecting the winner at random (via random.org) and will contact them via email. I'll be announcing the winner in the comments of this post on Sunday, May 20th. 
TAGS: giveaway
60 responses to "Healthy Tips from Kathy Freston and A New Giveaway!"