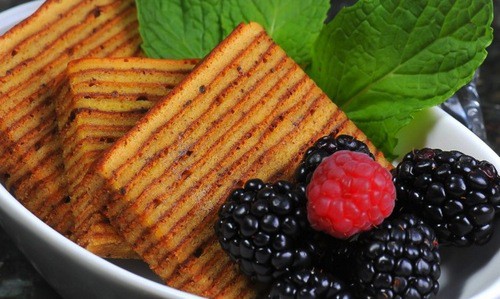 While I'm picky about many things, one of my weaknesses is dessert. I love cupcakes, chocolate, pretty much all things sweet. I still try to eat desserts made with really great ingredients (all-natural, organic, nothing I can't pronounce) – and I *try* to pay attention to portion size, but I'm all for indulging once in a while. Everything in moderation 🙂 So when the folks at Euforia contacted me to try their all-natural, gourmet thousand-layer cakes, I couldn't resist. And the best part is, all of you have the chance to win their cakes as well!
But first, I have to announce the winner of my last giveaway.

Rachel – just email me your mailing address and your ravioli will be on its way. Congratulations on winning! And now on to this week's giveaway from Euforia.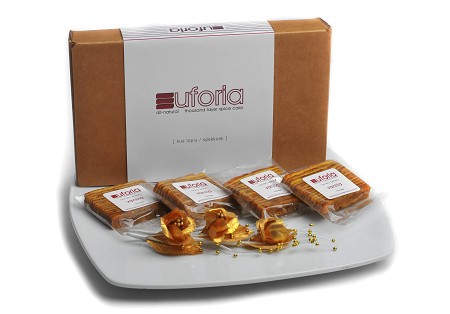 These cakes are absolutely delicious. And the best part is they're made with the simplest ingredients: eggs, butter, sugar, flour, milk, spices, salt, vanilla. That's it! It's just like something you'd bake at home. They even have gluten-free varieties (flourless) in the same flavors as their regular cakes.
Each cake is individually wrapped (go portion sizes!) and only about 130 calories with 6-7g sugar. It kind of reminded me of a slightly denser pound cake – and my mind started wandering with all the different ways I could serve it: with ice cream and strawberries, with coffee or tea, with powdered sugar and chocolate syrup, etc. So many possibilities. The spice cake was divine – subtle flavors of nutmeg, cinnamon and brown sugar with a buttery texture that just blended together wonderfully. The folks at Euphoria sent me 12 individually wrapped cakes (3 of each variety) and my husband and I have been enjoying them all week.
And now you have a chance to win these cakes as well! You can choose from one of three options:
1) The Roulade (the round cake that looks like baumkuchen; very pretty)
2) Mini Whole Cake
3) The Regular Box of 12 individual slices, with any flavor you want
Now, the important part – To Enter: You can enter in one of three ways –
Follow me on Twitter (@pickyeaterblog)
Like The Picky Eater on Facebook
Then, post a comment here letting me know which type of cake you'd like to win and which option above you chose. If you already are a subscriber, follower, or like The Picky Eater on Facebook, just leave a comment indicating that along with your cake choice – it will count as one entry.
This giveaway will be open until Saturday, September 17th at 11:59pm PST. I will be selecting the winner at random (via random.org) and will contact them via email. I'll be announcing the winner on Sunday, September 18th. Have a great weekend everyone!
TAGS: giveaway
108 responses to "Gourmet, All-Natural, Thousand Layer Cake Giveaway"