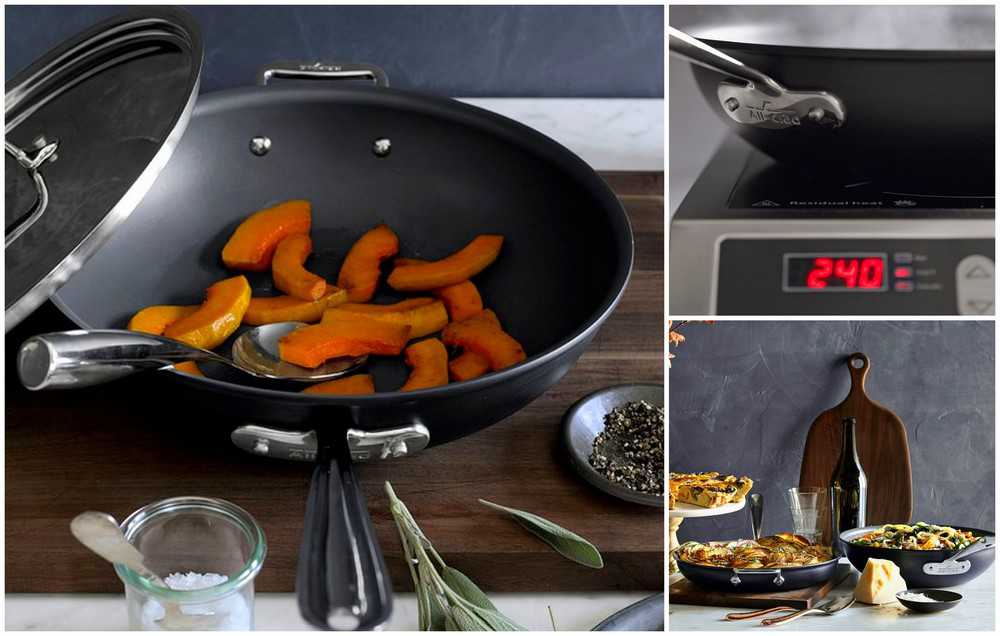 I am always on the lookout for awesome cookware. Especially, non-stick cookware that's not toxic or low quality – since cooking with non-stick pans makes dishes "burn-proof," and it's a much easier clean-up process too!
So when the folks at All-Clad contacted me about their NS1 Nonstick Induction Chef's Pan (exclusively available at Williams Sonoma), I knew I had to give it a try!
I decided to use the pan to make a Lentil Bolognese dish that I had been dying to try for some time.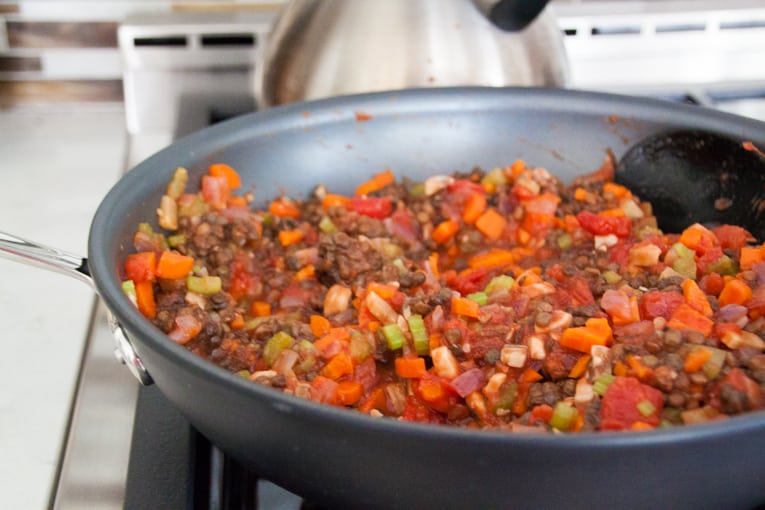 I used the All Clad pan to essentially make the "bolognese" sauce — which was filled with small French lentils, celery, tomatoes, onions, mushrooms, carrots, garlic, and a bunch of savory Italian seasonings like rosemary, thyme and oregano.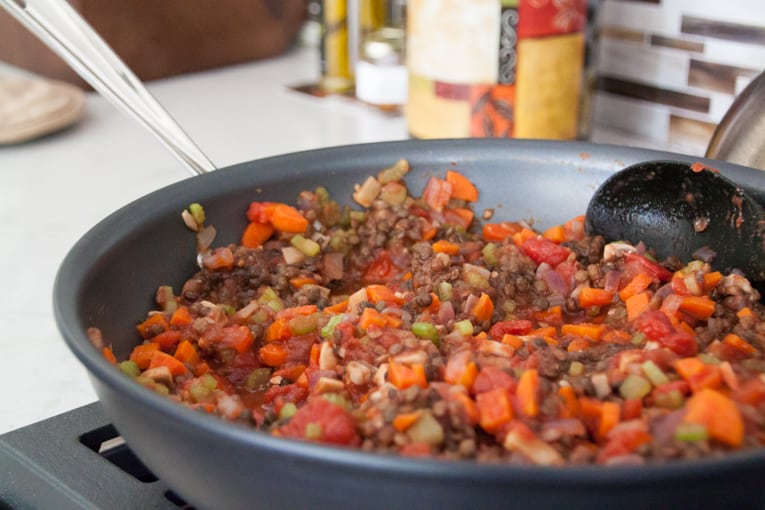 The pan is shaped kind of like a wok — with a deeper center and higher edges. It holds a TON of food, which made making this sauce really easy! And it is completely non-stick. I barely had to use any oil when I was making this recipe — and instead of using the oil for cooking, I just drizzled some extra virgin olive oil on top of the finished sauce for flavor. The recipe (coming soon in another post) turned out amazingly well. The husband LOVED it. He said it tasted just like a meat sauce and he couldn't believe it was made with lentils! Layla was skeptical at first, but when mixed with some whole wheat rotini pasta, she gobbled it up.
And now, one lucky reader has the opportunity to win an All-Clad NS1 pan — a $99.95 value!!
Some more details about the pan & lid:
It's made with anodized aluminum, a rugged three-layer PFOA-free nonstick interior (ideal for healthy/low-fat cooking) and induction-compatible steel bases (prevents cookware from warping, protects stovetops from scratches)
It's dishwasher safe! Cleanup after this recipe was so easy!
Like I mentioned, it has high sides and a broad cooking surface — so it's perfect for one-pot-meals and everyday sautéing, frying, simmering and steaming.
12″ diam., 4 1/2″ high.
Bonded three-layer nonstick system delivers unparalleled release, scratch-resistance and durability.
To Enter (open to US residents only): You can enter in one of five ways (each option below counts as a separate entry):
Sign up for my free, monthly newsletter (it has healthy recipes and tips – no annoying ads  plus you'll get a free healthy meal plan when you sign up!)
Like The Picky Eater on Facebook
Follow me on Twitter (@pickyeaterblog)
Follow me on Pinterest
Then post a comment here for each option above that you chose. 
This giveaway will be open until Sunday, November 15th at 11:59pm PST. I'll be selecting the winner at random (via random.org) and will contact them via email. I'll be announcing the winner in the comments of this post on Monday, November 16th.
TAGS: giveaway
196 responses to "Giveaway: An Exclusive Chef's Pan from All Clad ($99.95 value!)"