9 Fruits That Start With Q
This post may contain affiliate links. As an Amazon Associate, I earn from qualifying purchases. Please read my disclosure.
As part of my eating guides and lists of foods that start with letters of the alphabet, I have created the following list of nine fruits that start with the letter Q! This Q fruits list features different types of sweet and seasonal fruits with unique flavors from regions all over the world. If you want to try new foods and healthy snacks, then you will love with this list of fruits starting with Q.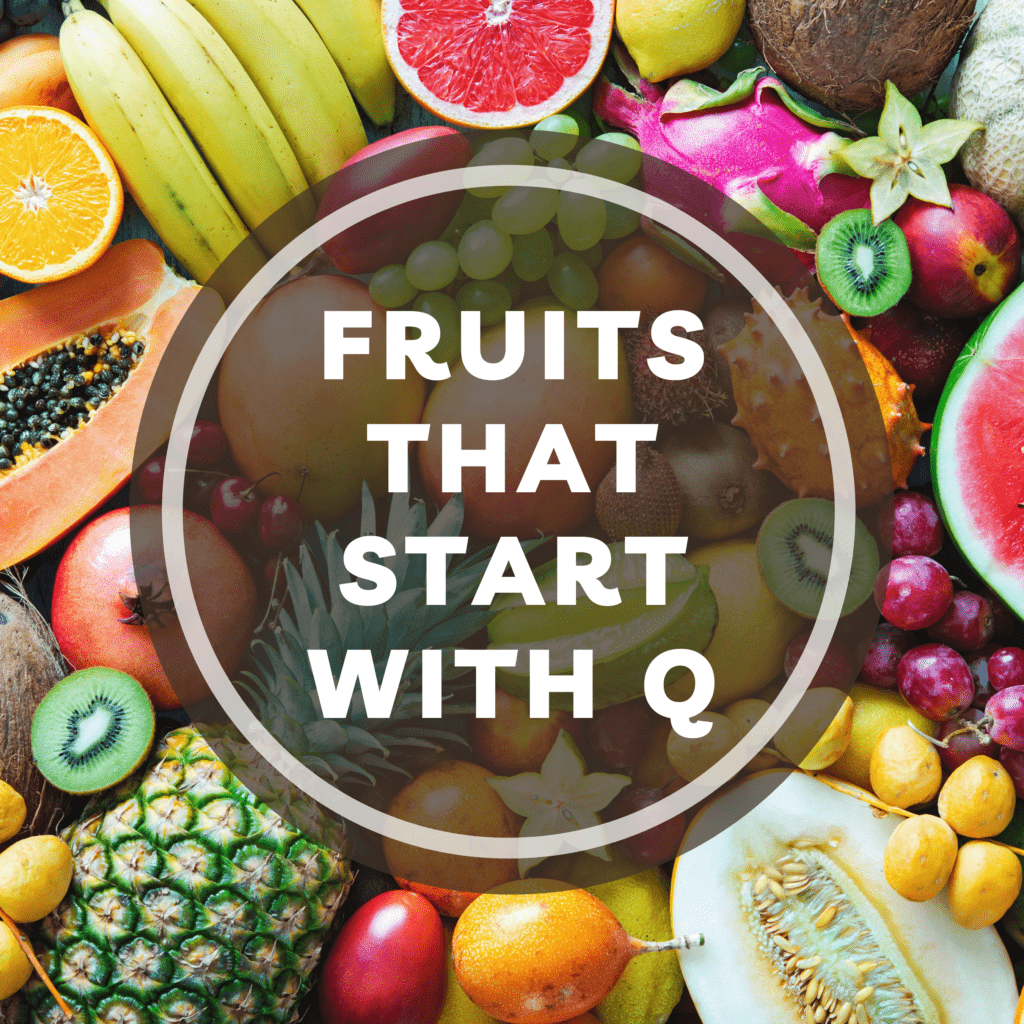 In the following list of fruits that start with Q, you will find bright fruit from tropical regions such as the Amazon Rainforest, Costa Rica, native trees of Australia, and many more! Use this guide to help you navigate healthy fruits that are new to you. Depending on where you are, you can find most of these popular foods at international markets and grocery stores or online.
Fruits That Start With Q
1. Quararibea Cordata Fruit
What Is Quararibea Cordata Fruit?
This fruit that starts with Q is also known as a chupa chupa. This sweet yet tart fruit comes in different shades of bright yellow and orange. Natively, this tree is grown on fruit trees in parts of the Andes and Amazon Rainforest in Colombia, Brazil, Ecuador, and Venezuela. It's commonly round with a thick porous, brown skin.
What Does It Taste Like?
On the inside of the fruit, there is a juicy pulp that is soft, sweet, and a little sour. This type of fruit is typically held and eaten straight from the hand, but chupa-chupa can be juiced, too. The type of soil largely affects the quality of the fruit.
Is A Quararibea Cordata Fruit Healthy?
Chupa-chupas are high in calcium, phosphorus, and carotene. Our body converts carotene into Vitamin A which plays an essential role in maintaining healthy organs! It can make a great snack anytime of the day!
2. Quandong Fruit
What Is Quandong Fruit?
The quandong fruit also goes by the name, "Native Peach", and is a vibrant red, round fruit. It grows on a fruit tree native to the dry southern areas of Australia. The fruit has been enjoyed throughout indigenous cultures for many years and is considered a staple fruit for most.
What Does It Taste Like?
Flavors of this fruit include notes that are tart with a tropical finish. Like most fruits, it tastes better if it's ripe. Some compare this fruit to the flavors of peaches, apricots, and earthy rhubarb. Quandong can be enjoyed either fresh or dehydrated! Depending on where you live, you may find easier access to dehydrated!
Is Quandong Fruit Healthy?
Quandongs are packed with antioxidants and essential vitamins. They contain folate, vitamin E, magnesium, zinc, calcium and iron!
3. Queen Anne Cherries
What Are Queen Anne Cherries?
The Queen Anne cherry fruit is most commonly found at the grocery store or at farmers' markets in Michigan, Washington, and Oregon. It sometimes goes by the name, Royal Anne. The cherries are a light shade of pink which makes them similar to the look of a Rainier cherry. This variety of cherry has been around since the mid-1800s and goes by several names such as Napoleon, Royal Ann, and Napoleon Bigarreau.
What Does It Taste Like?
Queen Anne cherries are sweet but more tart than most cherries which makes them ideal for baking and cooking.
Are Queen Anne Cherries Healthy?
Yes! Cherries are low in calories but rich in antioxidants. They're also high in fiber and essential vitamins like C, K, and A. Vitamin C is essential for a healthy immune system and vibrant skin!
4. Queen Tahiti Pineapples
What Are Queen Tahiti Pineapples?
The Queen Tahiti pineapple is a very pleasant, juicy tropical fruit that is in season in most places all year long and can be found at most grocery stores and international markets. The outside appearance of the Queen Tahiti pineapple is a rough pointed texture that is golden in color with waxy, green, sharp leaves at the top of the fruit.
What Do They Taste Like?
On the inside of the bright fruit, you will find a bright, yellow, fleshy fruit that is sweet, tart, and juicy with fragrant flavors. These pineapples have been around for centuries and are commonly used in various cuisines as a side dish, dessert topping on vanilla ice cream, or side item to grilled dishes.
Are Queen Tahiti Pineapples Healthy?
Queen tahiti pineapples are loaded with Vitamin C, fiber, and other vitamins and minerals! They're also low in calories with one cup of pineapple containing around 82 calories.
5. Quenepa Fruit
What Is A Quenepa Fruit?
The Spanish word quenepa is a juicy fruit known as the Spanish Lime. It's most commonly found in tropical areas of the Caribbean and Central and South America. In English, Quenepa has a scientific name of Melicoccus bijugatus and features a thin green peel that covers an orange, fleshy, sweet fruit which makes this stone fruit so enjoyable, especially when it is ripe.
What Does It Taste Like?
The bittersweet fruit has a wine-like flavor and is consumed fresh or used in soft drinks and cocktails. There are several ways to enjoy this fruit. You can remove and toast the seeds, sweeten juices and drinks with it, or just eat it by itself.
Is A Quenepa Fruit Healthy?
Studies suggest that these delicious fruits can help lower blood pressure due to the presence of essential amino acids. They're also high in immune-boosting Vitamins A and C!
6. Querina Apples
What Is A Querina Apple?
Similar to Golden Delicious and Jonathan apples, Florina, or Querina apples are sweet, firm, and bold red in color. They have purplish-red streaks on the outside of the apple which makes them distinctive in appearance compared to similar apples. The Florina apple was developed in France but has roots in North America.
What Does It Taste Like?
Querina apples are crisp yet juicy with a sweet flavor that's great for snacking! They're also well suited for baking and cooking! Since this type of apple is sweet and tart, it pairs well with pieces of cheese for a healthy snack.
Is A Querina Apple Healthy?
This sweet fruit is low in calories but nutrient-dense! They are rich in disease-fighting antioxidants called polyphenols. They're also high in soluble fiber – the kind that can lower blood cholesterol, and essential vitamins.
7. Quinault Strawberries
What Is A Quinault Strawberry?
This variety of strawberries is known for its ability to produce several harvests a year with sweet and juicy fruits. Quinault strawberries are commonly grown in home gardens all over but the origin of the variety is Washington State. It was actually developed by researchers at Washington State University!
What Does It Taste Like?
Like most other varieties of strawberries, quinault strawberries are juicy, sweet and bright. They're perfect for snacking, and are also great for pies, jams, and jellies!
Are Quinault Strawberries Healthy?
Strawberries are ninety percent water yet packed with antioxidants and minerals. One 3.5 ounce serving contains only 32 calories yet 2 grams of fiber. They also boast vitamin C, folate, manganese, and potassium!
8. Quince Fruit
What Is Quince Fruit?
In the same Rosaceae family as pears and apples, this yellow firm fruit is found on the Quince fruit tree and is typically used to decorate gardens for horticulture and art purposes.
What Does It Taste Like?
Most quince fruits are sour and unpleasant in flavor, but there are varieties that are sweet and enjoyable. Since the fruit contains so much pectin, quince is commonly used in quince jam and jelly recipes. It can also be used for cake or a pasty spread to be paired with white cheeses. Some people like to enjoy quince by roasting it so it ripens and all of the sugars are released. As the fruit roasts, its color changes to red.
Is Quince Fruit Healthy?
Scientific research on the health benefits of quince fruit is still uncommon. However, they are low in calories and do contain fiber, vitamin C, and copper.
9. Queen's Forelle Pear
What Is A Queen's Forelle Pear?
This variety of pear is bell-shaped and the smallest of the pear family. This seasonal fruit starts with a green color, then turns to yellow as it ripens. There is slight red coloration on the skin of the pear which resembles a trout, also known as Forelle in German.
What Does It Taste Like?
The flavors of the pear are crispy, sweet, and tangy and are best when the fruit is slightly firm. This pear tastes delicious in salads, baked goods, yogurt, and oatmeal. They also pair well with aged cheeses, seafood, and meat such as chicken and pork. You can even make them into a delicious topping for vanilla ice cream!
Is A Queen's Forelle Pear Healthy?
Yes! Pears are packed with fiber which is vital for good digestive health. One pear contains 6 grams of fiber along with folate, niacin, and vitamin C. Studies show they may help relieve inflammation and constipation among other chronic conditions.
Final Thoughts
I hope you enjoyed this list of fruits that start with Q! For more inspiration in the kitchen and ways to use these fruits, be sure to check out my smoothie recipes and other snacks! Healthy food should taste good!
Looking for creative and different foods? Fruits beginning with Q isn't my only guide! Be sure to check out my other alphabet guides with lists of foods, fruits, and veggies here:
Here is my complete list of eating guides for the whole family, including picky eaters!
If you found this post helpful, or have tried any other recipe on my blog, then please leave a comment below! You can also FOLLOW ME on FACEBOOK, TWITTER, INSTAGRAM, and PINTEREST to see more delicious, healthy, family-friendly food!
10 responses to "9 Fruits That Start With Q"