14 Indian Recipes for Kids: Easy, Kid Friendly Meal Ideas
This post may contain affiliate links. As an Amazon Associate, I earn from qualifying purchases. Please read my disclosure.
When I was growing up, our family ate Indian food nearly every day of the week! It was part of our culture, and I loved the flavors and spices. These are my favorite Indian recipes for kids that have become my go-to recipes for my own kids now that I'm in charge of meal time! They are big on flavor, high in nutrients, and yet simple and kid-friendly!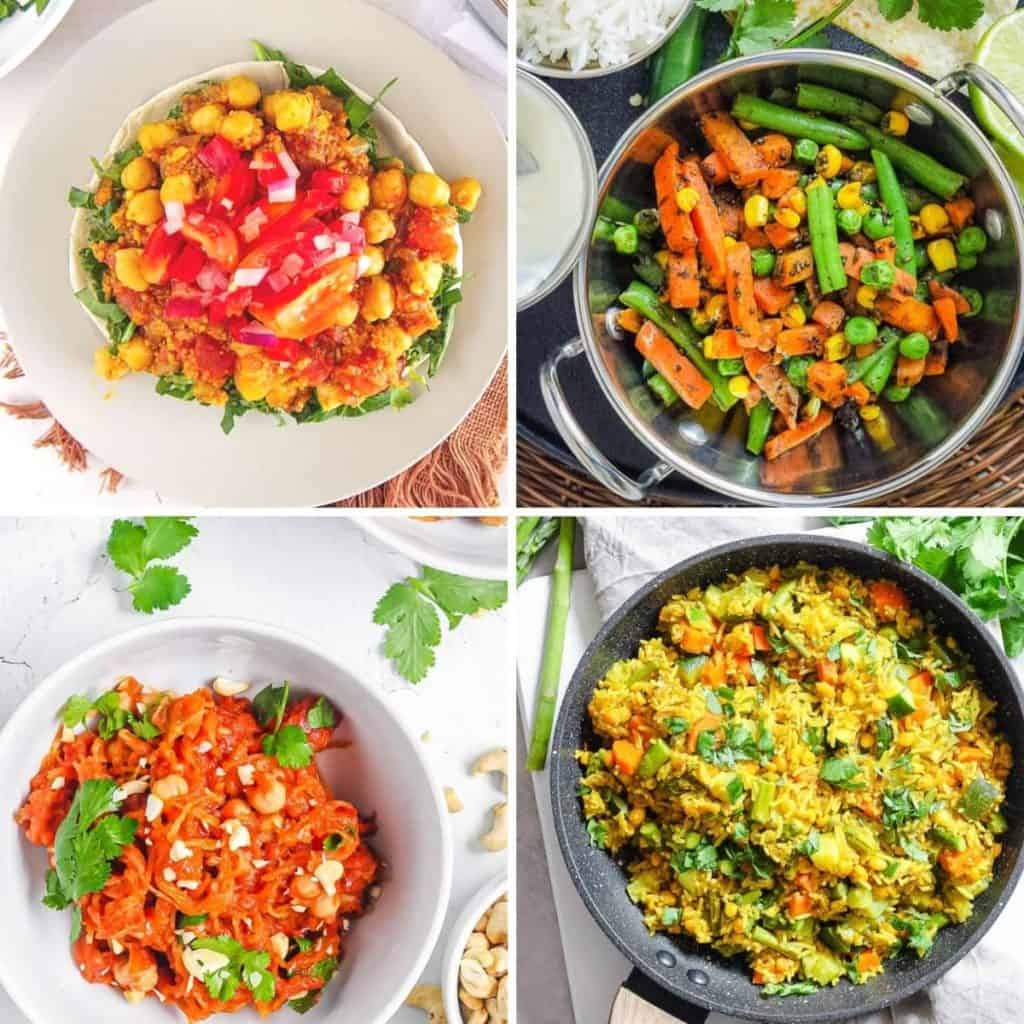 My parents are both amazing cooks. Growing up, they would trade off cooking, and made the most delicious meals for us kids!
When my husband and I lived close in the Bay Area, we used to have dinner with my family on a weekly basis and got to enjoy homemade, gourmet, Indian meals regularly.
The thing with Indian cuisine is it can go one of two ways:
Tasty, but not healthy: Super oily and full of fat (curries are made with butter, ghee, oil, cream, etc.)
Tasty, and super healthy food! These Indian dishes use inventive ingredients and substitute spices for the oil – making it healthy, flavorful and a great option for kids! Common Indian dishes that are also healthy include dals, sabjis or bhajis (which pairs the goodness of vegetables with Indian spices), and all kinds of curries!
These vegetarian Indian recipes are straight from my family, and represent what I think is Indian Home Cooking at it's best: easy to prepare, really nutritious and good for you, but so flavorful you keep going back for seconds, and thirds, and fourths… you get the picture.
These easy Indian recipes for kids and adults, are full of healthy ingredients, while still familiar and approachable for little ones!
I'm sure your kids will love them as much as I did as a kid! They've now become some of my kids' favorites too!
Tips for Helping Kids Try New Foods
These 9 tips have helped me raise young kids who love vegetables! If you follow these consistently over time, you'll be able to change any picky eaters habits in your house!
Train your child's taste buds from an early age by making vegetables a part of every meal!
Engage all of your child's senses.
Tray alternating foods, and limit snacks.
Cook at home often, and keep your recipes simple!
Incorporate values around food into every day conversation.
Experiment with new tastes and textures.
Get your kids involved in the kitchen.
Don't force them to eat foods they don't like. Super spicy food can be tough for kids to eat. Many Indian dishes you'd get at an Indian restaurant can have too much "hot" spice like cayenne or chili peppers. These healthy recipes however, have very little "hot" spice that can easily be modified to suit your kids' preferences.
Treat teenagers like equals when it comes to food. Get them to take responsibility for making a healthy meal that will enjoy eating once a week.
Indian Recipes for Kids
Healthy Curry Spaghetti Squash
This Curry Spaghetti Squash recipe is wonderfully spicy, delicious, and filling! It's a good substitute for pasta, and a great way to enjoy an Indian pasta dish that's totally low-carb! Topped with fire roasted tomatoes and chickpeas for added protein, it makes a healthy and satisfying dinner for the whole family!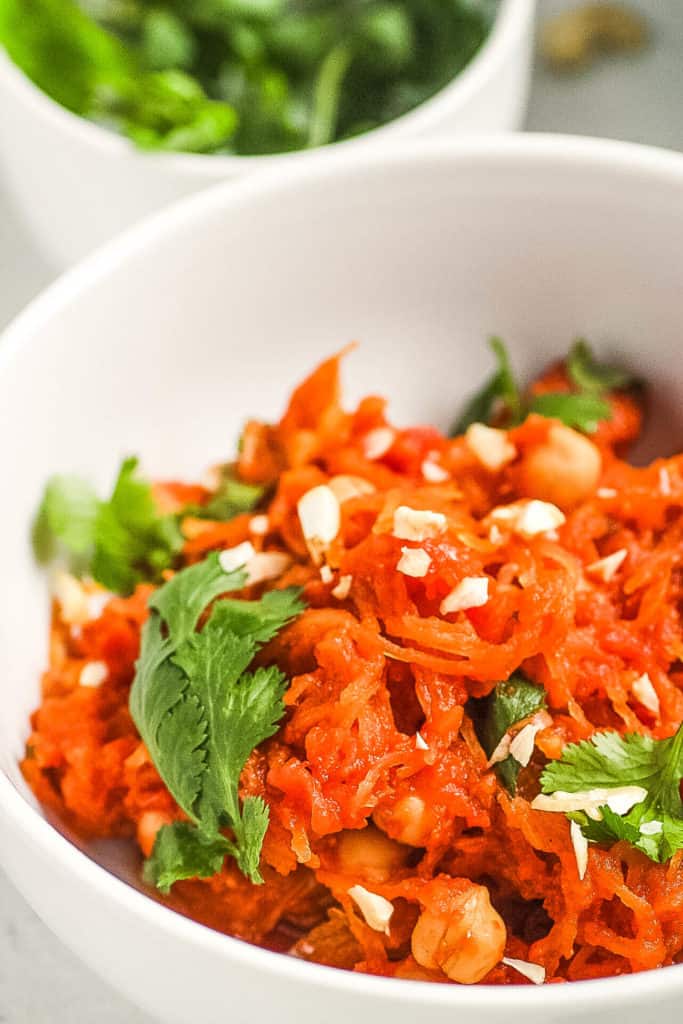 Easy Chana Masala
This flavorful authentic Chana Masala recipe is an easy, Indian chickpea curry, with the perfect amount of spice and veggies! Served with creamy yogurt and cilantro, it's healthy, naturally gluten-free and easily made vegan too!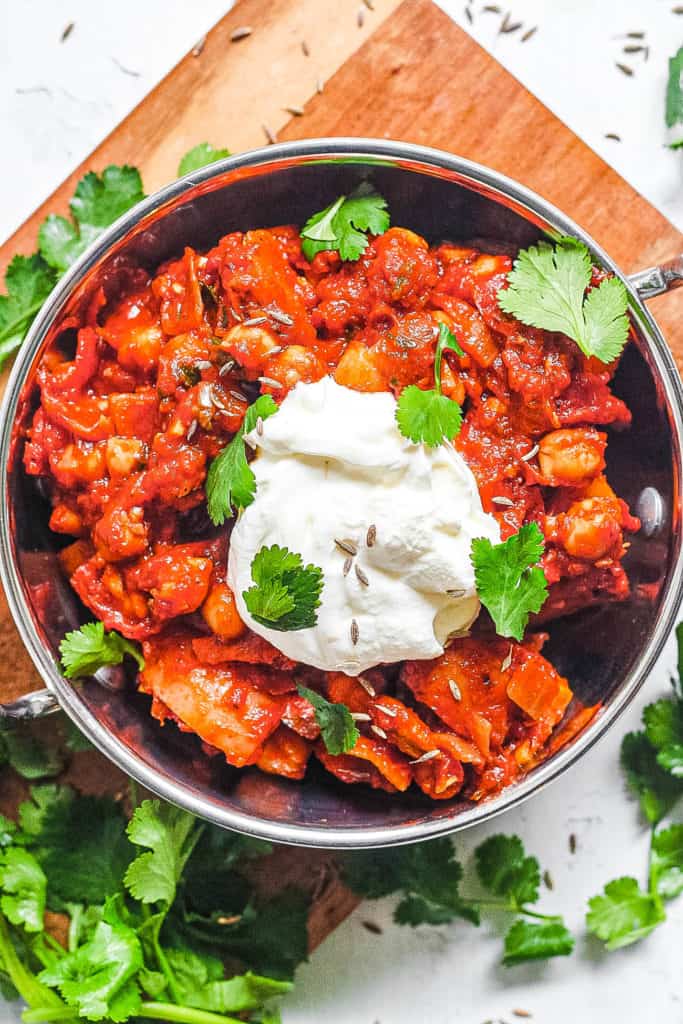 Instant Pot Dal
A simple instant pot dal has a rich, creamy texture and is an easy, healthy and delicious weeknight dinner! Made with cauliflower, diced tomatoes, carrots, bell pepper, moong dal, and Indian spices, it's a nutritious dish with only 25 minutes of hands on time. It's great for sneaking in veggies for fussy kids who don't like to "see" veggies in their meals. If you don't have an instant pot, you can make this on the stovetop or in a regular pressure cooker too! Family-friendly and a one pot meal!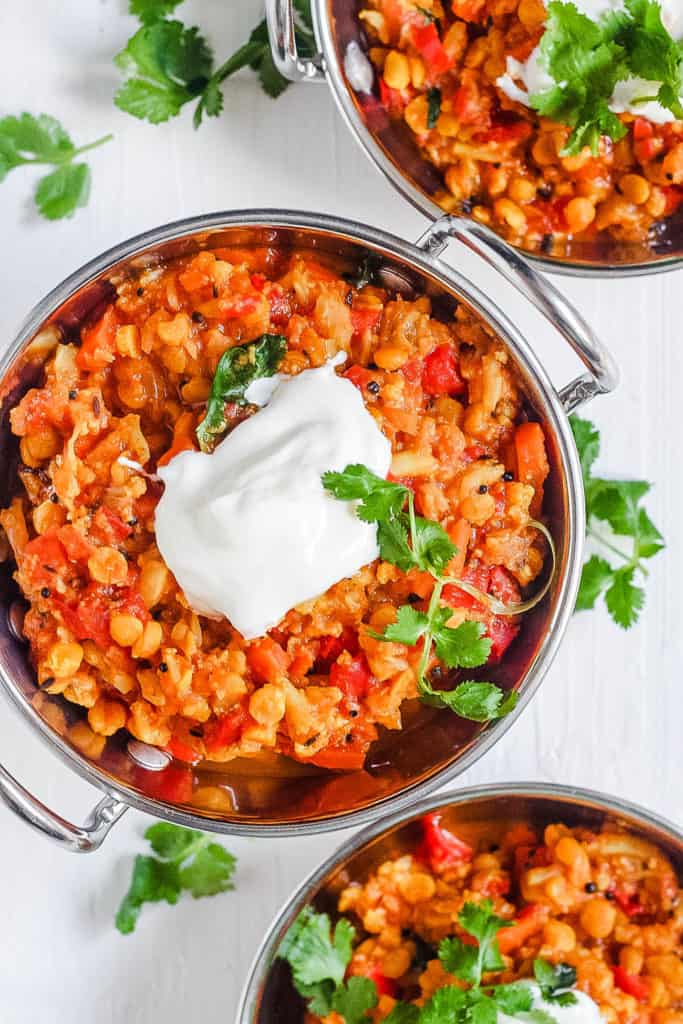 Indian Vegetables
Indian Vegetables or Vegetable Sabji is best described as sautéd veggies with roasted Indian spices to amp up the flavor. It's a delicious side dish, or can be a main meal when served with roti, daal, or plain yogurt for protein!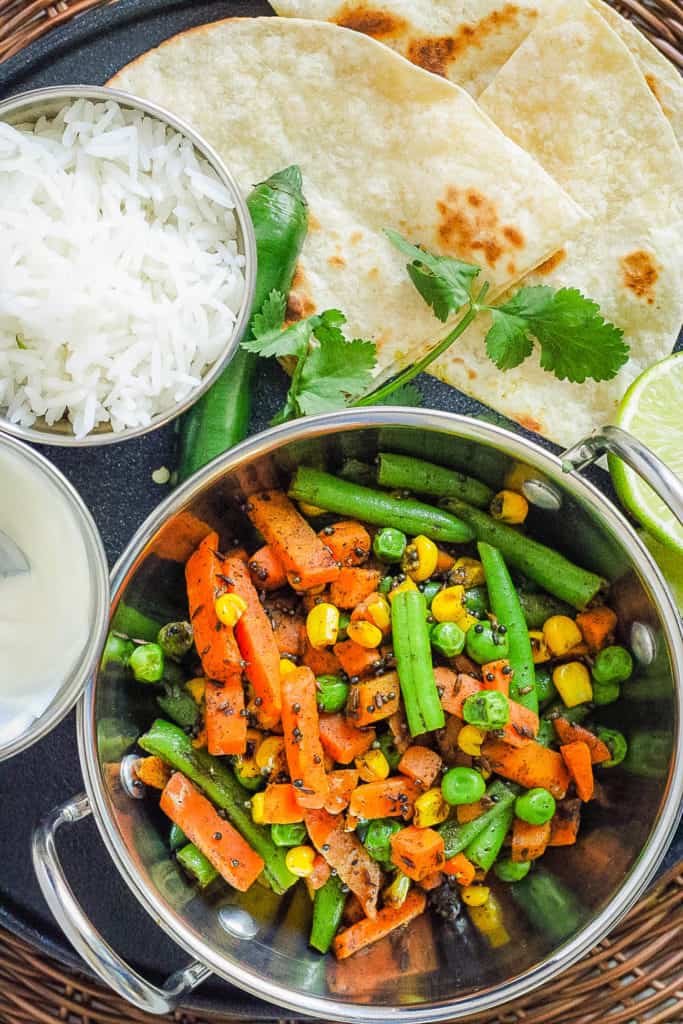 Samosa Wraps
These homemade Samosa Wraps are super easy to make, vegan, easily made gluten-free and tastes great warm or at room temperature, packed in lunch boxes. It's an incredible dish filled with spiced potatoes, green peas, protein-packed tofu, warm spices and fresh jalapeños all rolled into a soft, whole grain tortilla.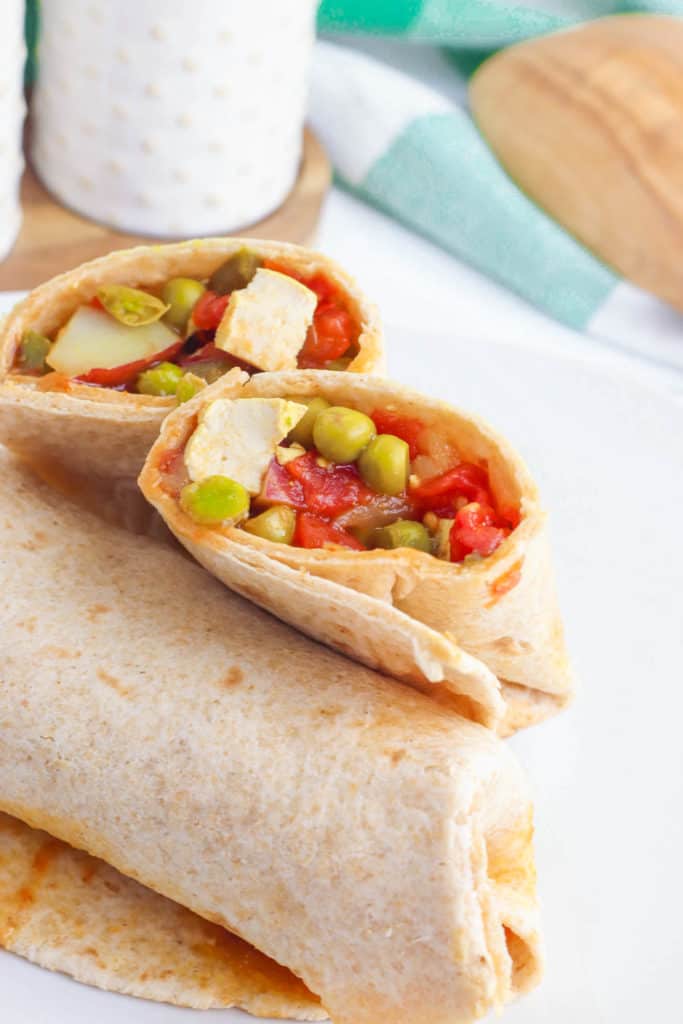 Indian Fried Rice
This Indian Fried Rice (or vegetable khichdi) is wholesome, delicious, and packed with lentils and fresh veggies. It's super easy to make, and is naturally gluten-free, vegetarian and vegan. Filled with lots of healthy nutrients, topped with fresh coriander leaves and spiced to perfection, it's the perfect family-friendly one-pot weeknight meal!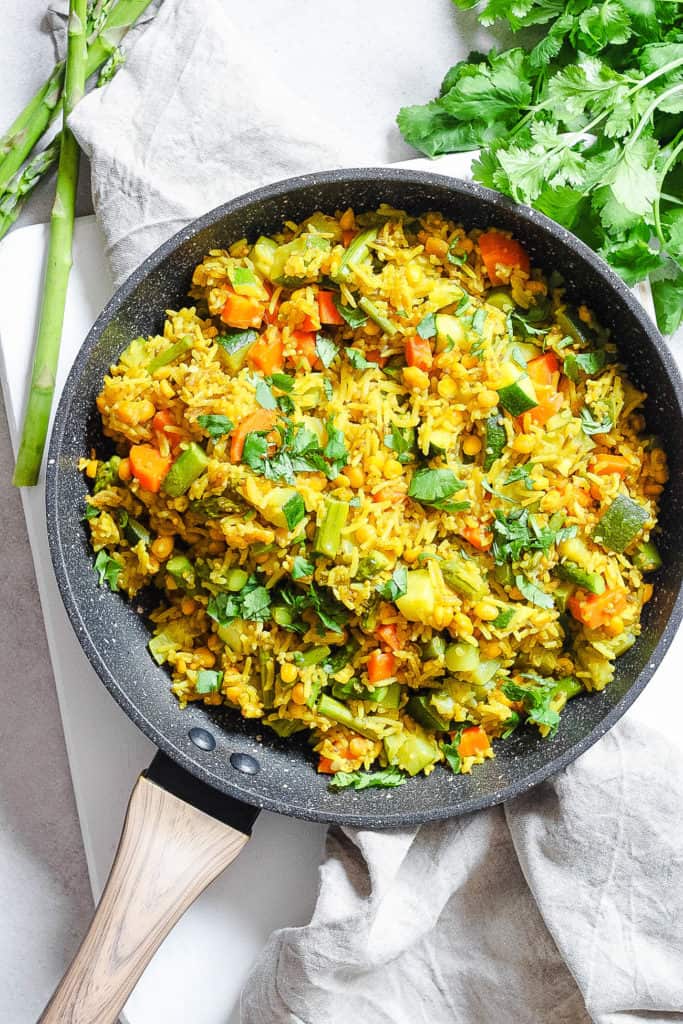 Indian Sloppy Joes: Pav Bhaji
This Pav Bhaji is the perfect Indian inspired street food, but it has a healthy and nutritional twist that is insanely good. Munching on this Indian spiced, sloppy-joe-style healthy sandwich will keep the entire family happy. Feel free to use burger buns, dinner rolls, or slices of bread for serving. Great for lunch or an easy recipe for dinner!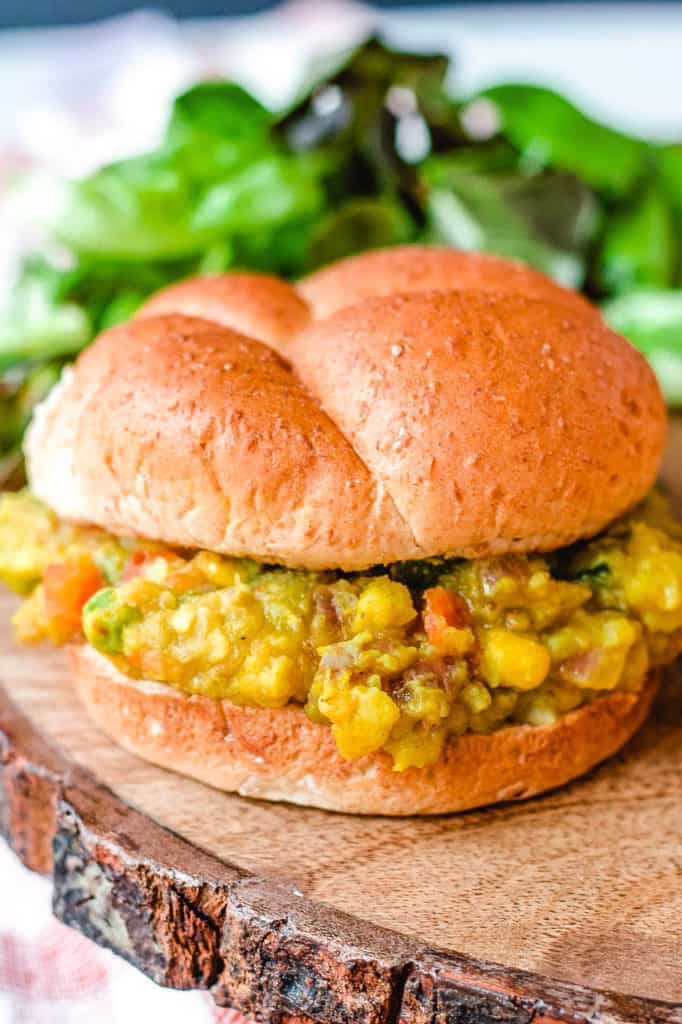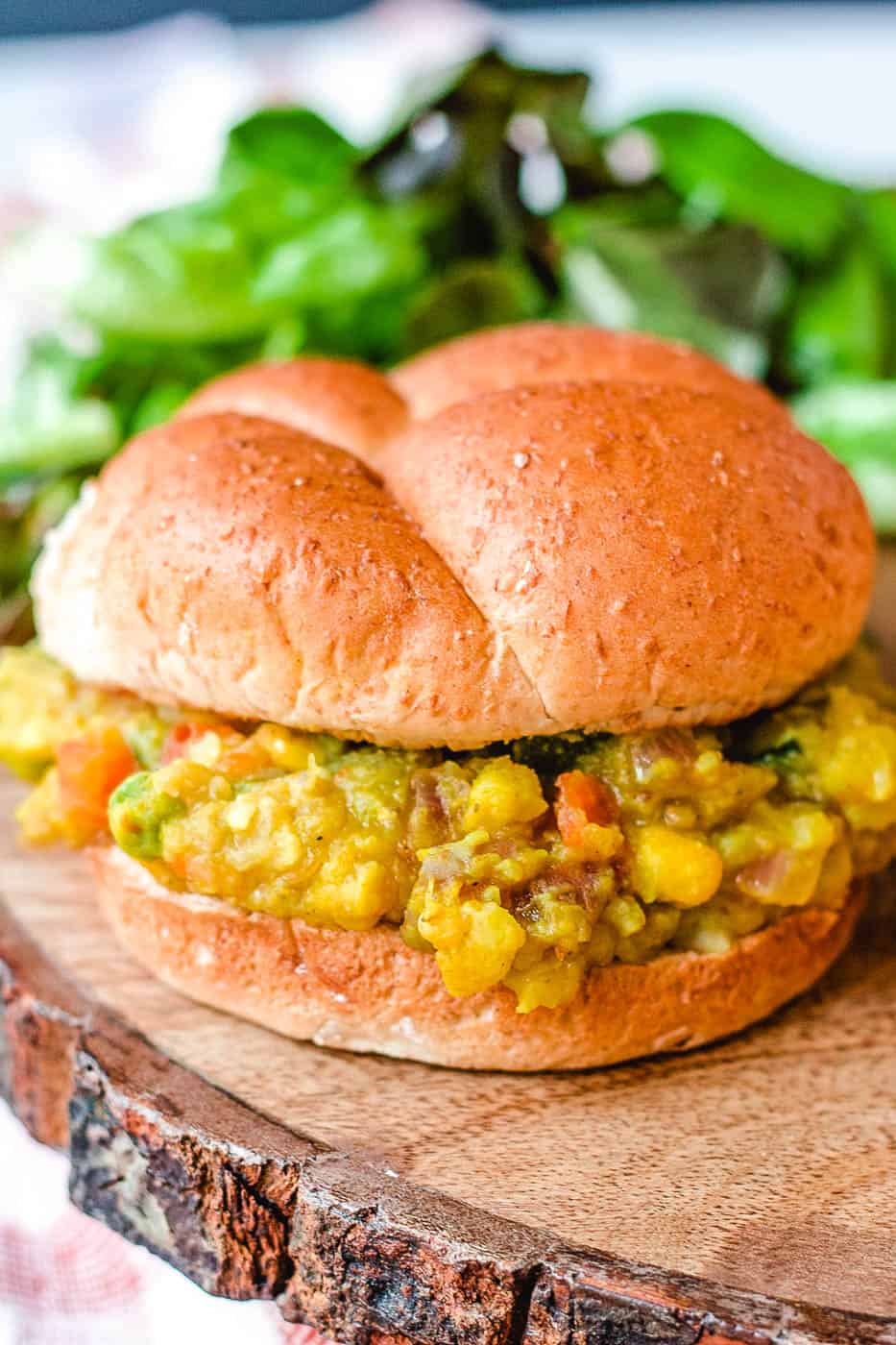 Indian Stew with Rice and Lentils
This Indian Stew with rice and lentils create a complete protein in this one pot vegetarian meal. A combination of fresh vegetables and Indian spices give this stew a rich depth of flavor. Feel free to change things up by using wild rice, quinoa or even coconut rice with these lentils. Perfect for an easy family dinner!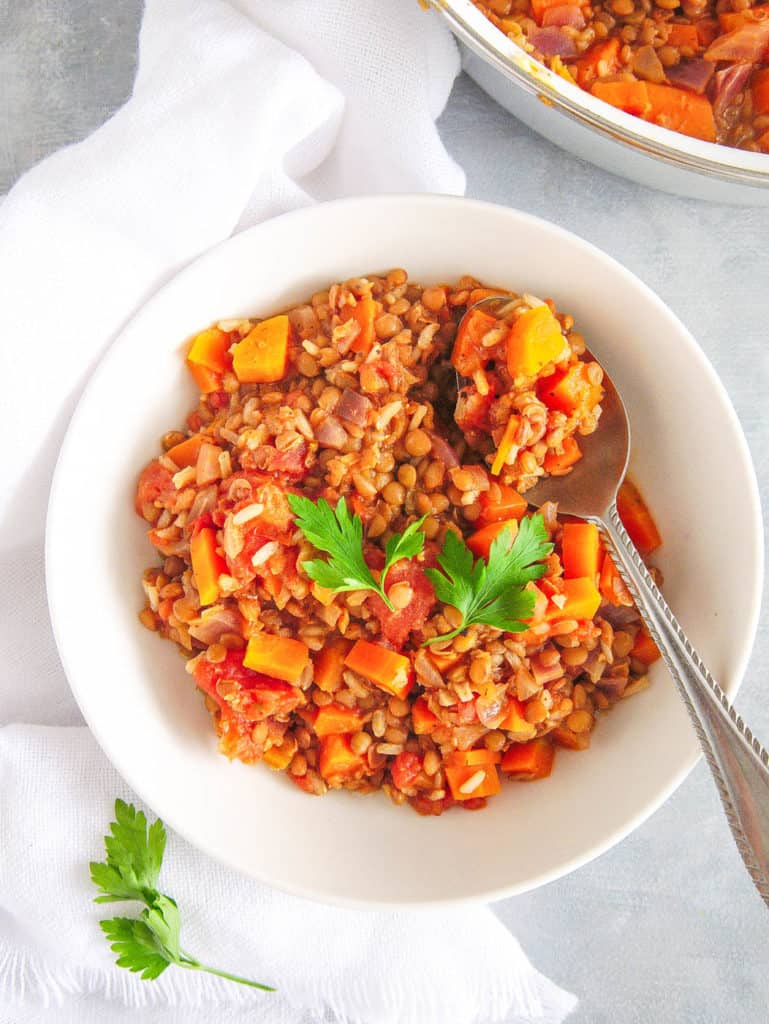 Vegan Tikka Masala
This vegan tikka masala is quick, healthy, easy and oh so tasty! Fresh paneer is substituted for tofu in this vegan friendly dish. Packed full of delicious Indian spices, this is a great recipe for an easy weeknight meal. Made with coconut milk, this mild curry will be a hit with the whole family!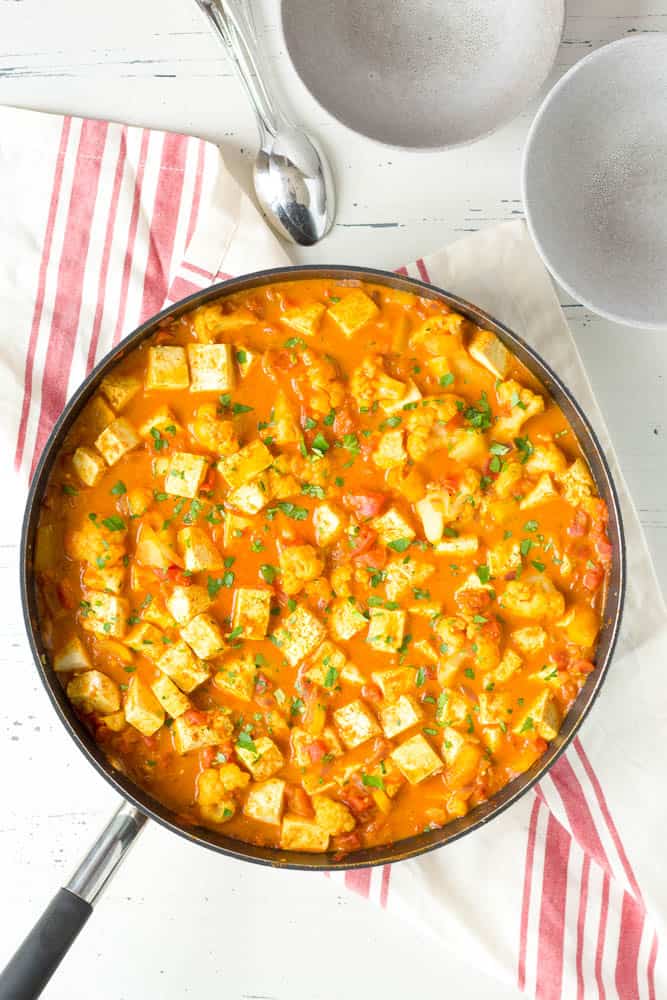 Naan Bread Pizza
Grab a knife and fork and dig into this Naan Bread Pizza — a real treat for the senses! Whole wheat tandoori naan bread is topped with a delicious topping to create a healthy, vegan, and well balanced meal.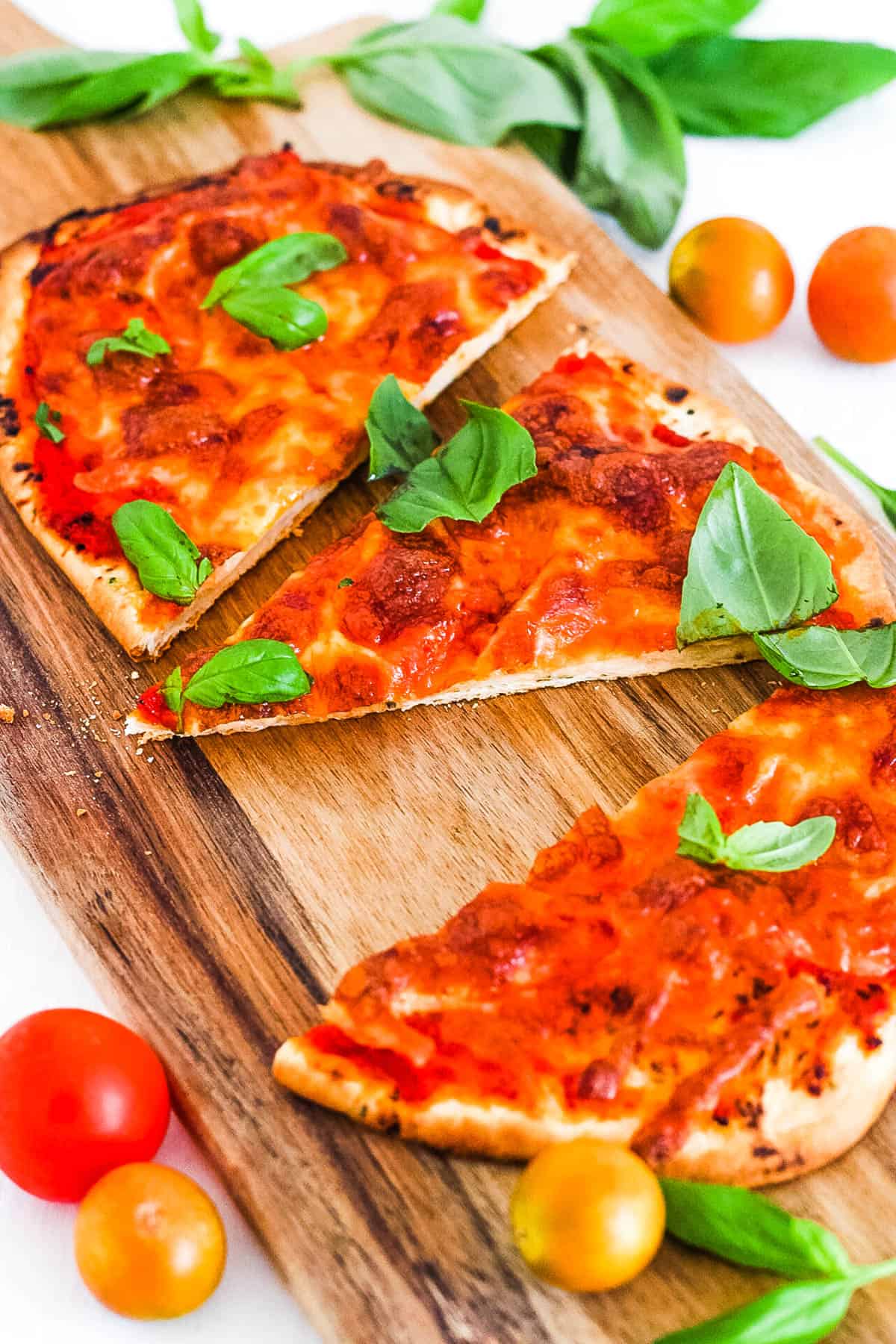 Traditional Indian Samosas
A healthier, Indian samosa recipe that's lightened up but just as flavorful as the traditional version! These savory puff pastry packets of heaven are spicy and sweet, with a crispy crust surrounding a piping hot filling of potatoes, onion, and peas!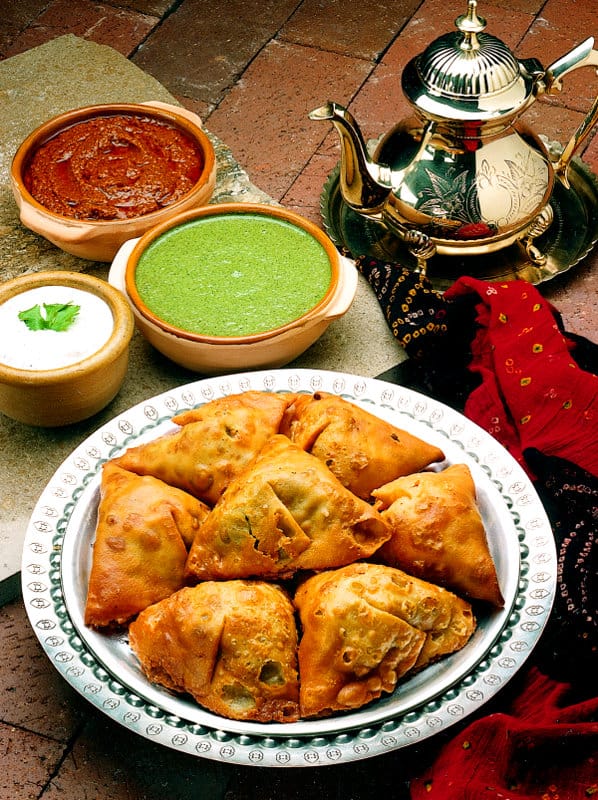 Rajma Masala: Indian Spiced Chili
This Rajma Masala (or Indian Spiced Vegetarian Chili) is thick and creamy: simmered in a rich tomato sauce with onions, garlic and ginger. It's easy to make, healthy, vegan, vegetarian and gluten-free, but so satisfying that it will please everyone at your dinner table!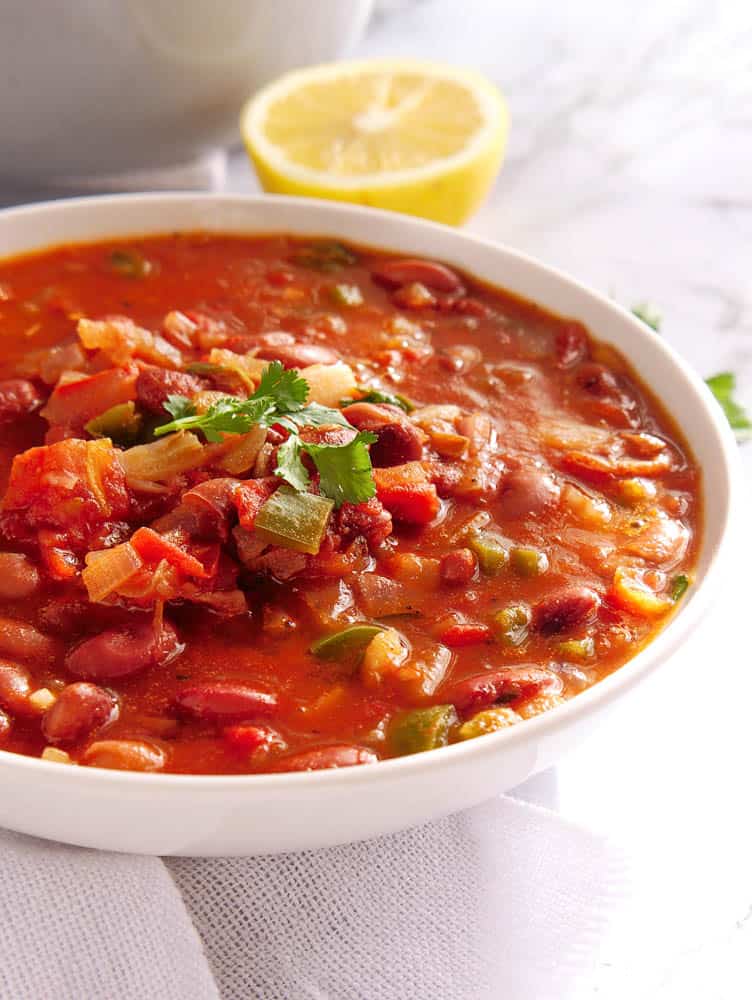 Indian Spiced Cabbage
This delicious Indian cabbage with peas is spiced with cumin seeds, coriander, and turmeric powder. In India it is called sabzi which means "vegetable dish." It's got a bit of a kick from the cayenne pepper, and a nice char on the cabbage gives it a smoky flavor! A delicious traditional Indian side dish!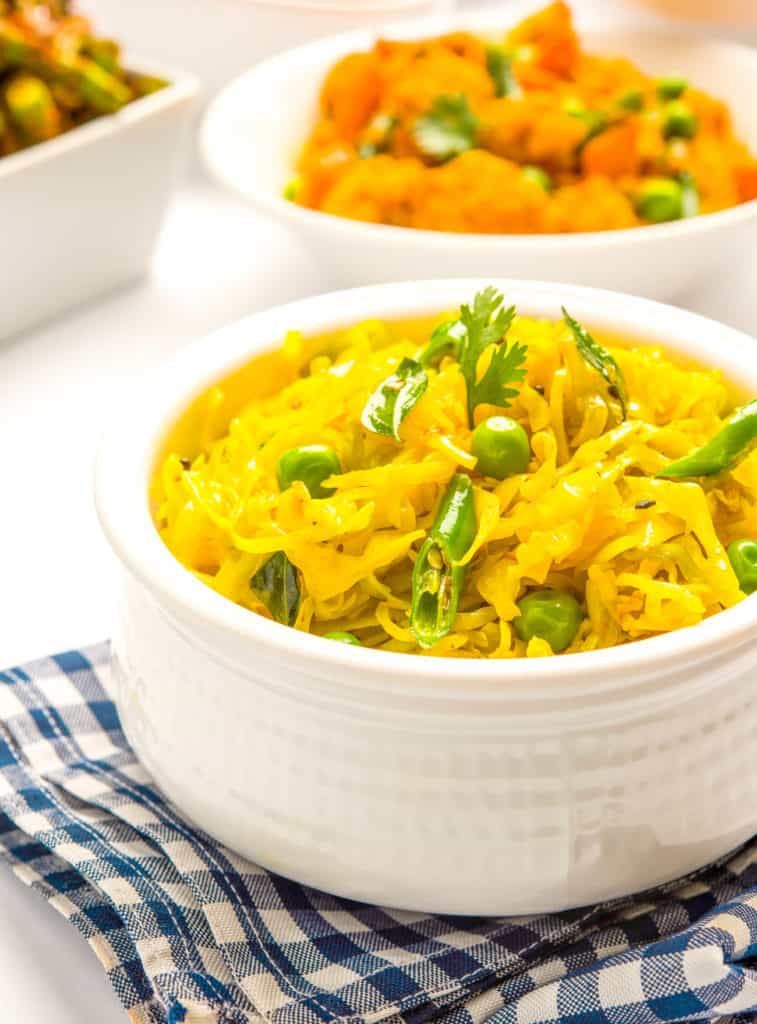 Vegan Palak Paneer
Palak Tofu, or vegan palak paneer, switches out tofu for cheese but has all of the delicious fragrant flavor of a traditional palak paneer recipe! Traditionally made in northern India, it's a healthy but indulgent dish that is super easy to make and ready in just 40 minutes!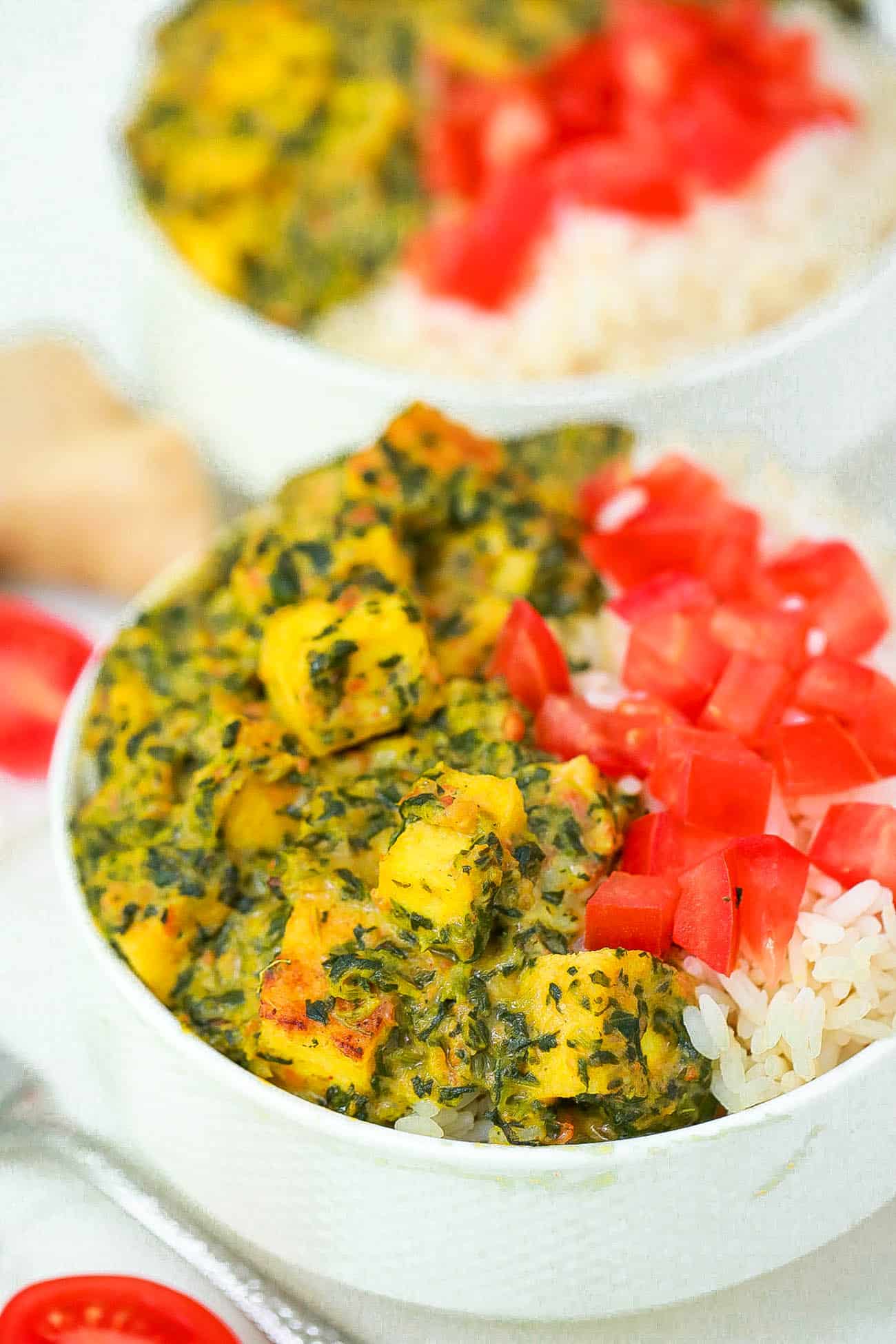 More Kids Recipes & Eating Guides For Kids!
If you have tried these Indian recipes for kids or any other recipe on my blog, then please rate it and let me know how it turned out in the comments below! You can also FOLLOW ME on FACEBOOK, TWITTER, INSTAGRAM, and PINTEREST to see more delicious, healthy, family friendly food!
28 responses to "14 Indian Recipes for Kids: Easy, Kid Friendly Meal Ideas"