Top 10 Best Vegan Shampoo Brands
This post may contain affiliate links. As an Amazon Associate, I earn from qualifying purchases. Please read my disclosure.
Searching for the best vegan shampoo brands just got easier! These picks for the best brands are free of animal products, cruelty-free, and are not tested on animals. Not only that, they will leave you with beautiful, shiny, healthy hair!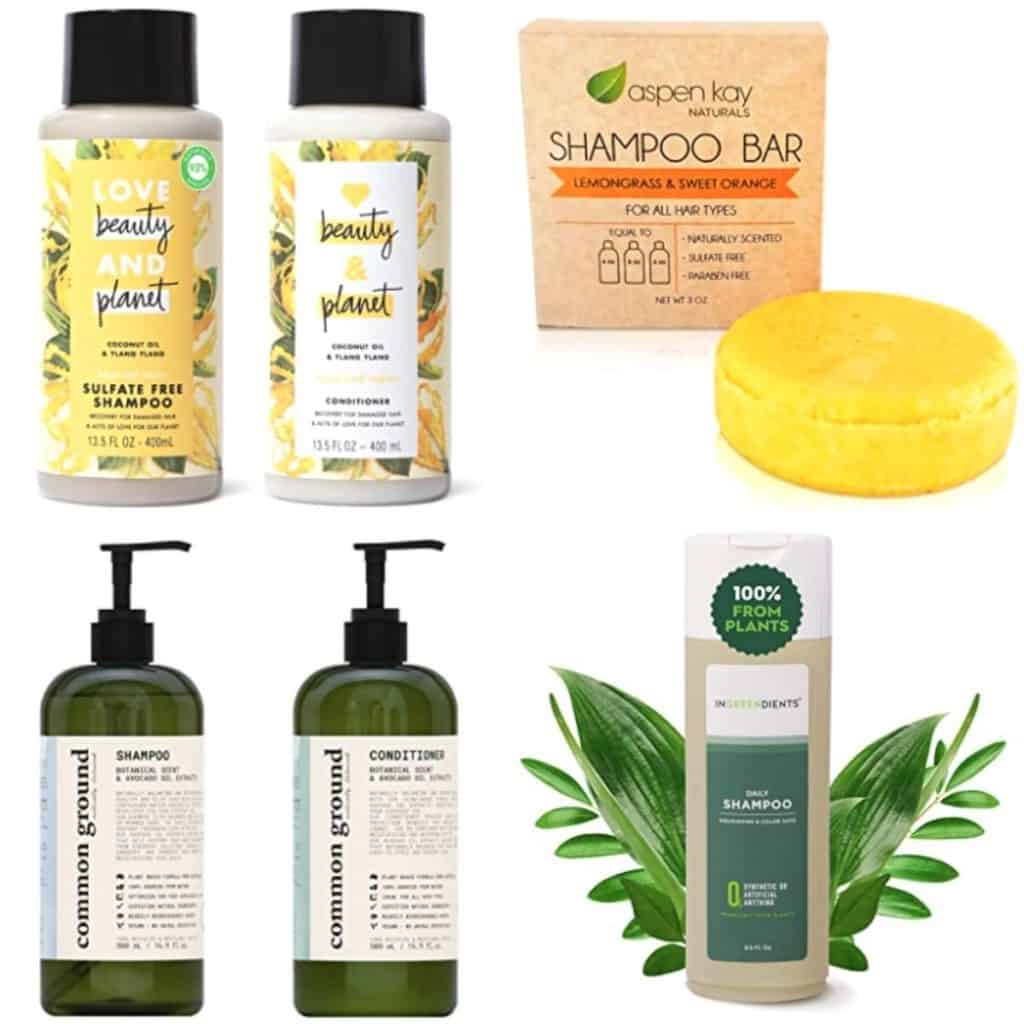 When I was a kid, most cosmetic products were unfortunately, not vegan or cruelty-free. But fortunately, today, the choices for the best shampoo that are also vegan friendly has become a quite a bit wider! If you purchase vegan products you can find a shampoo for all hair types.
Shampoo also comes in different forms, including the typical liquid and shampoo bars. Some are infused with essential oils that not only give them a natural scent, but also help to strengthen hair. Most brands use natural ingredients, and all vegan brands refrain from animal testing.
Unfortunately, not all brands are created equal, and some beauty companies even advertise claims that are stretching the truth when it comes to vegan friendly products. Knowing and understanding the different labels you see on your beauty products is the first step to making an informed choice. The top 10 vegan hair care products listed below are free of animal ingredients, not tested on animals, and organic and natural ingredients to achieve healthy hair!
What Do All The Labels On The Shampoo Bottle Mean?
When choosing a vegan shampoo you want to look for one that 1) has no animal derived ingredients, 2) is not tested on animals, 3) uses chemical free ingredients.
No Animal Cruelty / Cruelty-Free: I'm sure you've seen the picture of the little white bunny rabbit, and under the label, says cruelty-free. This symbol indicates that the product was not tested on animals.
Vegan: If a product is vegan, meaning no animal products are used, you'll see a symbol that looks something like a circle with a "V" in the center. Sometimes the V is made to look a leaf.
Chemical Free Ingredients: This is where it gets a little tricky. When buying a vegan shampoo, you likely also want something that is going to be healthy for your hair and body, and free of chemicals. This is where you may need to do a little digging. Luckily, many brands will advertise on their bottle that they are free of certain types of chemicals.
What Chemicals Should I Avoid In Shampoo?
Before buying your next bottle of shampoo look-out for these harmful chemicals.
Parabens: Used as a preservative, they mimic the production of estrogen and have been linked to breast cancer.
Ammonium Lauryl Sulfate or Sodium Laureth Sulfate (SLES): A chemical that rinses out the oils in your hair, but in the process, damages hair and can make it brittle and frizzy.
Sodium Lauryl Sulfate (SLS): This chemical is used to create a lather in shampoo, however it can cause eye irritation, nausea, and vomiting if ingested.
Sodium Chloride: This is really a salt, that is used to make shampoo thicker. However, it is linked to dry, itchy scalp, and even hair loss.
Polyethylene Glycols (PEG): A thickening agent made from petroleum, with harmful byproducts.
Diethanolamine (DEA): Used to bind the ingredients together. But has been linked to cancer in animals.
Triethanolamine (TEA): Another binding ingredient and foaming agent linked to cancer.
Formaldehyde: A known human carcinogen.
Alcohol: A drying agent that can cause already dry hair to become even more dry.
Synthetic Fragrances: When a product has the word "fragrance" it can have numerous hidden chemicals. Stay away, as you do not know exactly what chemicals those are, and how they may effect you.
Synthetic Colors: Many shampoos are colored to make them look more appealing. However, the colors come from petroleum or coal-tar, which can have harmful implications on humans.
Dimethicone: This ingredient is a silicone that is used to put a protective coating on the hair. The problem is that it is the cause for product build-up in your hair, and thus cause clogged pores, and skin irritation on your scalp.
Cocamidopropyl Betaine: An agent used to create foam that can cause skin irritation, allergies, rosacea, and eczema.
Triclosan: This chemical bacteria agent is meant to kill bacteria, but it is a known hormone disruptor, which can lead to cancer and affect fetal development.
Retinyl Palmitate: A known skin irritant that can cause peeling, scaling, redness, and itching of the scalp.
Natural Ingredients Found In Vegan Shampoo
Shea Butter: Used to moisturize dry hair, and helps protect against hair loss.
Lavender Oil: Helps to soothe an itchy scalp and reduce dandruff.
Hemp Seed Oil: Aids in hair growth.
Vitamin E: Used to frizzy hair into smooth and manageable strands.
Cocoa Butter: Added to shampoo as a natural moisterizer.
Rice Protein: Added to volume shampoos, rice protein can significantly add volume and depth to hair. It has also been know to add natural highlights.
Quinoa Protein: This natural ingredient boosts hydration and moisture by forming a protective barrier around the strands to block out heat and dryness, and lock in moisture.
Why Use Vegan Shampoo?
Healthier for Your Hair: Vegan shampoos are often healthier for your hair. They are made with plant extracts and natural oils that provide your hair with hydration, and give you that gorgeous sheen! They come in a wide variety for all hair types, so you are sure to be able to find a shampoo that works for your hair.
Better for the Planet: Instead of using harmful chemicals, the ingredients in vegan shampoos are generally better for the environment. As you wash your hair, the suds and chemicals go back into the water stream. Using a shampoo free of chemicals helps keep our water clean and safe!
No Animals Harmed: Not only do these types of shampoos refrain from using animal derived ingredients, unlike most standard brands on the shelves today, but they also do not test on animals, ensuring that our furry friends are treated with safety and respect.
Better for Your Health: The beauty industry uses numerous harmful chemicals as stated above. These chemicals can cause serious health problems long term, such as cancer, skin irritation, and even hair loss! When looking for a safe shampoo check out the EWG's Skin Deep database. Here you can look up a variety of products to see their safety score. If a product has more than a 4 as their rating, you want to steer clear of this product!
Best Places To Buy Vegan And Cruelty Free Shampoo
Where are the best places to find vegan shampoo? You can really find it virtually anywhere! Not all stores carry every single brand, and some of the brands mentioned below are only sold online.
However, you can easily find vegan friendly shampoos and other vegan hair products at your local grocery store, Target, Whole Foods, Trader Joe's, Ulta, and more! While you're at it, pick up the complimentary vegan conditioner. See my list of the best vegan shampoo brands below!
Top 10 Vegan Shampoos
FAQs
Is vegan shampoo better for your hair?
Yes! Vegan shampoo is way healthier and better for your hair than the standard brands on the market. Especially because most vegan shampoo brands already are free of harmful chemicals. They will leave your hair full, shiny, and clean, without any harmful residue.
Why is vegan shampoo better?
Vegan shampoo is usually made with mostly plant-derived ingredients. This means that you are cleaning your hair with natural ingredients that do not have harmful effects on you, and also do not harm the planet. Vegan shampoo brands also often use organic ingredients. In addition, they are a cruelty-free product, meaning they are not tested on animals.
Are vegan shampoos more expensive?
In general, yes, vegan shampoos are more expensive than the standard brands on the shelves of your big box stores. This is because the cost of the ingredients are more, and of higher quality.
Why do other companies use animal derived ingredients?
The reason most cosmetics companies use animal derived ingredients is not because they are better for your hair, but because they are less expensive. They are used as fillers and preservatives. Most shampoos are made from water, so these ingredients don't improve hair, but help to thicken the product. This helps to reduce the overall cost, and increase the companies' bottom line.
Is Dove Vegan?
According to their website, Dove has been cruelty-free for over 30 years. They are certified by Peta as cruelty-free. Some of their products are vegan, however, not all of them are, and none of their products are certified vegan. Some of the animal products that you may find in their products include gelatin, beeswax, honey, and similar animal by-products.
What shampoo brands are not vegan?
Some common shampoo brands that are not vegan include Tresemme, Garnier, and Pantene. These commonly used brands are also not cruelty free, meaning that they test on animals. This is not an exclusive list, as most brands of shampoo are not vegan. To make sure any hair products you're buying are vegan, look for the vegan-certified notation or labeling that the product is vegan on the package!
More Helpful Healthy Product Resources!
I hope you found this post helpful, and were able to find a vegan shampoo brand that works for you and your hair. If you have any questions comment below! You can also FOLLOW ME on FACEBOOK, TWITTER, INSTAGRAM, and PINTEREST to see more delicious, healthy, family friendly food!
4 responses to "Top 10 Best Vegan Shampoo Brands"