The Best Natural Products for Babies (2023 Guide)
This post may contain affiliate links. As an Amazon Associate, I earn from qualifying purchases. Please read my disclosure.
There are so many things to learn when you're a new parent. Beyond all of the baby-care basics, there's the whole world of figuring out what products you need, what items you want in your nursery, and how to ensure that everything you buy is safe and non-toxic for your baby! That's where this guide comes in: these are the best natural products for babies including skin care, diapering, food, formula, shampoo and bath products.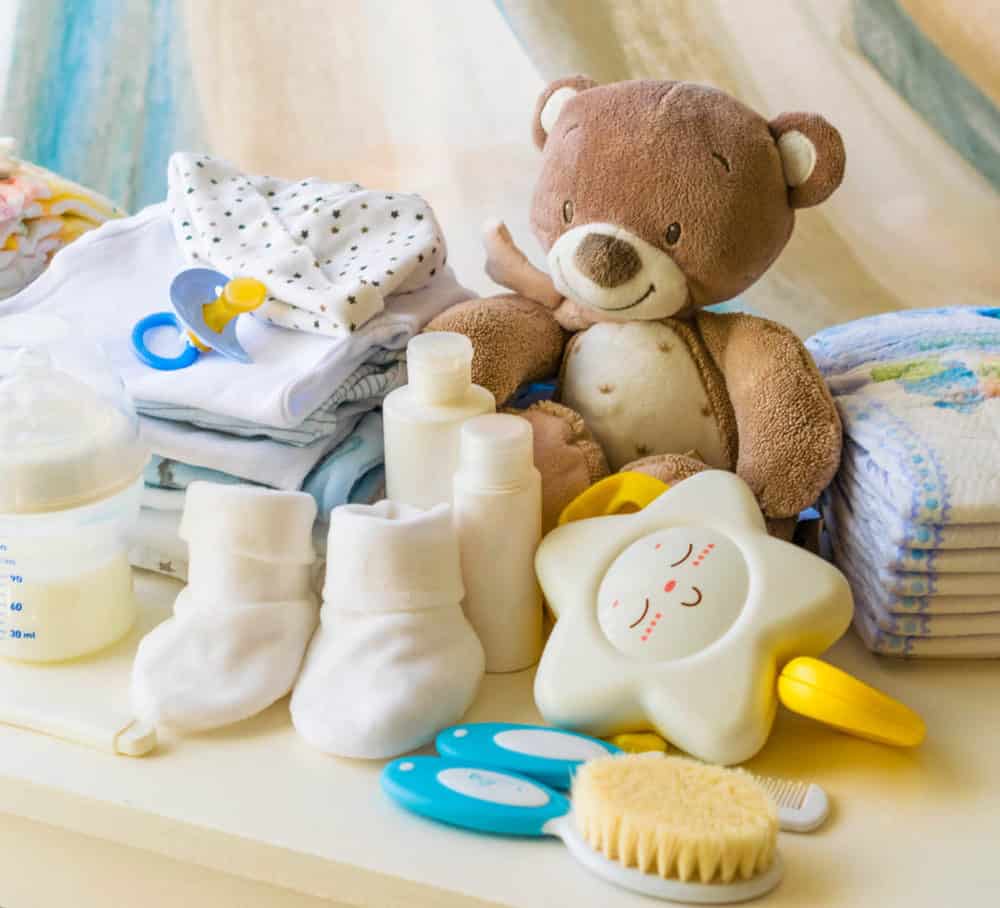 When I first got pregnant, I remember being overwhelmed with the sheer volume of information that was thrown at me.
It was hard enough to figure out what to buy, let alone determine whether those items were manufactured using nontoxic or organic ingredients.
While I was always conscious about ingredients in food, I never really thought about the ingredients in skincare, shampoo, clothing, etc. until I became a mom.
But once I learned about the laundry list of toxic ingredients that can be found in skincare products – I realized I wanted to be more careful when choosing the best products for my kids!
Why Are Natural Products for Babies Important?
If you look at most products made for babies (and adults!), you'll find that they very likely contain ingredients that are linked to hormone disruptions, allergies, inflammation or are carcinogenic in nature.
This is because FDA regulations are pretty relaxed when it comes to skincare and other products, so these ingredients tend to be pretty prevalent.
Babies are the most susceptible to the effects of these chemicals, because their bodies are still growing and developing, and they don't have the same ability to detox from harmful substances as adults do.
The good thing is, there are plenty of safe, natural baby products available! When it comes to which ones to prioritize, just do whatever works with your budget – having some natural products is better than none!
How To Find the Safest Baby Products
Here's what I looked for when determining this list of the best natural products for babies:
What Are The Best Natural Products for Babies?
Top 10 Best Skincare & Lotion Products for Babies
Safest Diapers and Wipes for Babies
The main thing to look for when it comes to diapers/wipes/etc. is that they don't include any of these ingredients:
No dioxins (chlorine bleach)
No volatile organic compounds (VOCs – e.g. toluene, ethylbenzene, and xylene)
No TBT
No fragrances or dyes that contain parabens/pthalates/etc.
No formaldehyde-releasing chemicals (e.g. formaldehyde, quaternium-15, DMDM hydantoin, imidazolidinyl urea, diazolidinyl urea, polyoxymethylene urea, sodium hydroxymethylglycinate, 2-bromo-2-nitropropane-1,3-diol (bromopol) and glyoxal)
No Propylene glycol or polyethylene glycol, no SLS or SLES (Sodium Lauryl/Laureth Sulfate), no Triclosan, no Methylisothiazolinone (MIT)
Here are the best natural diapers and wipes I've found:
Best Natural Diaper Rash Cream for Babies
Best Natural Baby Food
When it comes to baby food, your best option is really to make your own to ensure it's 100% organic and has no added sugars or preservatives! But if that's not possible, the next best thing is to find healthy baby food pouches that meet these criteria:
No added sugars, and less than 8g of natural sugar (from fruits) per pouch
Only contain vegetables, or are vegetable-forward (e.g. 3 vegetables listed first on the ingredients list and then 1-2 fruits listed as #4 and #5).
High in fiber (2g or more)
Best Natural Baby Formula
When it comes to baby formula, there are a few things to look for to find the best option for your little one:
Organic and Non GMO: Either certified USDA organic, or EU certified organic. This means that it was produced without pesticides, GMOs, hormones, and should have no artificial or synthetic ingredients.
Whey:Casein Ratio: You want to find a formula that has a whey: casein ratio of 60:40, which most closely mimics breast milk.
No Added Sugars in the form of syrups or syrup solids (e.g. brown rice syrup, corn syrup, glucose syrup solids)
No Soy or Carrageenan
This guide outlines the best natural baby formula options on the market today!
Shampoo and Bath Products
Sunscreen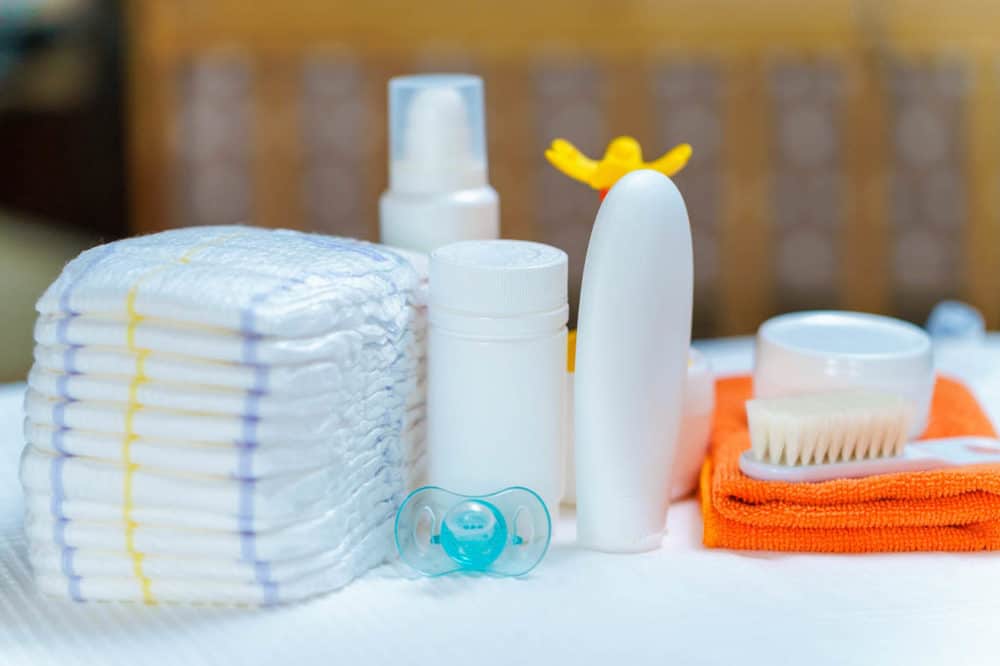 Other Things To Consider
Switch to Organic Cotton Bedding: According to the Organic Trade Association (OTA), 25% of the world's insecticide use and more than 10% of the world's pesticides are for cotton crops. These chemicals can be toxic or allergy-inducing for babies. Avoid the risks by using organic cotton which is grown without the use of toxic pesticides or fertilizers, and has a lower environmental impact.
Choose Organic Clothes & Stuffies: For the same reasons as above, look for clothing brands that use 100% organic cotton; in addition look for dyes with low impact, heavy metal-free colors which do not contain harmful chemicals (PVC and phthalate free), don't use chemical bleaches and are formaldehyde free.
Choose BPA Free Bottles/Accessories: To help reduce exposure to chemicals found in many plastics, try switching to products made without the toxic chemical Bisphenol-A or "BPA," which can disrupt hormones and may lead to a number of health problems.

Switching to BPA free containers for food storage will help keep

your baby from digesting chemicals being transferred to their food.
Look for BPA/Toxin Free Toys and Teethers: Avoiding plastics overall can sometimes be challenging, so checking the resin code/number is always a good idea. Plastics labeled 1,2, 4, or 5 are considered safer. If you want to completely avoid plastics altogether, choose natural materials like unpainted wooden toys and organic cotton cloth or plush toys. Many toys/teethers made from these safer materials are available to help you stay away from plastic! Also, another tip is when buying painted toys, make sure the paint is non toxic and lead free. (Note: Another option to ease teething pain is to use Amber teething necklaces and bracelets. These are not teethers and babies shouldn't have these in their mouths. It works because the succinic acid is absorbed through the skin, and eases tooth pain in teething babies.)
Buy Safer Cleaning Products/Detergents: Most conventional cleaning products contain lots of toxic chemicals which would be harmful to anyone and especially a growing child. Try choosing only natural, eco friendly cleaning products (which clean just as well as conventional cleaners without the added toxins).
I hope this guide helps you find the best products for you and your little one!
Note: These products are based on my own personal recommendations and what I would use for my own kids. I am not a medical professional, and you should always consult with a doctor before trying any products I recommend with your child(ren).
20 responses to "The Best Natural Products for Babies (2023 Guide)"