12 Best Decaf Coffees in 2022
This post may contain affiliate links. As an Amazon Associate, I earn from qualifying purchases. Please read my disclosure.
When you love the warmth and flavor of coffee but you don't love the caffeine, decaf is the way to go! Unfortunately, finding a quality decaf coffee is a bit tricky. In this post, I review the 12 best decaf coffees in 2022, as well as provide you with tips on how to find and buy quality decaf coffee beans.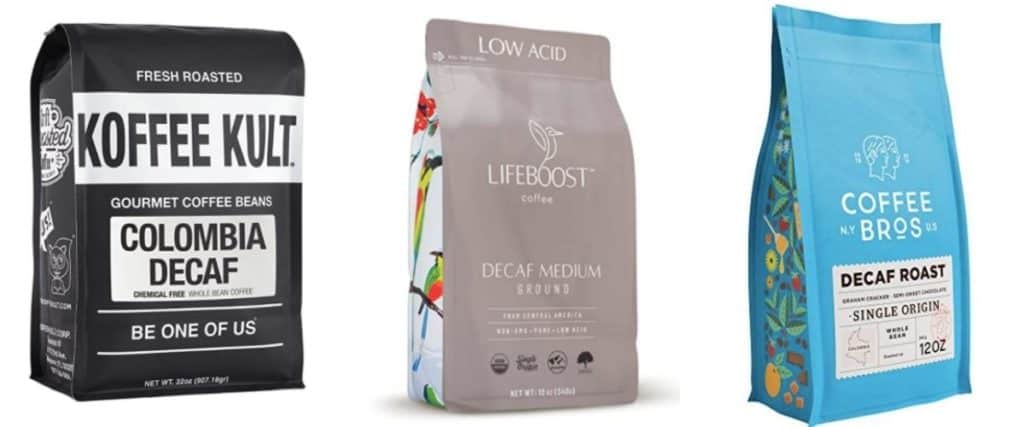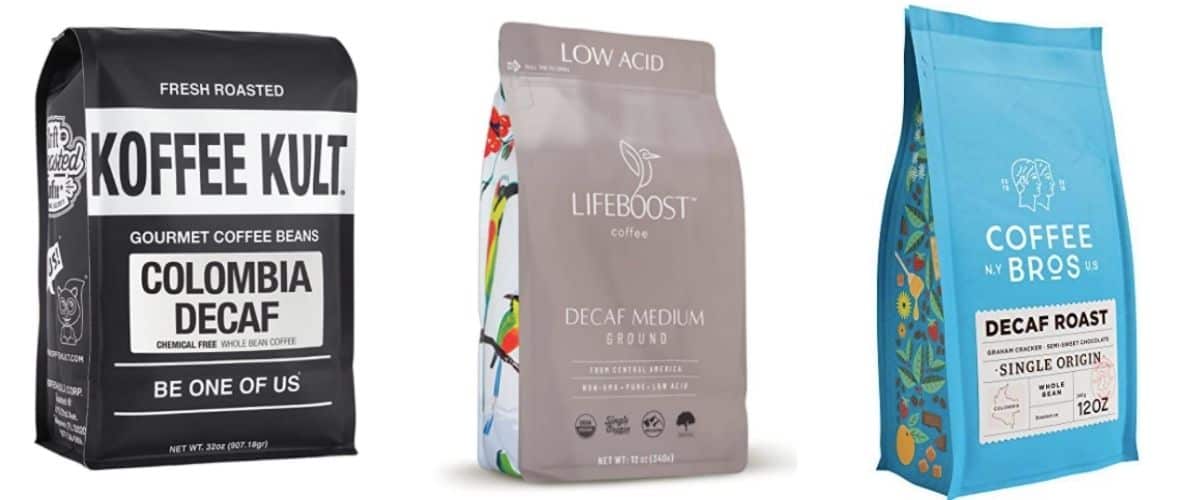 Many people rely on decaf coffee. Whether you want to enjoy a warm cup of coffee in the late afternoon or evening, or simply want to avoid caffeine because it doesn't agree with you, decaf coffee can be a great option. But where can true coffee lovers find a quality decaf that tastes like a regular cup of joe?
The challenge with decaf coffee is that the process of removing the caffeine often eliminates flavor leaving your coffee tasting rather bland.
As a decaf coffee drinker myself, I have been on the hunt for the very best decaf beans. I've tried numerous brands, and have come up with a list of my top 12 favorites!
In this post, I will not only give you my top recommendations but also explain the different processes of eliminating caffeine from beans, so that when you go out to buy your next bag of coffee, you'll have all the information you need to make an informed purchase.
Best Decaf Coffee Brands In 2022
How To Choose A Decaf Coffee
When considering the best decaf coffees I looked at several considerations including the method of decaffeination, the roast level, and whether the beans were a blend or of a single origin. Let's take a closer look at each of these considerations when choosing a decaf coffee that will meet your expectation.
Decaffeination Method
Most decaf coffees use Arabica beans rather than Robusta beans. The reason is that Arabica coffee has less caffeine than Robusta. Therefore the decaffeinating process is easier.
When it comes to removing the caffeine from coffee beans there are four different methods.
Swiss Water Process
Carbon Dioxide Process
Indirect-Solvent Process
Direct-solvent Process
Let's take a closer look at the Swiss Water Process. This is a chemical-free method to remove caffeine from the beans that were invented in Switzerland in 1933. The Swiss Water Company's decaffeination facility is the only one in the world that is certified organic. Therefore, if you are looking for an organic decaf coffee it will have gone through the Swiss Water Process.
How does the Swiss Water Process work?
Instead of using chemicals, this process uses two main scientific concepts, solubility, and osmosis. The first step is to soak a batch of beans in hot water to dissolve the caffeine. The water is then passed through an activated charcoal filter. The filter captures the large caffeine molecules and allows the small oil and flavor molecules to pass. As a result, there are two tanks, one that has flavorless caffeine-free beans, and another that has flavorful water. The flavorless beans are thrown out, and the flavorful water is reused to remove the caffeine from a new batch of coffee beans. What you're left with is a flavorful caffeine-free bean!
This method is almost exclusively used with organic coffee beans and the result is a coffee that is 99.9% caffeine-free.
Another popular method is the Carbon Dioxide Process. The most recent process for decaffeination was developed by Kurt Zosel.
How does the Carbon Dioxide Process work?
In the CO2 process, the coffee beans are soaked in water, then placed in a stainless steel container knowns as an extraction vessel. The tank is sealed, and liquid carbon dioxide is forced into the coffee beans at a pressure of 1,000 pounds per square inch. This pressure extracts the caffeine but leaves the flavor. The high cost of the process means that it is usually used with large batches of commercial-grade beans found in grocery stores.
How does the Indirect Solvent Process work?
Next comes the chemical processes for decaffeination: Indirect Solvent Process, and Direct Solvent Process. If a decaffeinated process isn't mentioned it is most likely done by the indirect or direct solvent process.
Let's begin with the Indirect Solvent Process. This method is most popular in Europe and used most often in coffee beans that are sold in European countries.
In this method, beans are placed in near-boiling water for several hours. This extracts the caffeine as well as the flavor and oils from the beans. The water is separated. Then the beans are washed for 10 hours in either methylene chloride or ethyl acetate. As a result the molecules of the chemical solvent bond to the molecules of caffeine. The mixture is then heated to evaporate the solvent and the caffeine. The beans are then added to the water with the flavor and the oil.
How does the Direct Solvent Process work?
The Direct Solvent Process beans are steamed for 30 minutes. This opens the pores of the coffee beans which makes them able to absorb the solvent. The beans are then rinsed again and again with methylene chloride or ethyl acetate for 10 hours to remove the caffeine. The caffeine solvent is drained and the beans are steamed to remove any additional solvent left on the beans.
What is the best method of decaffination?
If you want a coffee that is organic then the best and only method is the Swiss Water Method. In fact, if you are looking for a more exotic, small-batch decaffeinated coffee that is organic then look for the Swiss Water Method. If no method is mentioned, it is most likely processed using the indirect or direct solvent process.
I recommend looking for a decaf coffee that uses either the Swiss Water Process or Carbon Dioxide Process as these are the most natural and do not use any solvents for the process.
Roast Level
After looking at the process for decaffeination, the next aspect of your coffee beans you need to consider is the roast level. This is highly dependent on the type of finish you prefer. There are three types of roasts including light, medium, and dark.
When choosing a decaf coffee it's usually best to opt for a medium or dark roast. The reason for this is that light roast coffees get their flavor from the bean. When the bean undergoes the decaffeination process the original flavor is altered. So if you're looking for a coffee that has the same flavor profile as a regular cup opt for a medium or dark roast.
It's also better to opt for a brand that takes specific care when roasting their beans. Decaf beans react differently to the roasting process, so having an expert roaster who truly knows how to work with decaffeinated beans will yield the best result.
Blend Vs. Single-Origin
Most decaf coffees are blends of different beans. The reason for this is that the coffee maker selects the beans to create a delightful flavor profile similar to that of a regular caffeinated blend. However, that's not to say that you will never find a single-origin coffee. If you do, it will likely be a dark roast.
I recommend going for a decaf blend or a single-origin dark roast such as a Sumatra or Columbian bean. Always look for whole beans and not ground coffee.
Decaf Does Not Mean Caffeine Free
While the beans have undergone a process to remove the majority of caffeine, decaf coffee does still have a small amount of caffeine. In fact, decaf coffee needs to be only 94% caffeine-free to be considered decaf. One cup of decaf coffee has a caffeine content between 2-15 mg. Compare that to a typical cup of regular coffee that has about 95 mg of caffeine. A decaf cup of coffee is a good option for those that love the flavor profile of coffee but don't want the extra caffeine.
Health Benefits Of Decaf Coffee
Many people need their cup of coffee in the morning to get themselves going. Some choose to drink coffee for the purpose of the caffeine boost alone. However, a boost of caffeine is not the only health benefit of drinking coffee.
According to Johns Hopkins, there are several health benefits to drinking coffee:
Live Longer
Process Glucose Better
Less Likely to Develop Heart Failure
Less Likely to Develop Parkinson's
Protect Your Liver
Decreased Risk of Developing Colon Cancer
Decreased Risk of Developing Alzheimer's
Decreased Risk of Stroke
These health benefits remain whether you drink regular or decaf coffee.
Drawbacks Of Drinking Regular Coffee
While drinking coffee can improve your health in some cases, drinking too much caffeine can have a negative effect on your health. According to Healthline, the health risks include:
Increased Anxiety
Insomnia
Diarrhea
Excess sweating
Rapid heartbeat
Muscle tremors
Restlessness
Shakiness
Dehydration
High Blood Pressure
However, drinking decaf coffee reduces your risk of these conditions.
Why Drink Decaf Coffee?
Drinking decaf coffee allows you to get all of the health benefits of coffee while reducing your risk of negative side effects. Additionally, decaf coffee is a much better option for those who shouldn't have a large amount of caffeine for health reasons (e.g. anyone with a heart condition, anyone who is pregnant or breastfeeding, or people with extreme anxiety or digestive issues), or anyone trying to reduce their caffeine intake.
Choosing the best decaf coffees that are available means that you won't have to settle for a less flavorful and full-bodied cup.
What Does Decaf Coffee Taste Like?
Decaf coffee tastes like regular coffee, when the beans are roasted properly and the swiss water method is used for decaffeination. Typically the best decaffeinated coffee has a variety of tasting notes like chocolate, berry, or even notes like toffee and lemon!
What Are The Best Decaf Coffee Beans?
The best decaf coffee out there in my opinion is the Kicking Horse Decaf Dark Roast Coffee.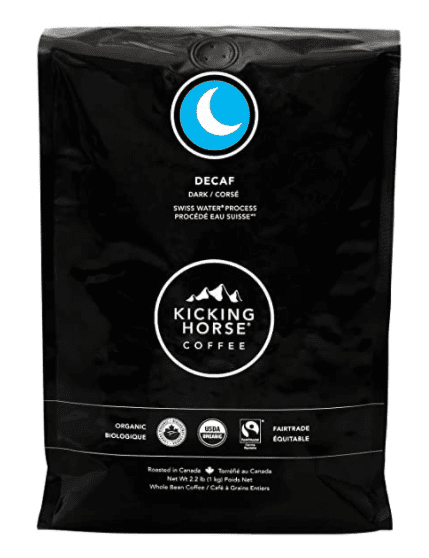 Why is this the best decaf coffee?
Organic
Great taste & Dark Roast for a Full Bodied Flavor
Swiss Water Process of Decaffination
Expert Roasters
Roasted in Small Batches
Blended with 100% Arabica Beans
Great value
What Is The Best Instant Decaf Coffee?
My absolute favorite instant decaf coffee is Mount Hagen Organic Freeze Dried Decaf Coffee. It's fair trade, 100% organic, and is a house blend with beans from Papua New Guinea, Peru, and Honduras. It is 99.9% caffeine free, is made with a blend of 100% Arabica coffee beans and has a smooth, rich flavor.
More Coffee Recipes And Tips!
4 responses to "12 Best Decaf Coffees in 2022"