Air Fryer Tofu Nuggets
This post may contain affiliate links. As an Amazon Associate, I earn from qualifying purchases. Please read my disclosure.
Air fryer tofu nuggets are super easy, satisfying, flavorful and can be made with no oil. This baked tofu nugget recipe makes perfect, bite-sized tofu puffs that are golden, crispy and are great for a healthy snack or side dish. Vegan, gluten-free, kid-friendly, and includes a homemade vegan ranch sauce recipe for dipping!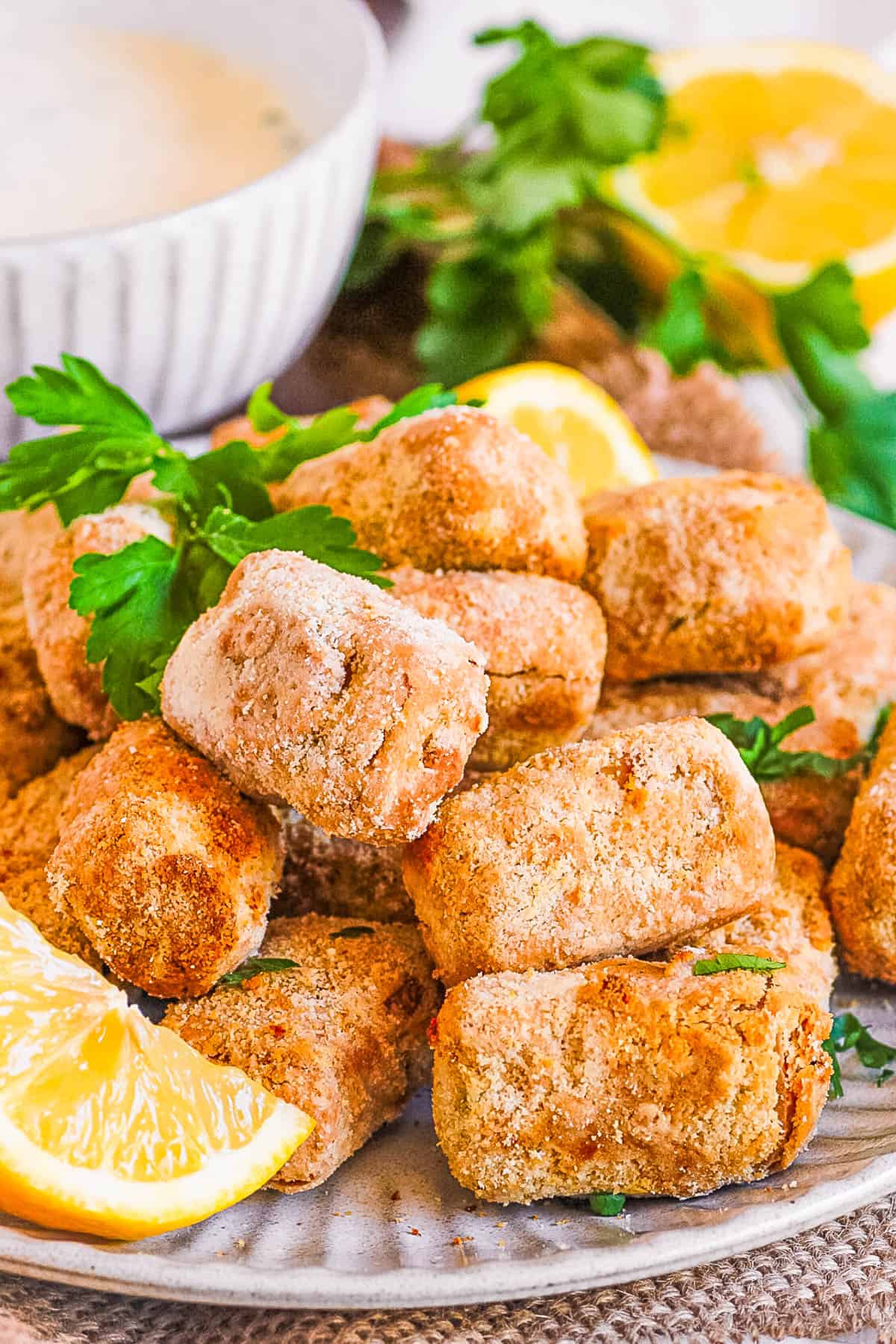 My air fryer might be one of my favorite kitchen tools ever. I have made just about anything in it – and it always turns out great! And since my family LOVES fried tofu, but I don't love all the oil that comes with deep frying tofu, I decided to cook tofu in the air fryer without any oil!
This air fried tofu recipe is literally one of the best air fryer recipes I've made so far. The tofu pieces get super crispy and taste just like they've been deep fried, without needing any oil at all! It's so much healthier than fried tofu, but tastes just as delicious!
Latest Recipe Video!
Add this crispy air fryer tofu nuggets recipe as a topping for salads, stir fries, or enjoy it all on its own as a vegetarian appetizer. They're basically like vegan chicken nuggets, healthier than regular chicken nuggets and totally plant based!
If you're an air fryer skeptic, this is the a great recipe to start out with – I promise it will make you a believer! These air fryer tofu bites are so easy to make, it's become one of my go-to family-friendly easy vegetarian recipes!
👩🏽‍🍳 Why This Recipe Works
Pair with your favorite dipping sauce!
Packed with plant-based protein
Crispy air fryer tofu – no oil!
Meaty texture
Great for vegan diets, but meat eaters will love it too!
Family friendly
Gluten free & dairy free
Easy & healthy
Perfect balance of flavors
Best air fryer tofu recipe ever!
🥘 Ingredients
This easy air fryer tofu recipe is made with simple ingredients easily found at most grocery stores. I also included a recipe for an easy to make dipping sauce, but you can pair it with any sauce you like!
You may also notice a very conspicuous ingredient missing – yep, no oil! For nutrition information, see the recipe card at the bottom of this post.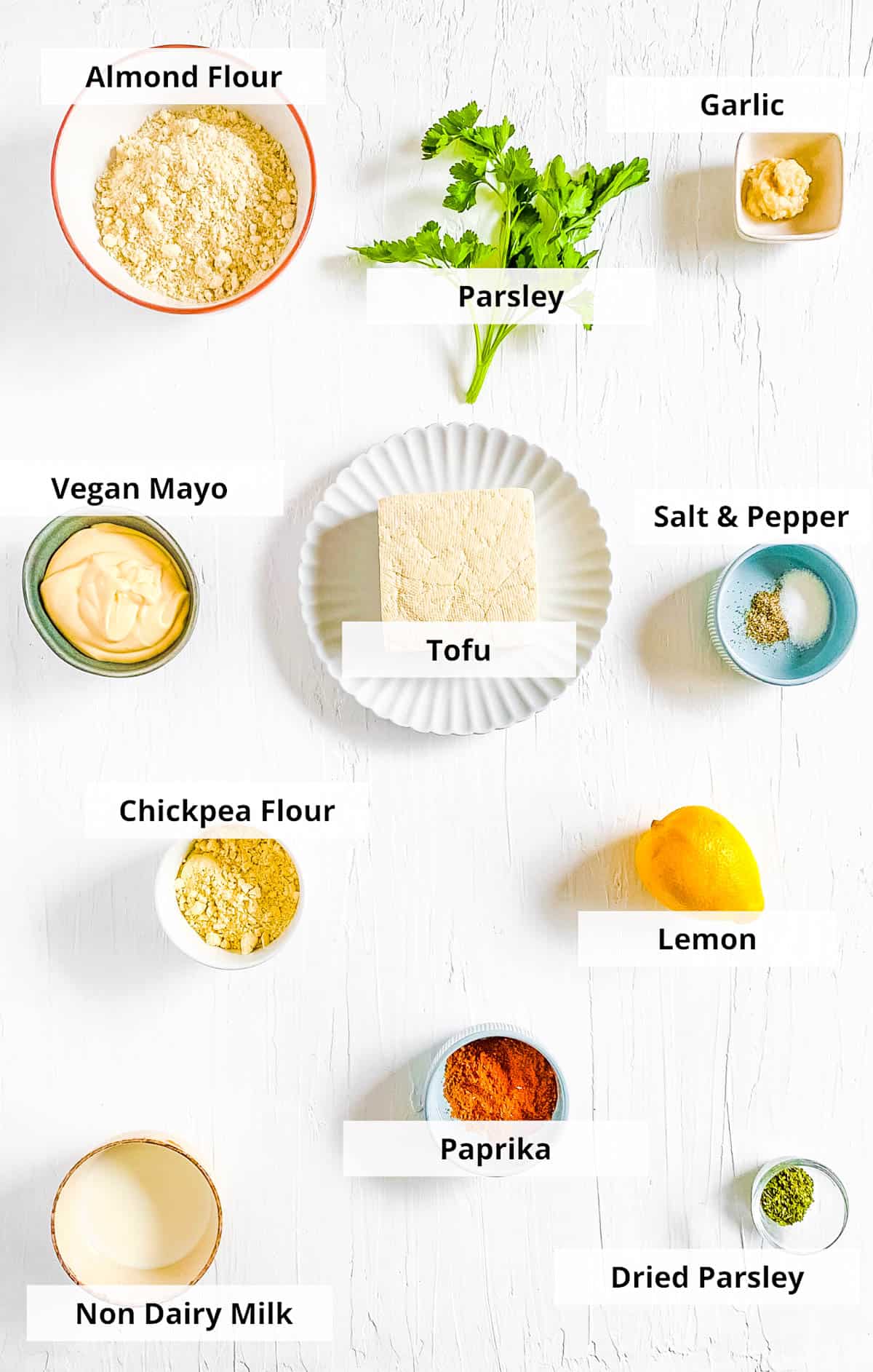 Traditional fried tofu is smothered in oil that detracts from its nutritional value. Not so with these crispy tofu nuggets!
Extra Firm Tofu: Notice I said firm. That's because tofu that isn't pressed produces less than desirable results like we just discussed. You definitely don't want crumbly, falling apart, mushy tofu, so stick with extra firm pressed tofu.
Almond Flour: For the breading!
Chickpea Eggs: I wanted to keep this strictly vegan, and chickpea eggs are the perfect pick for this recipe. Just combine 3 tbsp chickpea flour with 3 tbsp water. If it fits your vegetarian lifestyle, you can certainly use regular eggs.
Seasonings: Besides salt and pepper, we also used paprika and parsley. It really gives it that classic flavor we've all grown to expect from other fried dishes.
Homemade Vegan Ranch Sauce: You will need vegan mayonnaise and non-dairy milk, along with fresh garlic, parsley, and lemon juice.
📖 Variations
Different Spices: Feel free to add other spices to change up the flavor – garlic powder and onion powder would both taste great. If you want a cheesy flavor to the batter, add nutritional yeast.
Air Fryer Popcorn Tofu: You can easily turn these tofu air fryer nuggets into popcorn tofu simply by cutting up the tofu into smaller (1/2-1 inch) pieces before breading and frying them!
Air Fryer Breaded Tofu: If you're not on a keto diet or you don't need these air fried tofu puffs to be gluten free, you can swap the almond flour for traditional breadcrumbs or even panko breadcrumbs for an even crispier texture.
Different Sauces: If ranch isn't your thing, you can do a mustard and maple dip for a sweet and sour taste, bbq sauce, or any dip you like! See below for more sauce ideas!
🔪 How To Make Air Fryer Tofu Nuggets Without Oil
Air frying tofu is super easy! You'll get a hearty 40 tofu bites with this recipe, which is great for snacking. Each serving is about 6-7 bites of tofu + 2 tablespoons of ranch sauce.
Feel free to add this crispy air fried tofu nuggets recipe to your batch cooking or weekly meal prep because they are just so easy to toss into a lunch box or on top of salads too.
Here's How To Fry Tofu In An Air Fryer:
Press Block Of Tofu: Before you do anything, you have to press your tofu to remove all of the excess moisture and liquid (since tofu is packed in water and has a high water content). If you're wondering how to press tofu, it's actually really easy! There are a few different options here:
DIY Version: Press tofu between two plates (lined with paper towels to soak up the liquid). Set a heavy object on the top plate. This can be a cast iron skillet, a large pot, or even a stack of heavy books. Leave it for 30 minutes to allow as much moisture to drain out as possible.
Use A Tofu Press: The other way to press tofu is with a Tofu Press. If you eat tofu a lot, it's a good investment as it cuts pressing time to about 5 minutes.
Buy Pre-Pressed Tofu: If you buy the vacuum packed tofu at the grocery store, it's already pressed for you!
Take the time to press your tofu right, and what do you end up with? This gorgeous, crispy salt and pepper tofu in your air fryer!
Prep Your Tofu Block: Chop the tofu in about ½ inch squares.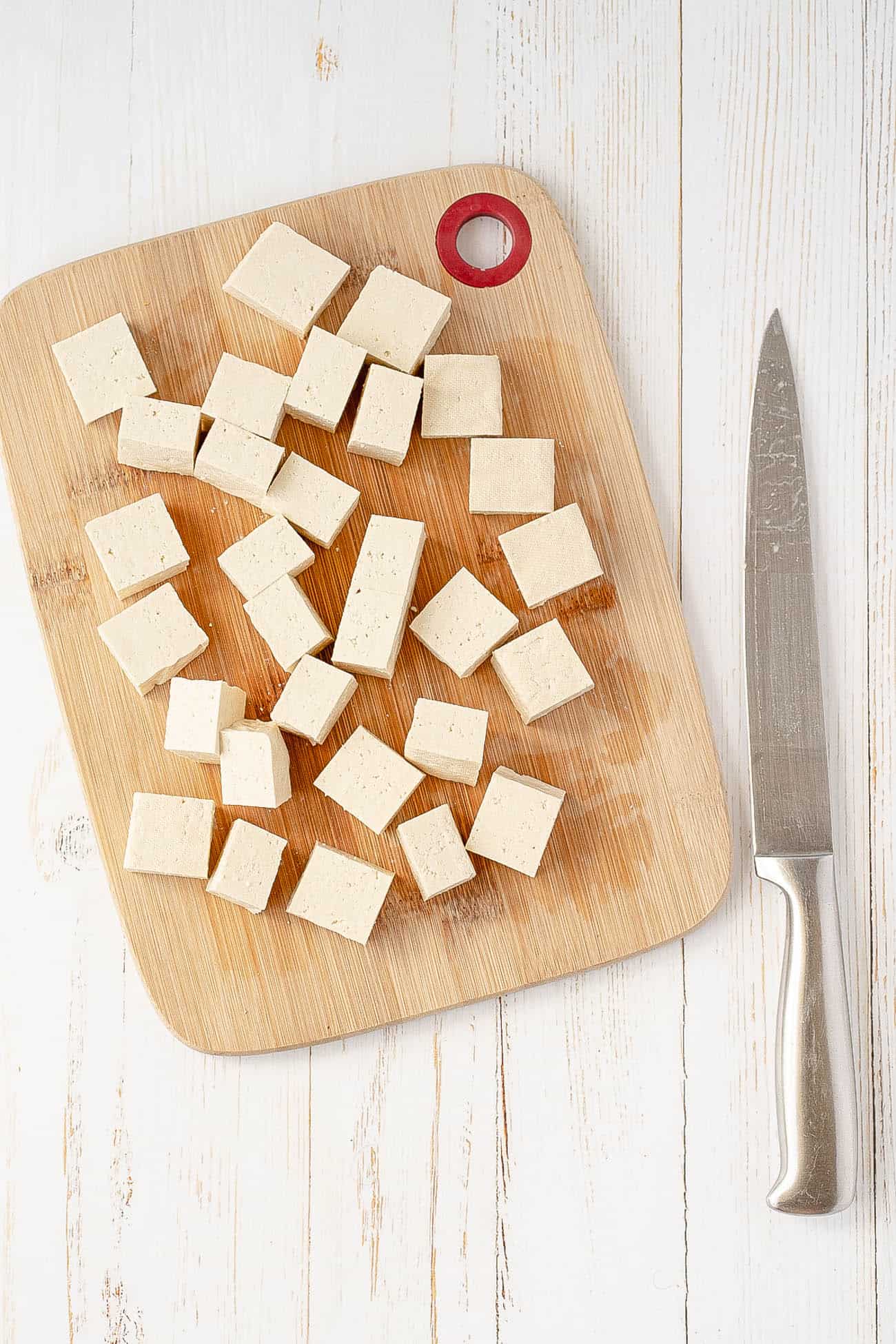 Create Vegan Egg Mixture: In a small bowl, whisk marinade ingredients together — mix the chickpea egg with smoked paprika, salt, ground pepper and dried parsley.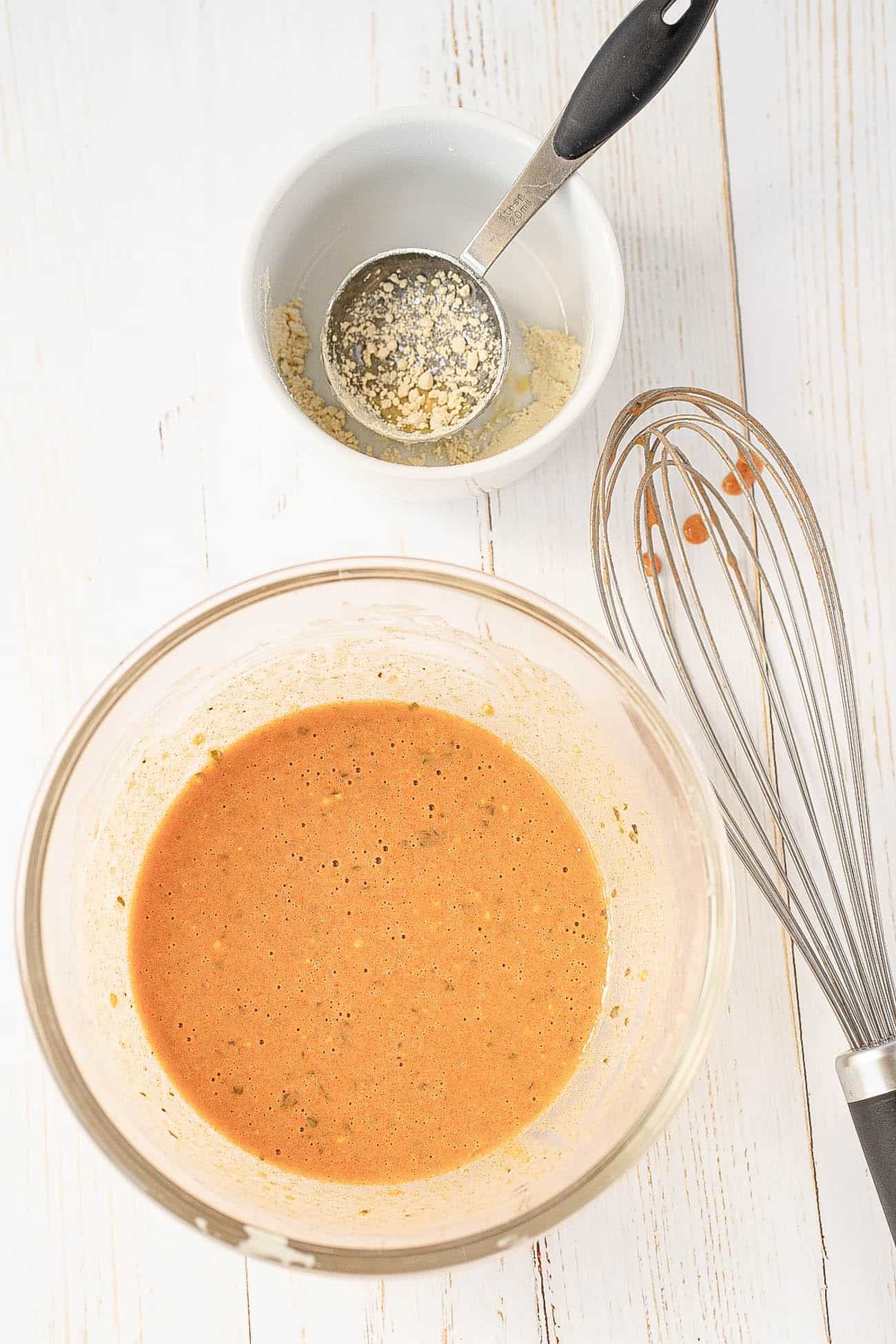 Coat Tofu: Dip each of the tofu cubes into the tofu marinade (the chickpea egg batter).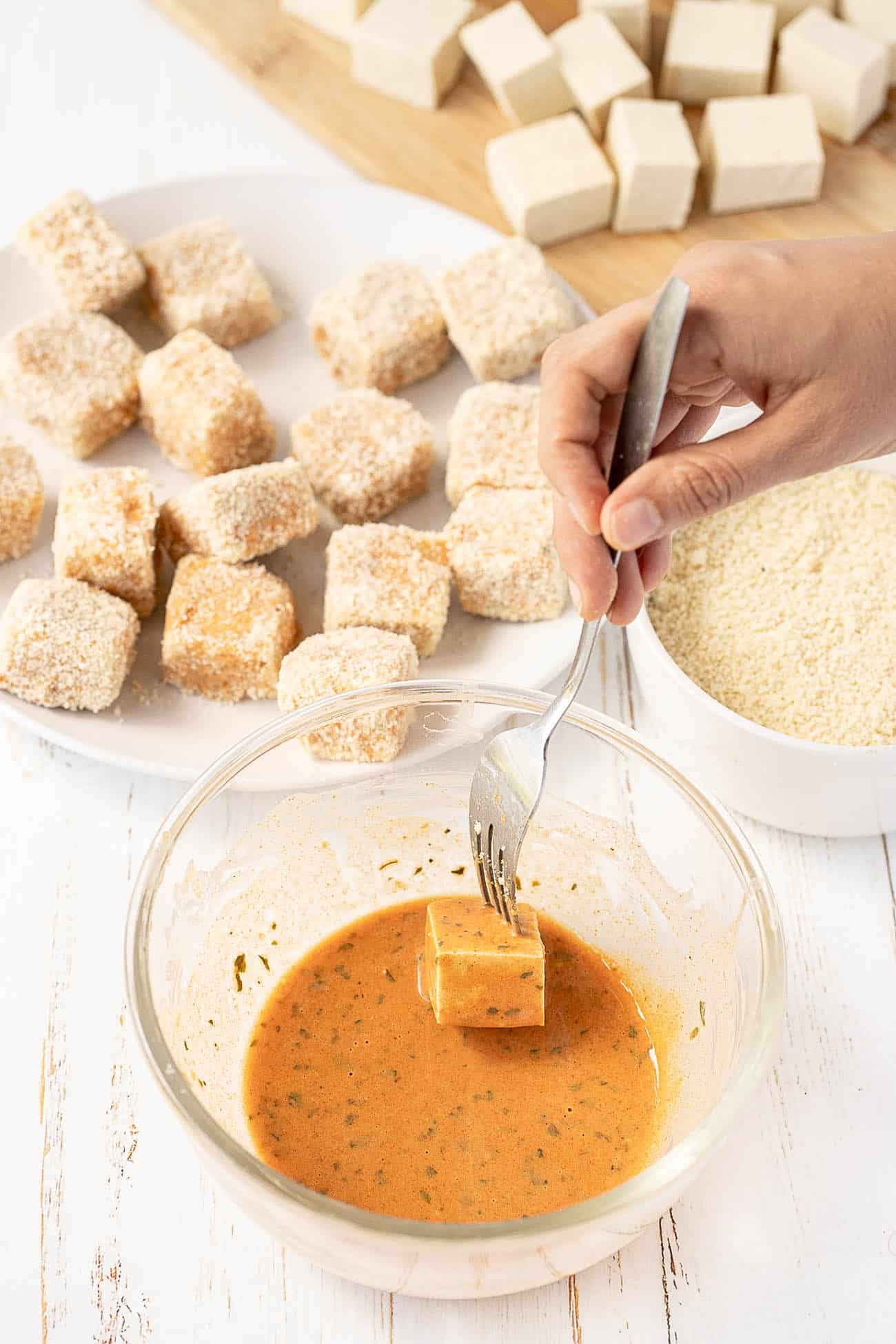 Dip In Bread Crumb Mixture: In a separate medium or large bowl, add the almond flour. Coat each tofu bite with almond flour. Thanks to the almond flour on top of the chickpea egg, you can make this crispy tofu without cornstarch easily!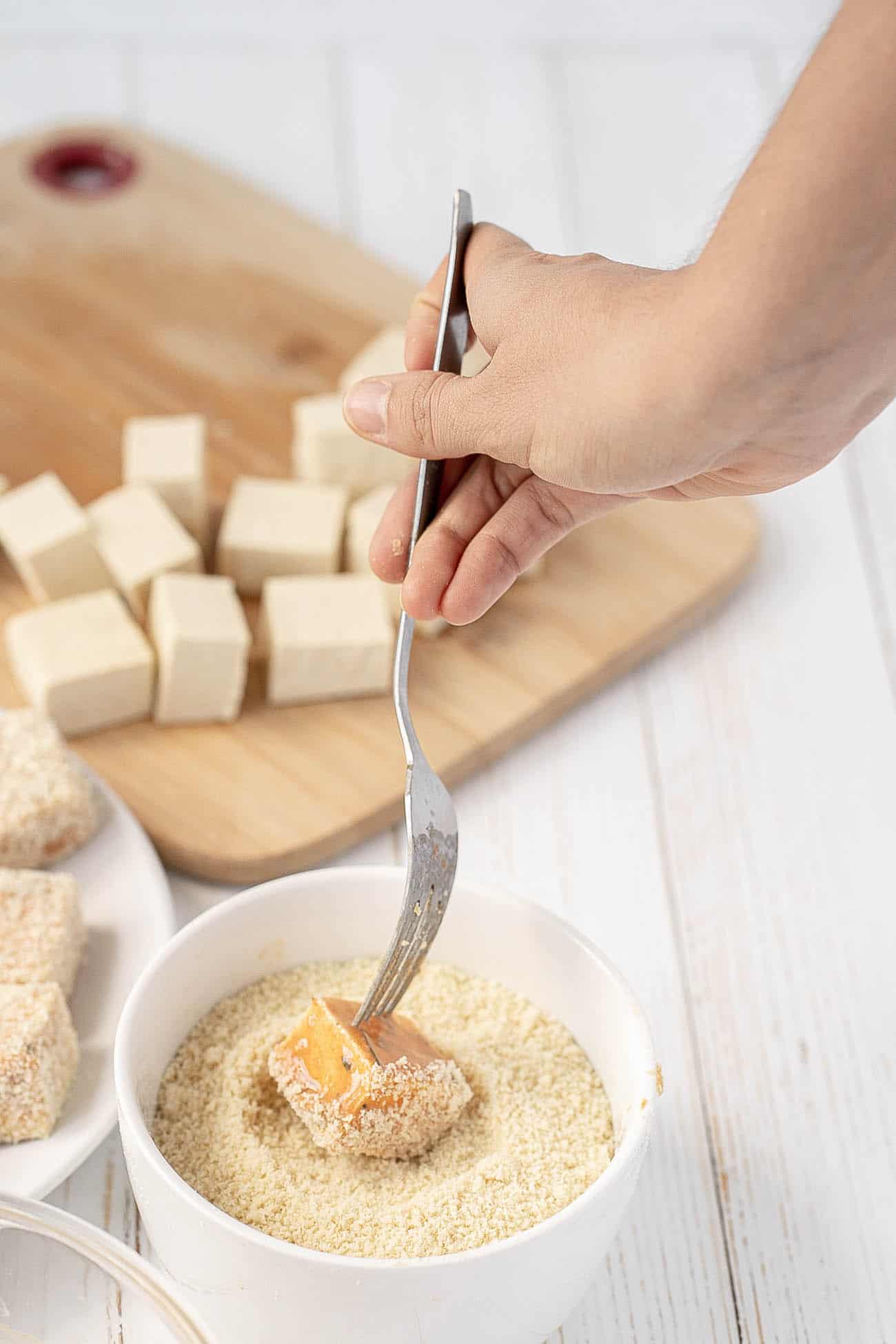 Place Almond Crusted Tofu Chicken Nuggets In The Basket Of Your Air Fryer: Don't overlap these flavorful nuggets to ensure perfect cooking – you want to place them in a single layer in the air fryer basket. You may need multiple rounds to get them all done. You don't have to spray your basket with olive oil spray or coat it with a little oil if you want to keep this recipe 100% oil free, but you can use a light coating of olive oil cooking spray to spray your basket to ensure easy removal.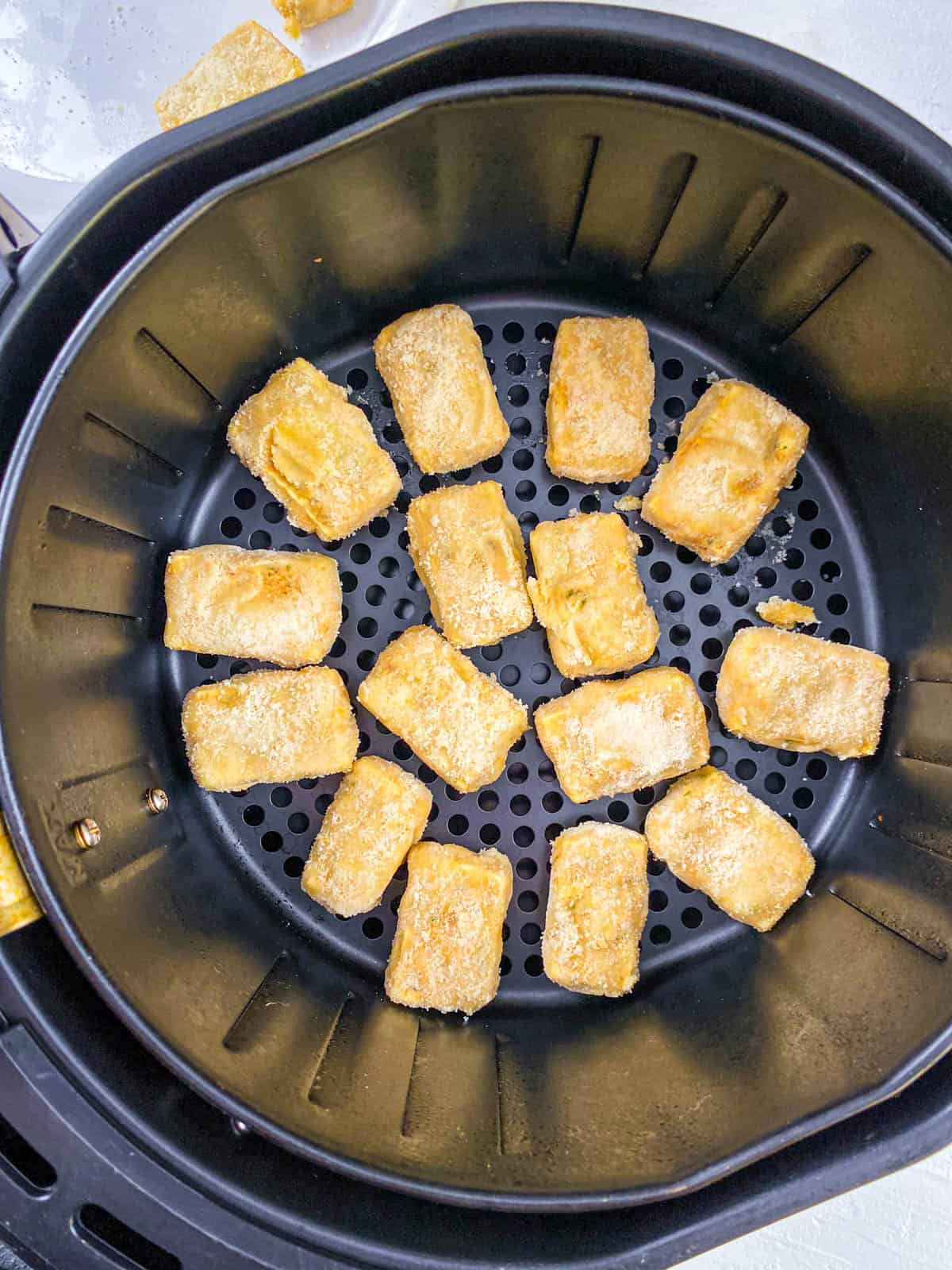 Fry Vegan Tofu Nuggets In The Air Fryer: I cooked these at 375 degrees Fahrenheit for 10-15 minutes, until they're golden brown. Exactly how long you should air fry tofu may very with different models, so check your user manual if needed.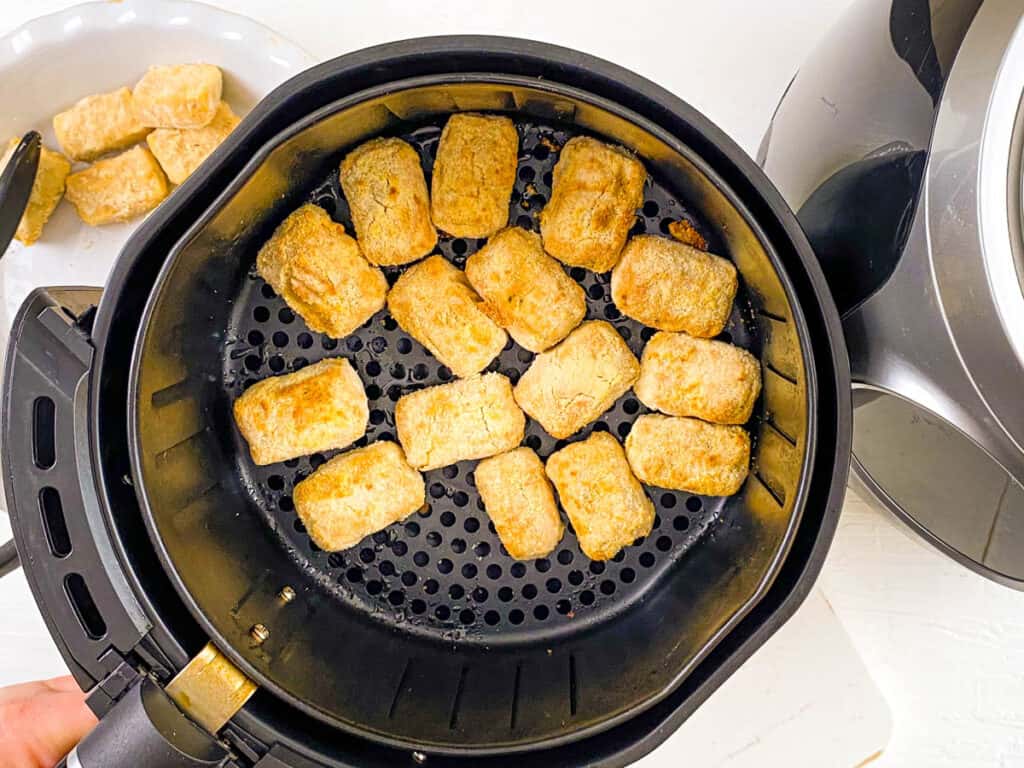 Make Ranch Sauce: For the ranch sauce, place all the ingredients in a blender and pulse to a smooth texture.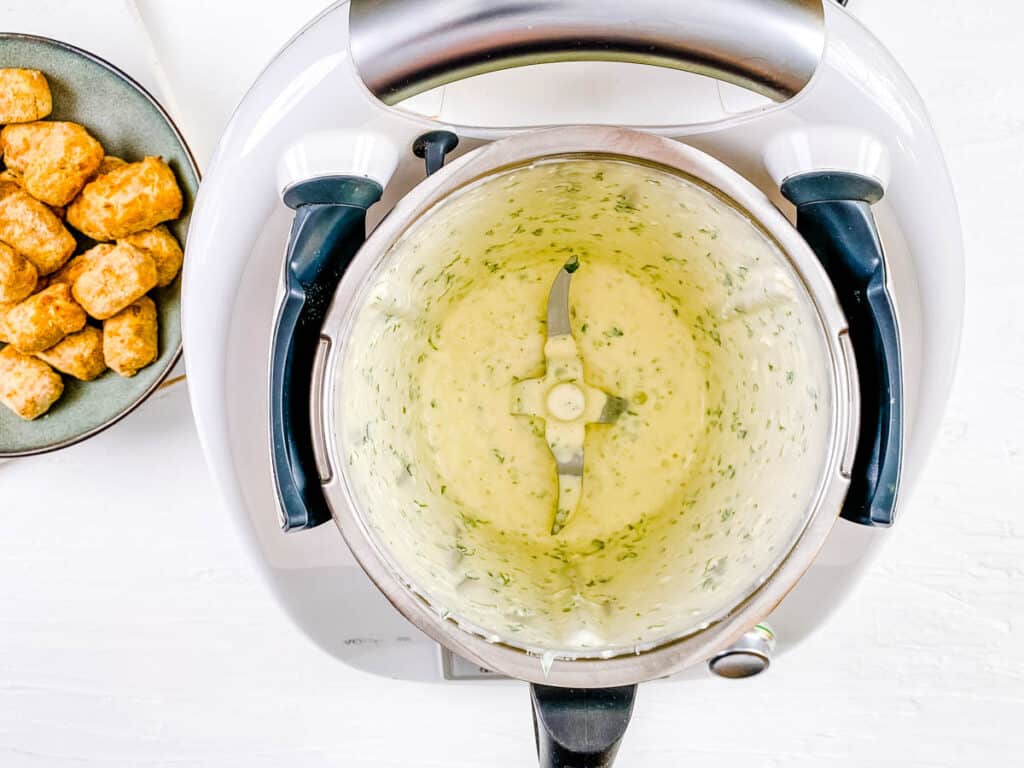 Serve these vegan air fried tofu nuggets with the homemade ranch sauce or your favorite sauces for dipping!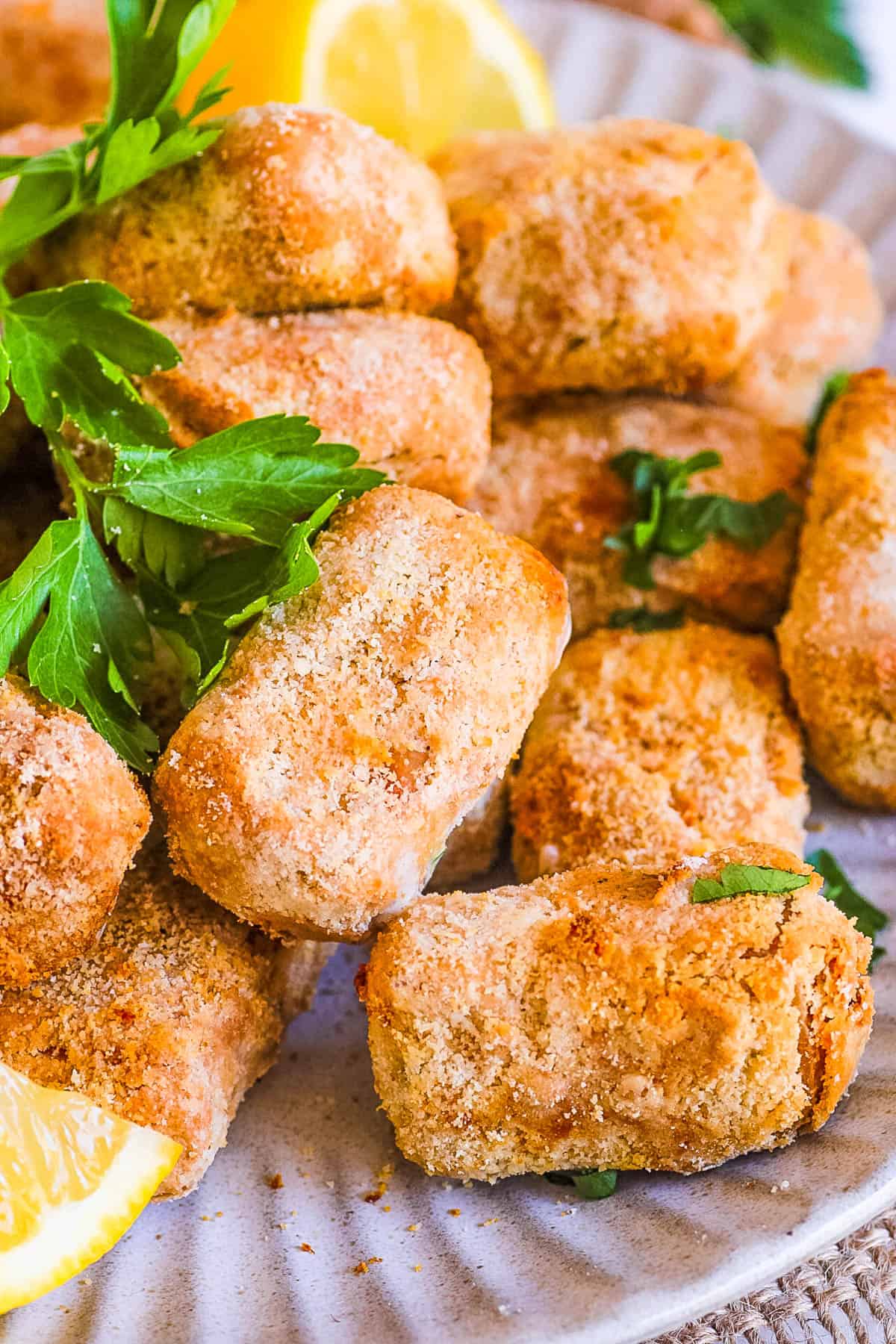 🍽 How To Serve
There are so many ways to serve up these vegan air fryer tofu nuggets, but here are some of our favorite options!
With Different Sauces: Try a homemade vegan ranch sauce or tartar sauce, vegan barbecue sauce, ketchup, hot sauce or sriracha, honey mustard, or peanut sauce! They also taste great with a sprinkle of sesame seeds and gluten free soy sauce (tamari)!
Serve As Part Of A Bigger Meal: Tofu is such a versatile ingredient, it can be paired with just about any meal. Try serving air-fried tofu over a bed of fried rice, and maybe top it with this savory vegetable stir fry sauce.
Over A Salad: Air fryer chicken fried tofu is great on salads. This roasted cauliflower salad and this superfood salad are our go-tos.
As A Quick Side Dish: For a fast, easy, balanced supper, just steam some vegetables and toss them with your favorite seasonings and serve alongside air fryer crispy tofu bites.
❓Recipe FAQs
How do I store air fryer tofu?
You can store leftovers in an airtight container in the refrigerator for up to 5 days. To reheat, you can just heat the tofu bites in the air fryer for up to 5 minutes to get them crispy again!
How long should I air fry my tofu?
How long to air fry tofu nuggets partially depends on your air fryer itself! A good rule of thumb is to air fry for at least 10-15 minutes, tossing at the halfway mark so that your tofu gets evenly cooked. You'll know it's done when it's crispy and golden brown on all sides!
Are tofu puffs healthy?
Yes! Air fried tofu nuggets are typically made of tofu and some sort of breading. When cooked in the air fryer or baked in the oven, they are very healthy as they're high in protein, low in calories and low in fat. These vegan nuggets are super healthy because not only are they cooked in the air fryer with no oil, but the breading is gluten free and low carb!
Do I need to freeze the tofu before air frying it?
You don't have to, but it could result in an even meatier texture that doesn't fall apart. Essentially, when tofu freezes, the ice crystals that form make little holes in the tofu that remain once the tofu is thawed, so it changes the texture and makes it more chewy and firm. To freeze tofu, drain your tofu, and press it first (for at least 10 minutes). Then place the tofu in an airtight container and put in the freezer until it's solid.
Is air frying healthier than regular frying?
Yes! Air frying is much healthier than regular frying, because it eliminates the need for a ton of oil and fat to cook your food in. Typically, an air fried version of a recipe will have 70% less calories than the traditional counterpart, and way less fat as well.
💭 Expert Tips
The type of tofu you use is very important to turn out crispy little nuggets. You want to use extra-firm tofu, and you need to press it first. Don't skip pressing the tofu! Pressing the tofu gets rid of extra water, which helps give a super meaty texture, removing the water also helps the tofu crisp up faster, and lastly, pressing allows the tofu to hold its shape better. If you find extra-firm vacuum packed tofu at the grocery store, you may not need to press it first since vacuum packed tofu is typically pre-pressed.
You may need to adjust the cooking time: How long you need to air fry will depend on the size and model of your air fryer.
Do not use silken tofu or soft tofu! It will not work in this recipe and will fall apart.
If you have a small air fryer, cook this recipe in multiple batches.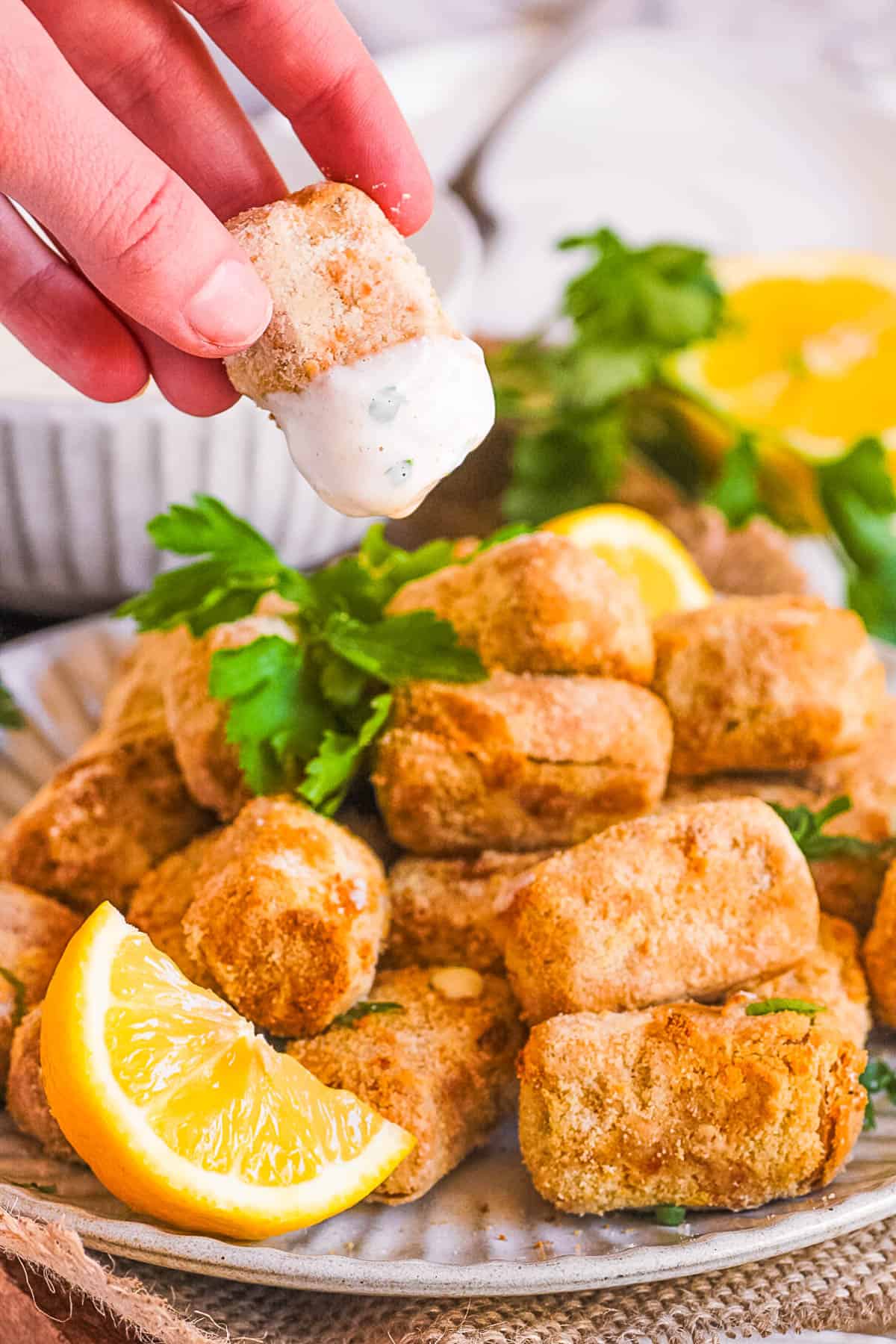 🍲 More Vegan Air Fryer Recipes!
LOVE THIS RECIPE? Please leave a 5-star rating 🌟 in the recipe card below and/or a review in the comments section further down the page!
You can also FOLLOW ME on FACEBOOK, TWITTER, INSTAGRAM, and PINTEREST to see more delicious, healthy, family-friendly food, and if you have any questions, I'm here to help!
📋 Recipe Card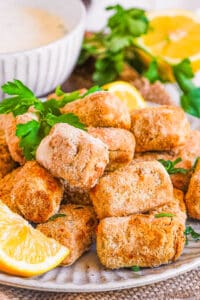 Print Recipe
Air Fryer Tofu Nuggets
Once you learn how to air fry tofu, you'll never make fried tofu any other way! It crisps up perfectly and doesn't even need oil! Air fryer tofu nuggets are a deliciously healthy – and ridiculously easy – vegan recipe for kids and adults alike.
Ingredients
For The Ranch Dipping Sauce
Instructions
Chop tofu in about ½ inch squares.

Whisk chickpea egg with smoked paprika, salt, ground pepper and dried parsley. Use this mix to coat each piece of tofu and then coat them with almond flour.

Place tofu bites in a heated Air Fryer without overlapping them to assure perfect cooking (it took me two rounds to have them all done).

I cook them at 375 degrees Fahrenheit for 15 minutes, follow your own Air Fryer directions if needed. Note: To ensure even cooking, at around the 7 minute mark, I recommend taking out the basket (which should automatically pause your air fryer), shaking the basket a few times to toss the tofu cubes, and then placing it back in the air fryer.

For the ranch sauce, place all the ingredients in a blender and pulse to a smooth texture.

Serve tofu nuggets with ranch sauce and enjoy!
Notes
Make sure to press your tofu before you cut it into cubes! This is essential to making sure your tofu bites have the right texture.
Don't crowd your air fryer basket – you can do this recipe in multiple batches. The tofu bites should all have small spaces between them when placed in the basket. 
Feel free to switch up your marinade for the tofu bites with whatever spices you enjoy.
To make sure everything cooks evenly, shake your tofu in the basket halfway through cooking. 
Note: This recipe yields around 40 tofu bites and ¾ cup ranch sauce. 1 serving = 6-7 tofu bites + 2 tbsp ranch sauce
Nutrition
Calories:
300
kcal
|
Carbohydrates:
8.4
g
|
Protein:
12.7
g
|
Fat:
25
g
|
Saturated Fat:
2
g
|
Sodium:
358
mg
|
Potassium:
190
mg
|
Fiber:
3.2
g
|
Sugar:
1
g
20 responses to "Air Fryer Tofu Nuggets"