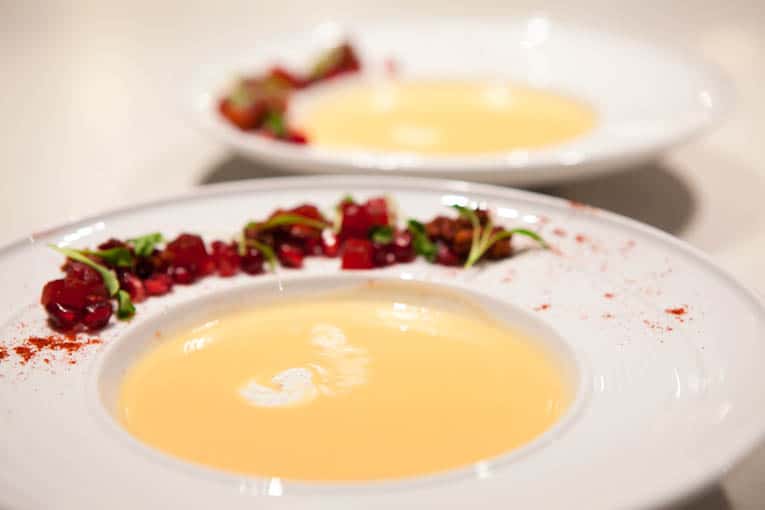 There are two things I love about Fall: Seasonal Squash Soups, and watching Top Chef with the husband.
Ok there are lots of other things I love about Fall, but these two are definitely high on the list.
So when I was contacted by the folks at Oikos about whether I wanted to virtually chat with Richard Blais (my all time favorite Top Chef contestant) and receive a healthy recipe from him, and host a giveaway for all of you, I couldn't turn it down!
Nonfat Greek Yogurt is one of my favorite healthy substitutions – because you can use it for virtually any creamy substance (sour cream – like in these tacos, cream, mayo, etc.).
Richard Blais seems to agree with me 🙂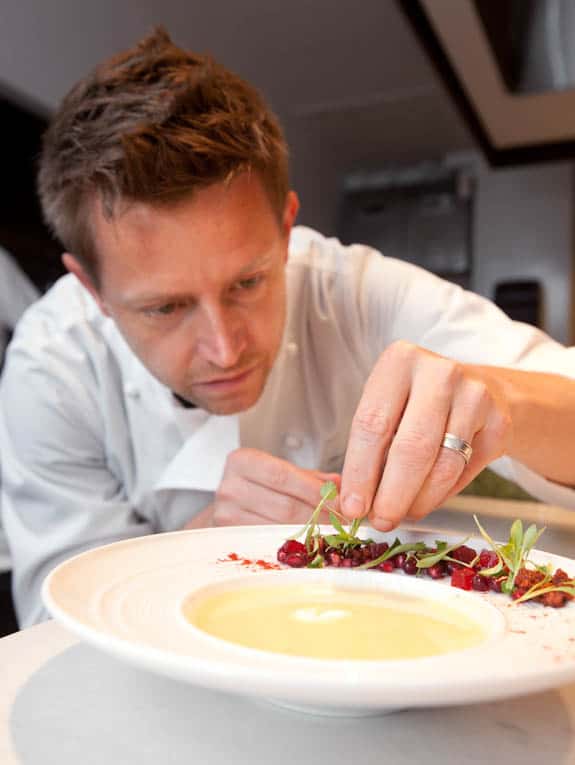 He used Dannon Oikos instead of cream in this Acorn Soup Recipe, and shared these healthy tips for cooking with Greek Yogurt: 
Swap out the dollop of regular sour cream on your mashed potatoes with Greek nonfat yogurt for a nutritious and creamy-thick taste.
Greek nonfat yogurt is a great addition to any casserole; the nonfat greek yogurt provides calcium that acts as a binder.
Greek nonfat yogurt can be used in dips and dressings as a substitute for regular mayonnaise or sour cream to provide a nutritious twist to your recipe
Use Greek nonfat yogurt in marinades – it's a great tenderizer!
Whether you're making a spiced apple cake, or a creamy cheese cake, Greek nonfat yogurt is a great substitution for some dessert staple ingredients such as oil, butter, cream cheese or ricotta cheese.
If incorporating yogurt when cooking, avoid using aluminum products – the acidity of yogurt can react negatively with aluminum.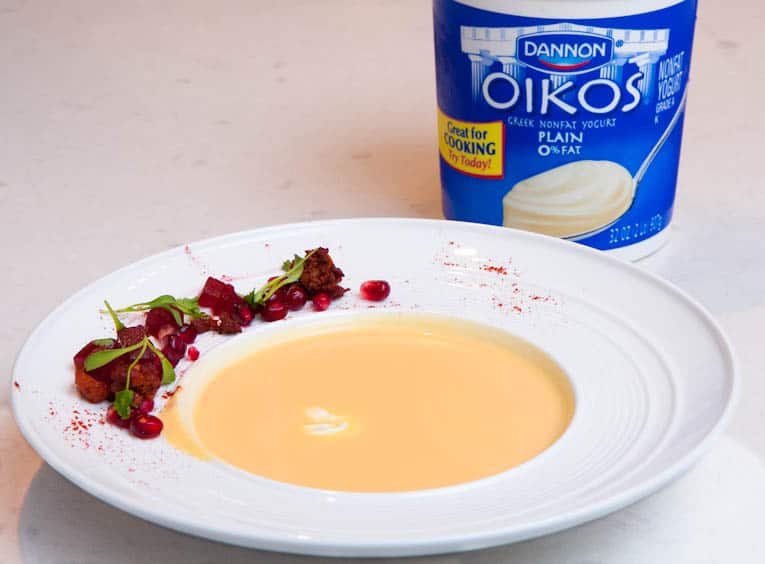 I can't wait for all of you to try this recipe!
Nutritional Info Per Serving: 107 Calories, 0.1g Fat, 23.9g Carbs, 1.6g Fiber, 10g Sugar, 3.6g Protein
Ingredients
1 whole acorn squash
1?4 white onion, chopped
1 bay leaf
4 cloves garlic
2 tbsp celery, chopped
1 1?2 quart veggie stock
1/2 cup Dannon Oikos plain Greek nonfat yogurt
2 tbsp cranberry canned jelly
3 leaves cilantro
1 tsp smoked paprika
Pomegranate seeds for garnish
Lime for garnish
Instructions
In a stockpot, cook the onion, bay leaf, garlic and celery in some olive oil until garlic releases aroma.
Add the chopped acorn squash and then the veggie stock and simmer. When the acorn squash is cooked, swirl in Dannon Oikos plain Greek nonfat yogurt and remove from the heat. Add the paprika to the soup.
When the squash is cooked thoroughly, purée the soup and pass through a sieve so it is smooth. Stir in the cranberry jelly.
Garnish with the cilantro, pomegranate seeds, a squirt of lime and add a dollop of Dannon Oikos plain Greek nonfat yogurt on top.
https://pickyeaterblog.com/acorn-squash-soup-tips-from-a-top-chef-and-a-giveaway/
Recipe by: The Picky Eater, pickyeaterblog.com
A $25 gift card to Whole Foods
5 coupons for 5 free pints of Oikos Greek Frozen Yogurt
To Enter: You can enter in one of four ways (each option below counts as a separate entry):
Then post a comment here for each option above that you chose.
This giveaway will be open until Monday, November 5th at 11:59pm PST. I'll be selecting the winner at random (via random.org) and will contact them via email. I'll be announcing the winner in the comments of this post on Tuesday, November 6th. 
TAGS: appetizers, entrees, giveaway, gluten-free, side dishes, soups, vegetarian
239 responses to "Acorn Squash Soup, Tips from a Top Chef, and a Giveaway!"