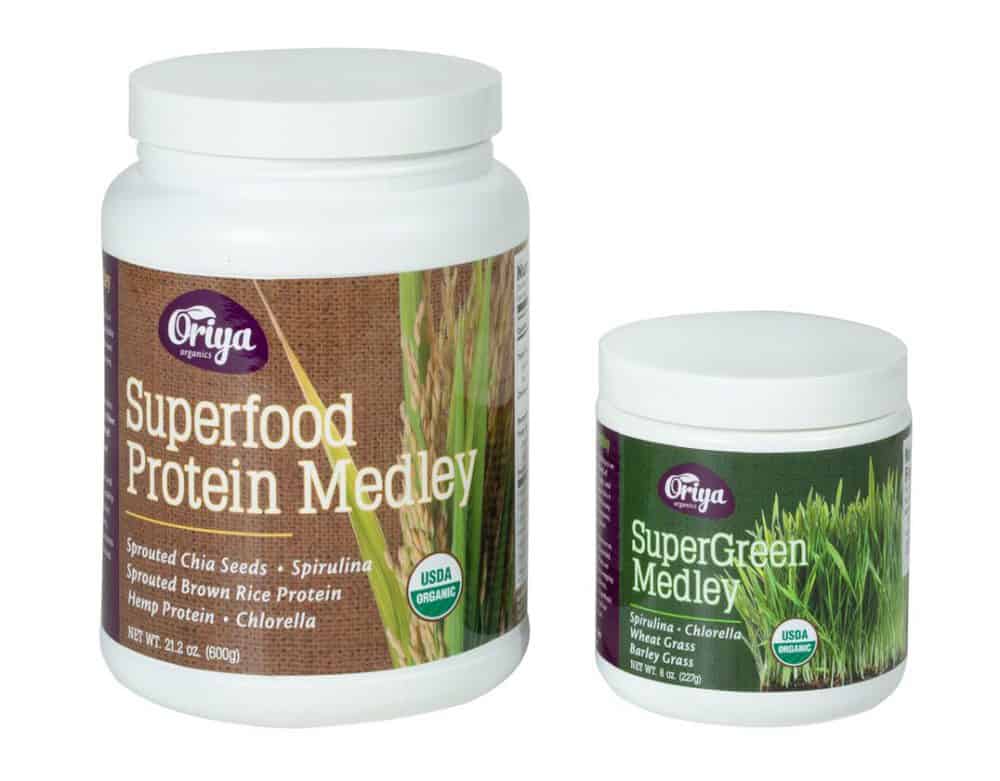 Hi Everyone! This month's giveaway is brought to you by
Oriya Organics
 – the makers of a super healthy, organic-certified, non-GMO, vegan, gluten free, and raw protein powder that is absolutely perfect for mixing into smoothies for an added protein punch!
I love protein powders in concept, but I'm often not a fan of the ones on the market today because they can have too many artificial ingredients/sweeteners,
soy protein isolate
 (which I avoid), whey protein (which can be hard to digest), and sometimes are loaded with sugar (not great!)
Oriya Organics has a great Superfood Protein Medley – which:
Is 100% plant based – the protein sources are: sprouted brown rice protein, hemp protein, and sprouted chia seeds
Contains an entire days serving of greens in each scoop
Has 100 calories, 18g of protein, 3g of fiber, 53mg of chlorophyll, 450mg of omega-3 fatty acids in each scoop
Has no added sweeteners, stevia or sugar
Has a neutral taste so works great in smoothies, and is easy to digest.
Here is a delicious blueberry smoothie recipe using Oriya's Protein Powder: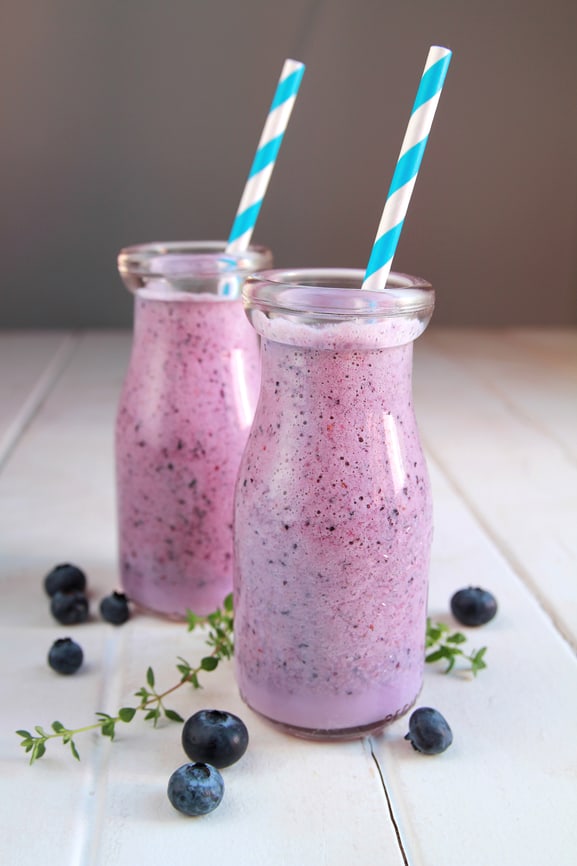 It's under 300 calories per serving but will keep you full for hours.
Protein Packed Blueberry Smoothie
Nutritional Info Per Serving: 268.5 Calories, 14.5g Fat (2.8g Saturated), 170mg Sodium, 26g Carbs, 8.5g Fiber, 14g Sugar, 13g Protein
Ingredients
12 oz unsweetened almond milk
4 oz water
2 cups frozen mixed berries
2 tbsp almond butter
1 scoop Oriya Organics Superfood Protein Medley
1 tsp coconut oil
Instructions
Blend all ingredients until smooth
Notes
https://pickyeaterblog.com/a-superfood-protein-powder-giveaway-from-oriya-organics/
Recipe by: The Picky Eater, pickyeaterblog.com
And now, three lucky readers will win a prize pack from Oriya with their Superfood Protein Medley!
To Enter: You can enter in one of five ways (each option below counts as a separate entry):
Sign up for my free, monthly newsletter (it has healthy recipes and tips – no annoying ads  plus you'll get a free healthy meal plan when you sign up!)
Like The Picky Eater on Facebook
Follow me on Twitter (@pickyeaterblog)
Follow me on Pinterest
Then post a comment here for each option above that you chose. 
This giveaway will be open until Saturday, February 28th at 11:59pm PST. I'll be selecting the winners at random (via random.org) and will contact them via email. I'll be announcing the winners in the comments of this post on Sunday, March 1.
Also – I have partnered with Oriya to offer a coupon code for anyone who wants it! Just enter the coupon code pickyeater during the checkout process on their website and you'll get free shipping and 20% off your order. (Valid through the end of February).
TAGS: giveaway
171 responses to "A Superfood Protein Powder Giveaway from Oriya Organics!"