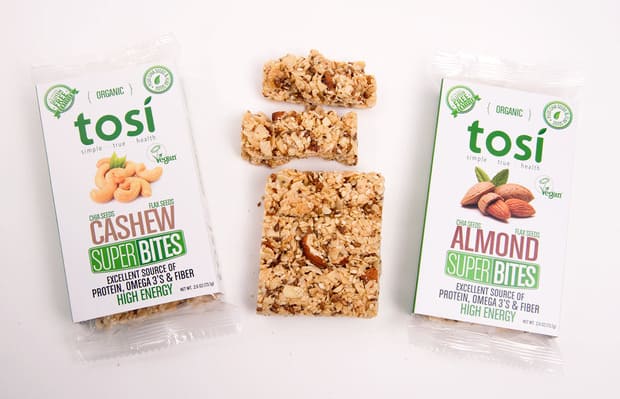 Hi Everyone! This month's giveaway is brought to you by Tosi Superbites — the makers of a vegan, gluten-free, low glycemic, high-fiber, organic, non-GMO snack!
These crunchy and delicious superfood snacks are available in two flavors – Cashew and Almond. They feel like a cross between a crunchy granola bar and a nut-cluster. They are filling and taste absolutely amazing.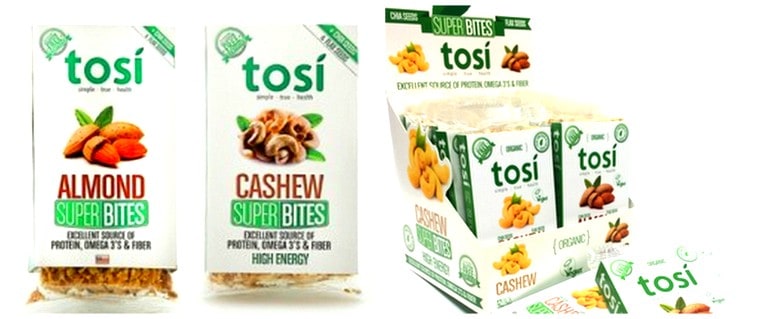 Each (HUGE) bar has 240 calories, 8g fiber, 4g sugar, and 10g protein. I usually eat about half the bar for a snack and feel totally satisfied. And now, one lucky reader will win a prize pack of Super Bites: with 6 almond bars and 6 cashew bars included!
To Enter: You can enter in one of five ways (each option below counts as a separate entry):
Sign up for my free, monthly newsletter (it has healthy recipes and tips – no annoying ads  plus you'll get a free healthy meal plan when you sign up!)
Like The Picky Eater on Facebook
Follow me on Twitter (@pickyeaterblog)
Follow me on Pinterest
Then post a comment here for each option above that you chose. 
This giveaway will be open until Sunday, March 29th at 11:59pm PST. I'll be selecting the winner at random (via random.org) and will contact them via email. I'll be announcing the winner in the comments of this post on Monday, March 30th.
TAGS: giveaway
179 responses to "A Healthy Snack Giveaway from Tosi Superbites!"