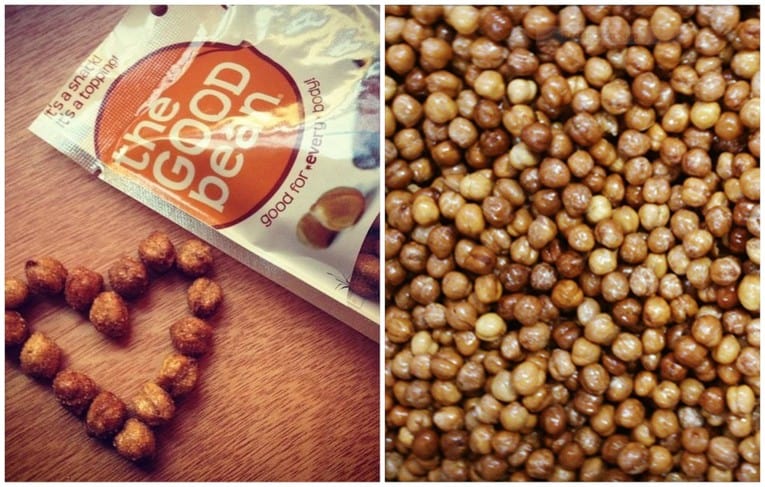 The Good Bean is one of my favorite healthy snack companies. They make delicious, gluten-free, nut-free, vegan, kosher, non-GMO chickpea and bean snacks that are high in fiber, high in protein and low in sugar!
It doesn't get much healthier than that. I've partnered with them in the past to bring you healthy snack giveaways, and this year I'm excited to share that The Good Bean has launched a brand new line of tortilla-style chips for snacking and dipping! They're made with a power-protein blend of chickpeas, navy beans, red lentils, and pea protein, to which they've added sweet potatoes and protein-rich red quinoa. And I have to say, they taste amazing.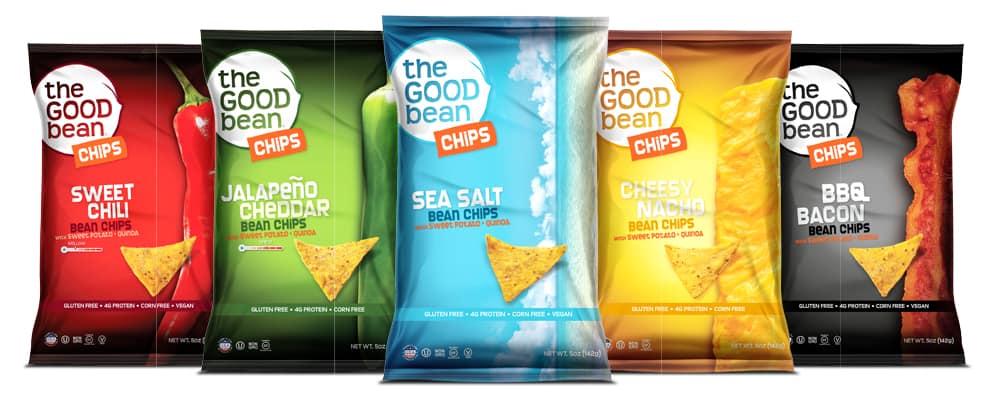 The husband tried these chips and was like, "Wow these are actually really good!" We've used them for nachos, for dipping, crumbled over soup instead of breadcrumbs, the list could go on and on.
1/5 of an ENTIRE bag has only 130 calories, 2-3g fiber, 2g sugar and 4g protein.
The Good Bean's roasted chickpea snacks (which kind of remind me of a non-spicy version of wasabi peas) come in a ton of different flavors like chocolate and cinnamon (yay!) and are so crispy, crunchy and flavor packed that you might think they're junk food. One serving has as much protein as almonds (5g), as much fiber as two cups of broccoli (5g) and as much folate as three cups of spinach.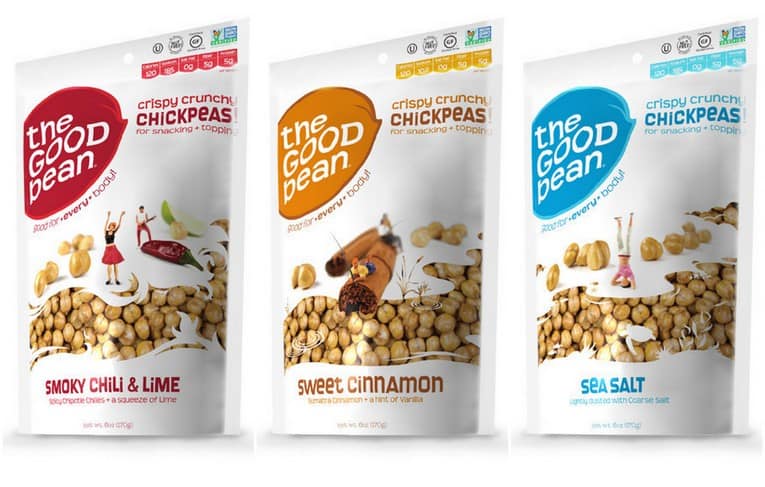 And now, one lucky reader has the opportunity to win a HUGE prize pack of snacks from The Good Bean including 5 bags of chips (1 of each flavor), and a few additional bags of their roasted chickpea snacks!
To Enter: You can enter in one of five ways (each option below counts as a separate entry):
Sign up for my free, monthly newsletter (it has healthy recipes and tips – no annoying ads  plus you'll get a free healthy meal plan when you sign up!)
Like The Picky Eater on Facebook
Follow me on Twitter (@pickyeaterblog)
Follow me on Pinterest
Then post a comment here for each option above that you chose. 
This giveaway will be open until February 6th at 11:59pm PST. I'll be selecting the winner at random (via random.org) and will contact them via email. I'll be announcing the winner in the comments of this post on Saturday, February 7th.
TAGS: giveaway
289 responses to "A Healthy Snack Giveaway from The Good Bean!"