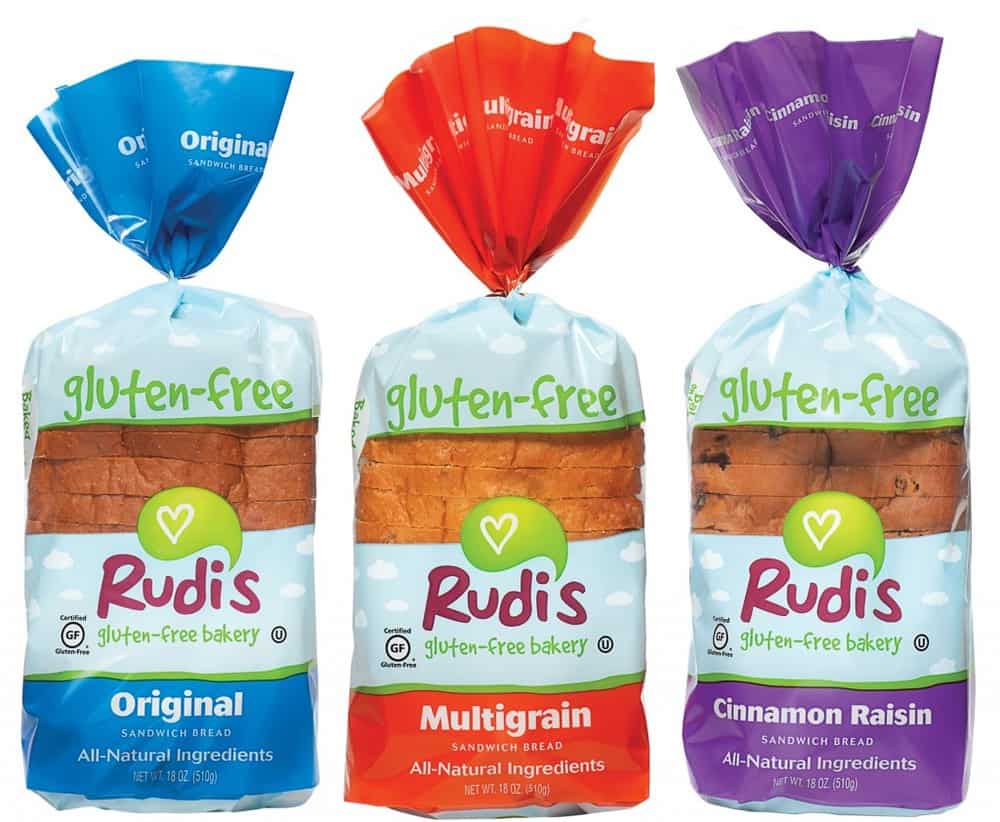 Usually gluten-free bread is tough and chalky tasting, but Rudi's bread is moist and delicious. When you warm it up in the toaster oven, it gets perfectly crisp on the outside and warm and fluffy on the inside.
I have made tons of grilled PB&J sandwiches with this bread and it is amazing. The husband even loved it and couldn't tell the bread was G-Free!
The best part is, it's 100% all-natural and made with organic ingredients. Each slice has only 90 calories, but since each slice is totally dense, cakey and tastes like traditional yeasty bread, it feels much more decadent than just 90 calories.
And now, one of you has the opportunity to win this AMAZING bag of goodies from Rudi's Gluten Free Bakery!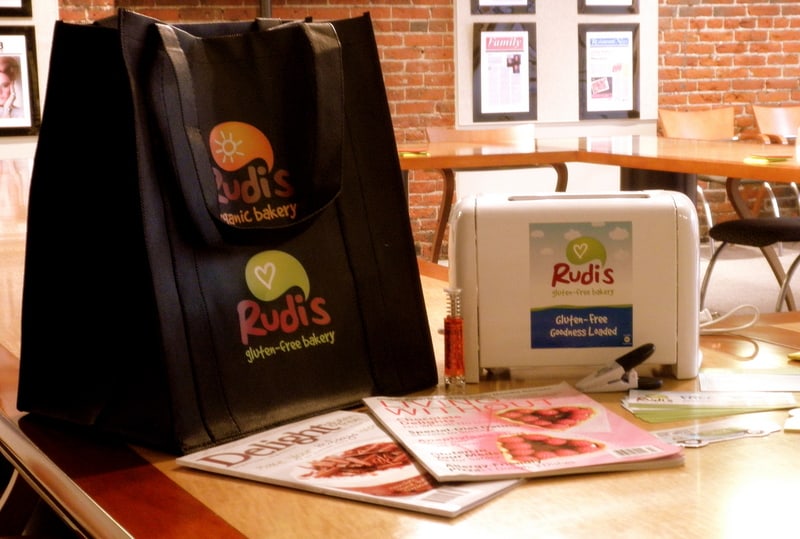 One lucky reader will win: 
5 FREE product coupons for Rudi's Gluten Free bread – that's 5 free loaves of bread!
Rudi's GF Branded Toaster
A spice grinder
Rudi's GF Reusable Cloth Grocery Bag
A bunch of fun swag – including: Rudi's GF Sticky Notes, Rudi's GF Bread Clip, Rudi's GF Banana Pudding Recipe Card, A copy of Delight Magazine and Gluten Free Living Magazine
Now, the important part – To Enter: You can enter in one of three ways –
Follow me on Twitter (@pickyeaterblog)
Like The Picky Eater on Facebook
Then post a comment here letting me know which option above you chose. If you already are a subscriber, follower, or like The Picky Eater on Facebook, just leave a comment indicating that – it will count as one entry.
This giveaway will be open until Friday, March 2nd at 11:59pm PST. I will be selecting the winner at random (via random.org) and will contact them via email. I'll be announcing the winner on Saturday, March 3rd. Happy G-Free eating everyone!
TAGS: giveaway
111 responses to "A Gluten-Free Giveaway From Rudi's Bakery!"