30 Healthy Side Dishes to Amp Up Mealtime
This post may contain affiliate links. As an Amazon Associate, I earn from qualifying purchases. Please read my disclosure.
These 30 healthy side dishes are SO good, you don't even need a main course! A selection of unique salads, spiced vegetables, a variety of potato dishes, light soups, and even Thanksgiving classics! You're sure to find all your favorites and more!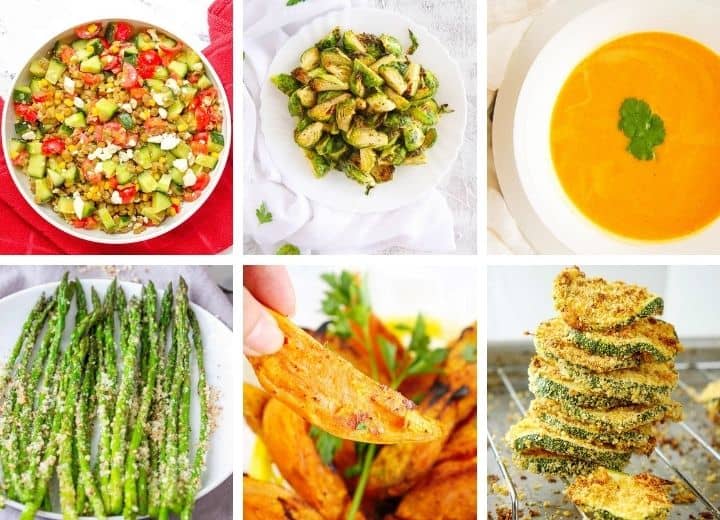 I have a confession…I'm crazy about side dishes! I love them so much, I could easily make a meal out of them. Give me a few healthy side dishes and I'm good to go.
No main course necessary!
If you do it right, you can heave a well balanced meal made up of side dishes only!
While I know most people prefer their side dishes to come alongside a main course, these side dishes could truly stand alone.
But they also make an excellent accompaniment to any main dish you have planned.
They are full of flavor, spices, and big on vitamins, and nutrients. But they are also low in calories and fat, while using all natural whole food ingredients.
You can feel good about preparing these side dishes for your family, and I promise they will take your dinner to a whole new level!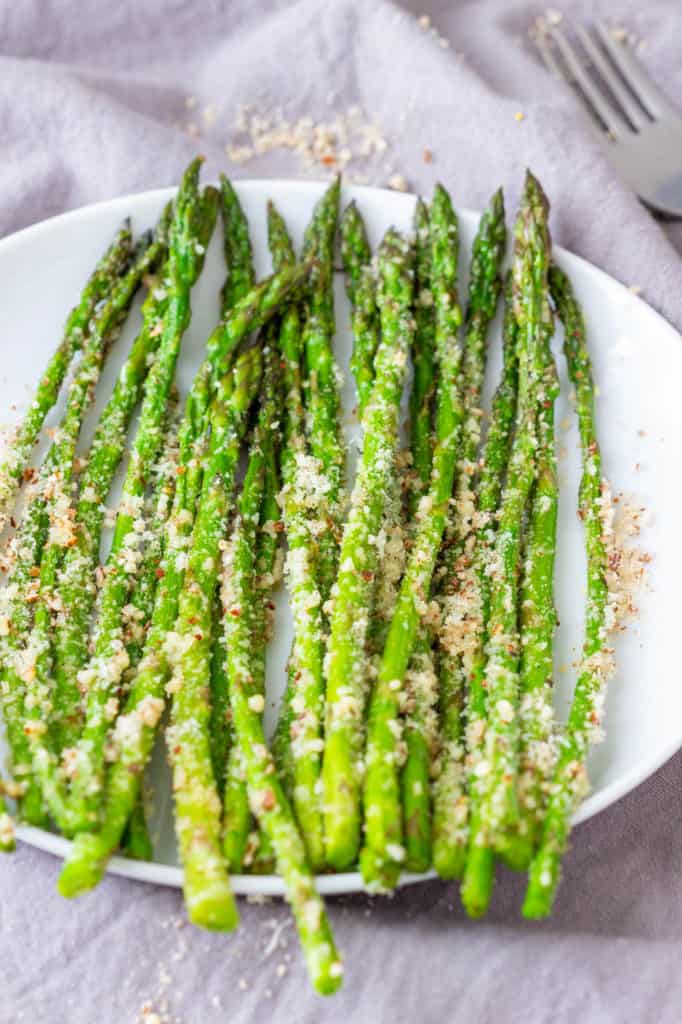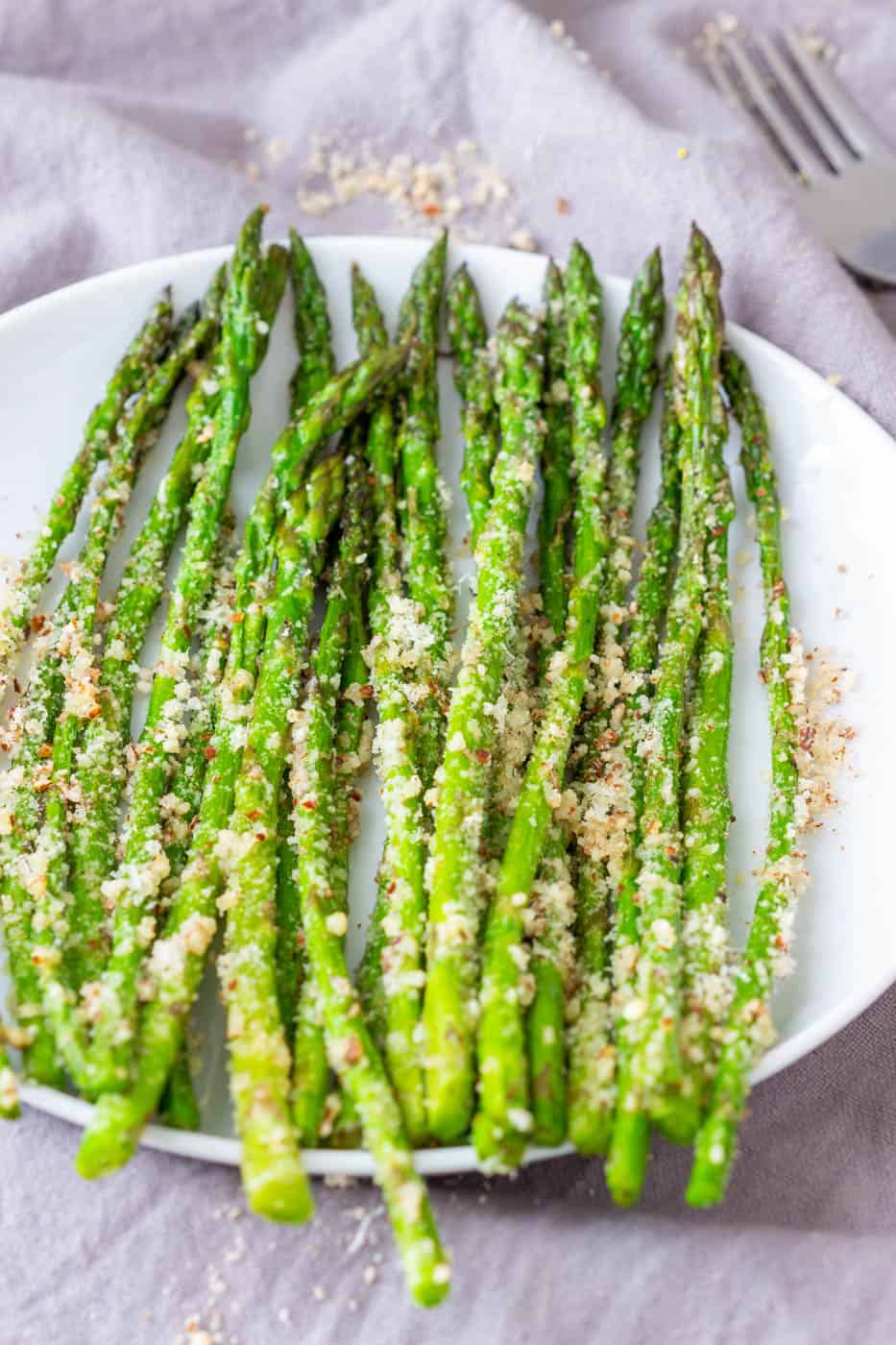 What Are Healthy Side Dishes To Eat?
When it comes to creating healthy side dishes, vegetables are the way to go! It's a great way to get more veggies into your daily diet, and they are light enough that they won't fill you up, leaving you with enough room for the main course.
Roasted Vegetables
A classic side dish, roasted vegetables are easy and delicious! The key to making roasted vegetables healthy is not to add too much oil. You can also dry roast your vegetables if you are oil free. Add your favorite spices, sprinkle with salt and pepper, and roast in the oven at high heat. I recommend 400-425 F.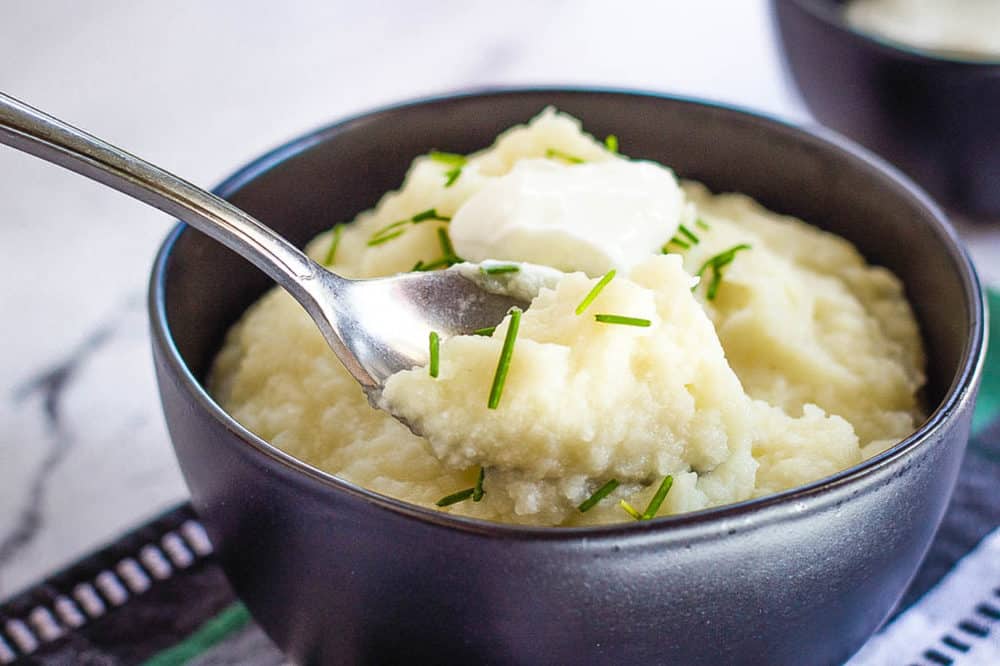 Potatoes
Potatoes often get a bad rep, but they are actually a very healthy starch! The problem with potatoes comes from eating too much, and loading them up with high calorie and high fat extras! Making healthy potato side dishes is easy.
The key is to make some healthy swaps for those extras. Instead of sour cream, use plain yogurt. Instead of butter, add a small amount of olive oil. Load up on fresh herbs to add extra flavor!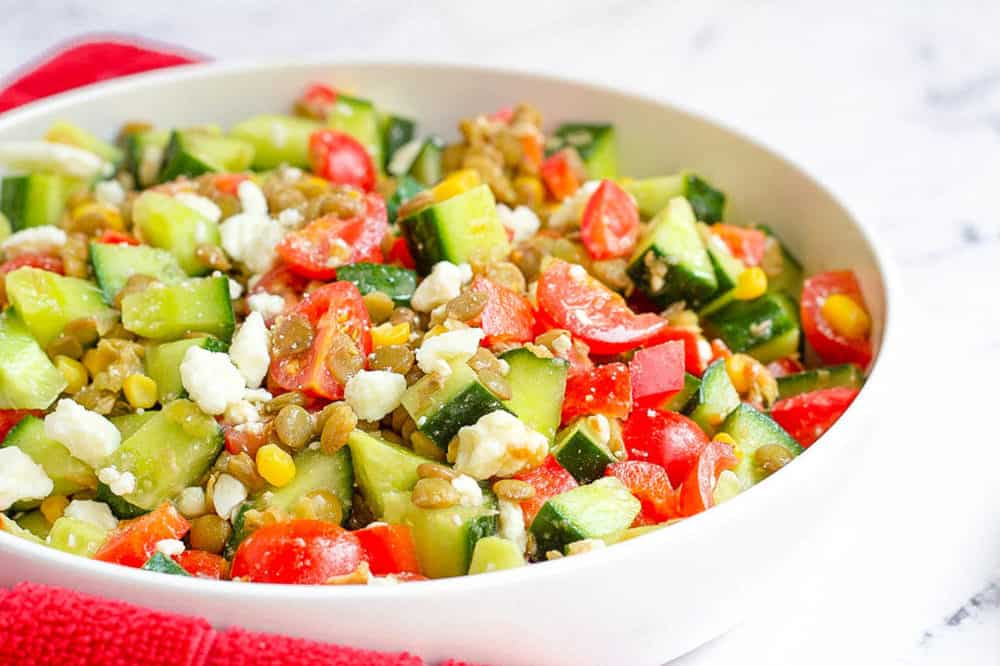 Light Salads
A light salad that is loaded with veggies is an excellent side dish to pair with your main dishes.
Depending on what you are serving as your entree, you can customize your salad to compliment it.
For example, if you are having mediterranean flavors, opt for a Greek salad. Or if you're preparing an Italian dish, try a simple arugula salad with a balsamic vinaigrette.
The way to make your salads healthier is to use a light amount of dressing. Use vinaigrettes, or creamy dressings that use yogurt instead of high fat cream.
Keep the cheese light. Most of the calories and fat from salads come from the dressing and added cheese.
Instead, add more fresh vegetables, capers, or olives to add flavor without adding the extra calories.
For a bit of added crunch, add a few tablespoons of raw chopped nuts!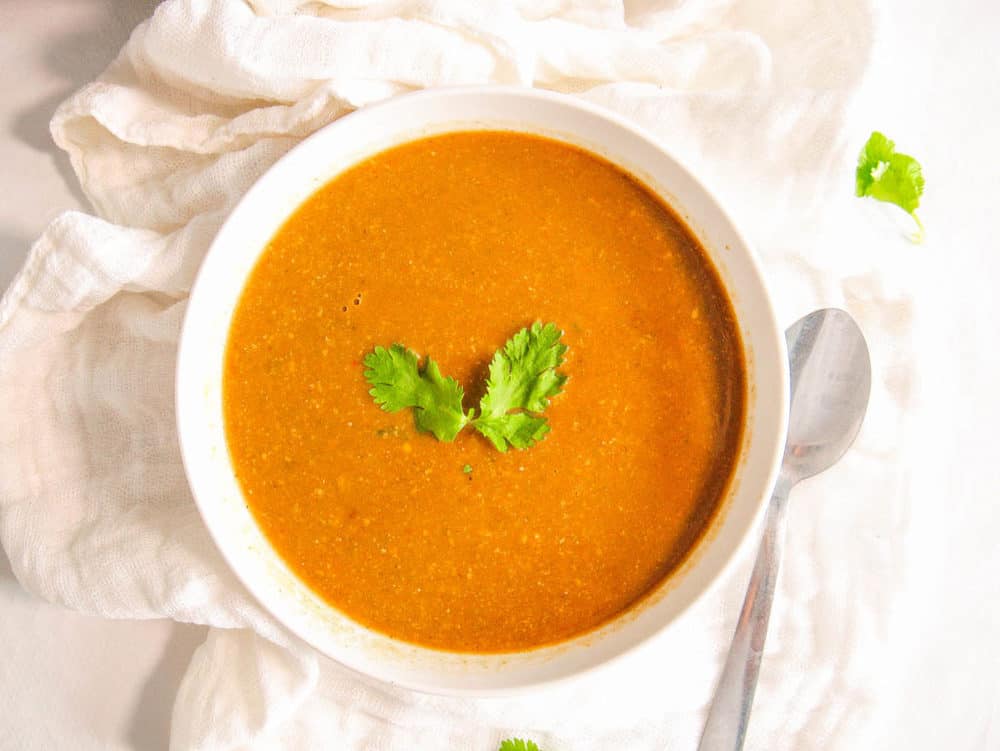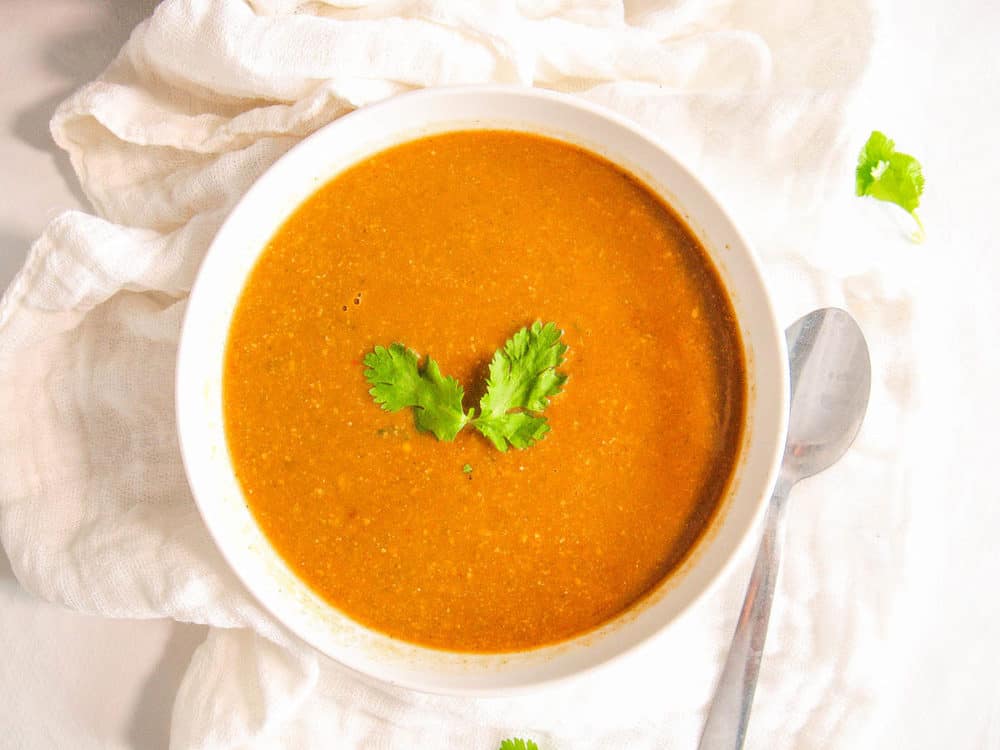 Light Soups
Soups can be a meal in and of themselves, but if you're looking for a healthy side dish, a light soup is just the thing!
When making soup for the purpose of serving alongside a main dish, I opt for bisques, or vegetable soups.
Bisques are smooth and creamy, but when done right, very healthy too! You don't need to add a lot of extra cream. Instead, swap in light coconut milk for a nutrient rich option.
Be sure to add a lot of spices, and naturally smooth vegetables like sweet potatoes or squash.
Use your immersion blender to blend all the vegetables together to create a smooth and creamy soup without the extras!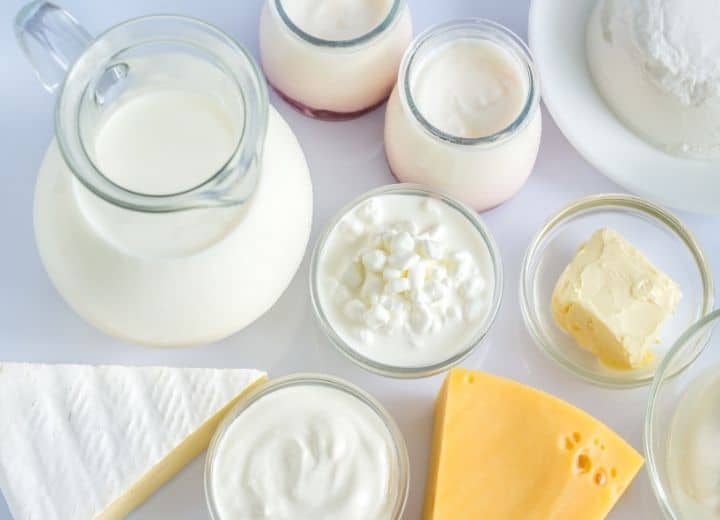 How Do You Reduce The Fat And Calories In Side Dishes?
Use Less Fat: Fat can come in the form of butter, oil, or heavy creams or milks. To reduce the fat use less oil, reduce the amount of butter, or choose lightened up versions of ingredients as a substitute for high fat cream based condiments. Using plain yogurt, or light coconut milk is a good way to reduce calories and fat, while still enjoying the creaminess of a dish.
Reduce the Extras: Adding high calorie and high fat extras can take a healthy dish and suddenly make it a high caloric wasteland. Reduce the amount of cheese added to your side dishes, and opt for lower calorie lower fat cheeses that are still big on flavor. Feta cheese adds tons of flavor, and is one of the lower fat cheeses available.
Don't Add Sugar: Some side dishes add extra sugar in the form of brown sugar, maple syrup, or even white sugar. For example, sweet potato casserole, or salad dressings. These added sugars are high in calories, and have no nutritional benefit. Skip the added sugar to maximize the health benefits of your side dishes.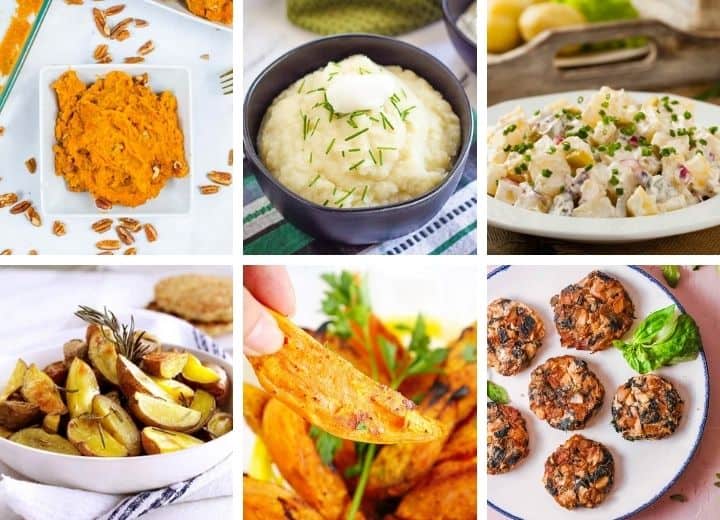 What Are The Most Popular Side Dishes?
Mashed or Baked Potatoes: It is no surprise that potatoes are one of the most popular favorite side dishes! Potatoes can take on so many different forms, whether it's mashed, baked, or fried. Use my tips to make healthy potato recipes, and scroll down to the recipe section for my top 6 favorite healthy potato recipes!
Green Bean Casserole: You either love it or hate it, but there's no doubt that green bean casserole is a classic side dish. It can be rather unhealthy with processed mushroom soup, and fried onions, but it's possible to make a healthy version using whole food ingredients!
Roasted Vegetables: Roasted vegetables have taken over as one of the most ubiquitous side dishes. This versatile side dish is so simple, quick and flavorful, it's no surprise that this side dish is loved by all! Choose your favorite vegetable, add a touch of oil, salt, and pepper, and you have a side dish in minutes!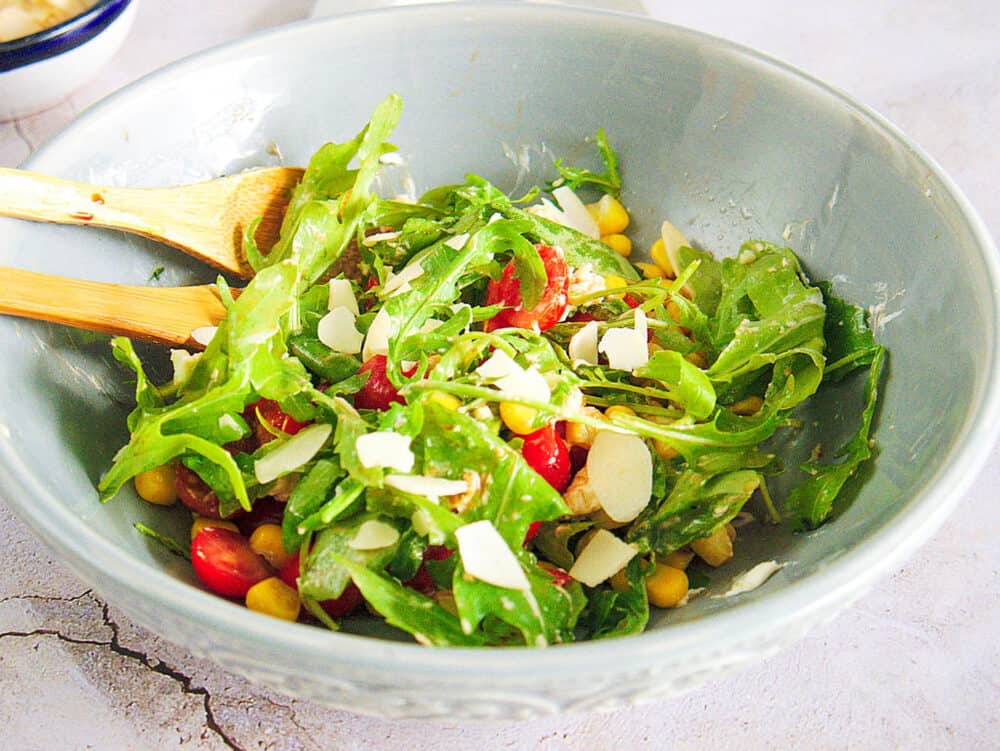 What Type Of Side Dish Is Good To Bring To A Dinner Party?
The best type of side dish to bring to a dinner party is one that travels well. Depending on whether you have the ability to heat your side dish at the dinner party, you may want to opt for something that can be enjoyed at room temperature.
Green salads, pasta salads, potato salads, and dips are all excellent choices.
If you have the option to warm your side dish, or bring it in a crockpot, then flavorful veggies are always appreciated. I suggest sabji! These are Indian spiced mixed vegetables that can easily be transferred to a crockpot to keep warm.
What Are The Best Make Ahead Healthy Side Dishes?
Soups are my go-to make ahead side dish, because they actually taste even better the next day once all of the flavors have a chance to blend together! They are also really easy to store (in an airtight container in the fridge), and easy to reheat (stovetop or microwave!)
Salads can also be a great option for a make ahead side dish, but the key here is to keep the ingredients separate before serving. For example, you can chop all your veggies and toss them together ahead of time but I would recommend keeping your salad dressing separate, and any extras (cheese, nuts, etc.) separately as well to keep your salad from getting soggy. Right before serving, toss everything together.
Healthy Side Dishes: Salads
These healthy salad recipes aren't your boring garden salad! With healthy plant protein, light and flavorful dressings, and original toppings, these salads are hearty enough to make a meal, but excellent to share as a side dish alongside your main course.
Healthy Side Dishes: Vegetables
Crispy brussels sprouts, cheesy zucchini chips, steamed asparagus, and roasted cauliflower, these healthy vegetables side dishes come together in no time! They'll quickly disappear without any leftovers, as your family loads up on their veggies.
Healthy Side Dishes: Potatoes
Who doesn't love a potato side dish? With so many different ways you can cook them, potatoes are healthy and nutritious too, that is if they're not loaded with oil, cream, and butter! These healthy potato side dishes have everything you love about potatoes with fewer calories, but all the flavor!
Healthy Side Dishes: Thanksgiving
Thanksgiving isn't the only time to enjoy these traditional side dishes! You don't have to wait a whole year to dig into this easy stuffing, low-sugar cranberry sauce, or fluffy sweet potato biscuits!
Healthy Side Dishes: Light Soups
A light soup is an excellent addition to your main course. These soup recipes aren't too heavy, leaving plenty of room for your main course. From creamy bisques to cool gazpacho, you're going to want to make your way through this list one by one!
I hope you were able to find some healthy side dishes for your next meal. These family friendly, picky eater approved recipes, are simple, easy, and big on flavor!
Check Out These Other Healthy Recipe Round-Ups!
If you have tried these healthy side dish recipes or any other recipe on my blog, then please rate it and let me know how it turned out in the comments below! You can also FOLLOW ME on FACEBOOK, TWITTER, INSTAGRAM, and PINTEREST to see more delicious, healthy, family friendly food!
10 responses to "30 Healthy Side Dishes to Amp Up Mealtime"