Top 10 Budget Grocery Shopping Tips
This post may contain affiliate links. As an Amazon Associate, I earn from qualifying purchases. Please read my disclosure.
These top 10 budget grocery shopping tips will have you saving money in no time while still enjoying fresh and healthy ingredients.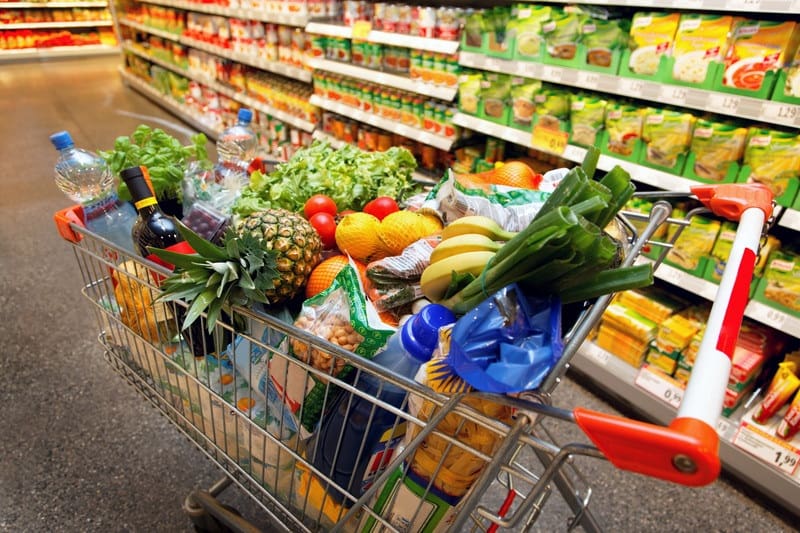 Shopping for healthy food on a budget is always a challenge.
Have you ever gone to the store to buy your groceries, and then ended up with a huge bill with no idea where the money went?
I certainly have, and I'd often wonder why I'd sometimes end up with a huge bill, and sometimes I'd have a more budget-friendly bill.
I started taking a look at what types of purchases drove up the cost of my groceries and which ones didn't.
What I realized was that it wasn't about whether I was buying "healthier" foods or "junkier" foods, it was all about the types of purchases I was making.
Healthy food doesn't have to be out of reach with your grocery budget. You can adopt certain strategies that will make the healthier options seem totally affordable!
What Groceries Should I Buy On A Budget?
When you're on a tight budget you want to purchase groceries that are high in nutritional value, yet don't break the bank.
It's still possible to buy fresh ingredients on a budget. In fact, fresh seasonal groceries are often less expensive than pre-packaged foods. Items such as chips, crackers, cookies, have a high price tag for what you get.
Instead of stocking up on pre-made meals, or convenient packaged items, opt for seasonal produce, whole grains, bagged beans, and lentils for protein.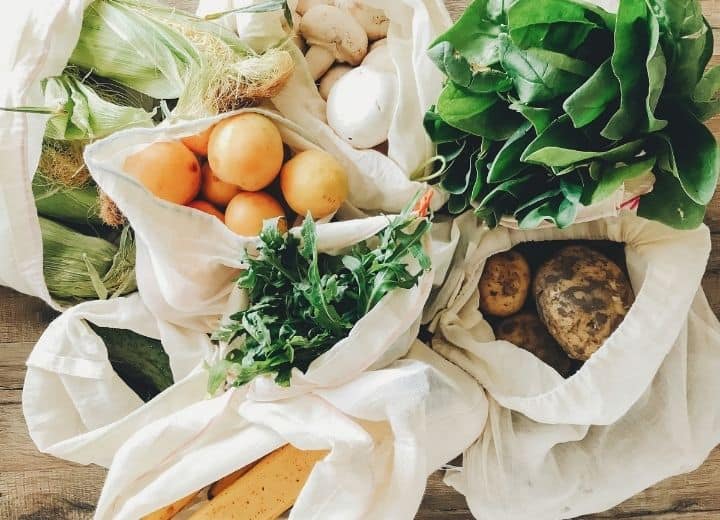 Top 10 Groceries To Buy On A Budget:
Seasonal fruit (bananas, apples, oranges, fresh berries)
Seasonal vegetables (carrots, leafy greens, squash, peppers, cruciferous vegetables)
Starchy Vegetables (potatoes, sweet potatoes, corn)
Plant Proteins (dried beans, dried lentils, chickpeas, edamame)
Whole Grains (brown rice, whole wheat pasta, whole wheat bread quinoa)
Breakfast Foods (rolled oats, granola, dried fruits, chopped nuts)
Dairy (cheese slices, milk, plant-milks)
Frozen (vegetables such as peas, corn, mixed vegetables, and stir-fry vegetables)
Nuts and Seeds (nut butters, pumpkin seeds, chia seeds, flax seeds)
Canned foods (diced tomatoes, tomato sauce, salsa, coconut milk, canned beans)
How Much Should You Spend A Week On Food?
How much you should spend on a weekly food budget really depends on the number of people you are feeding, and the budget you are aiming for.
For a family of 4, it might be reasonable to consider a budget of $100 a week. Or for a couple, $50 a week.
Many of us end up spending more on groceries than we think. However, if you implement the tips below, you will soon find that it is possible to keep to your grocery budget.
What Are The Cheapest Places To Shop For Groceries?
Aldi: I find that Aldi is one of the best places to find healthy groceries on a budget. They have organic fruits and vegetables, dried beans, lentils, pastas, and just about anything you might want.
When I go there to shop, and stick to my list without getting distracted by the packaged foods, I'm able to keep my grocery bill down to a minimum.
Costco: When it comes to buying in bulk, Costco is the way to go! However, it's not always right for everyone. First of all there's a cost for membership. So if you don't shop there often, it can be money wasted.
It's also important to stay focused and to your list. Stock up on items that you use on a weekly basis. For example, Costco is a great place to get canned beans, pasta sauce, nut butters, rice, and pastas at an inexpensive rate. You end up spending a lot initially, but you'll have the pantry basics you need for an entire month.
Regional Grocery Chains: There are many different regional grocery chains. Too many to name. If going to these stores, remember to use the tips below to help you save money.
Trader Joe's: While Trader Joe's can be on the more expensive side for some things, you can also find many deals on items you might not be able to find in another stores. I don't recommend buying their produce, it's usually more expensive than other places, but items such as tofu, beans, trail mix, cheeses, etc are sold at a reasonable rate.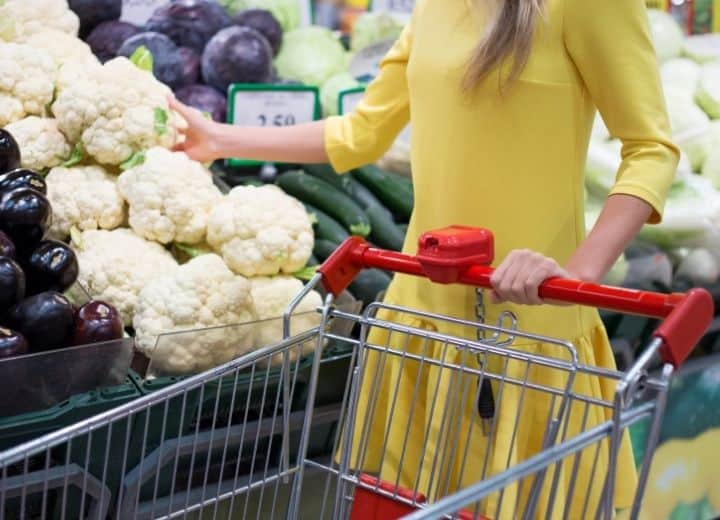 Top 10 Budget Grocery Shopping Tips
These top 10 budget grocery shopping tips will help you on your way towards budget-friendly healthy grocery shopping!
Tip #1 | Shop the sales:
Most grocery stores have all kinds of sales going on at any given point in time. Look for the weekly specials, the produce that's on sale, and any deals (like buy 2 get one free) throughout the store.
Before I go to the store, I'll browse the advertisements, and make a list based on what is on sale for the week. I'll also decide on what recipes I want to prepare for the week based on what's on sale.
Tip #2 | Buy in-season
In-season produce is always cheaper. Produce that is not in season has to be shipped from across the world and that shoots up the price pretty quick.
This site is a great resource to figure out what's in season in your town (so you can get the best bang for your produce buck!)
Depending on where you live different produce may be in season. However, for most of us living in the United States, follow a similar seasonal growing season.
Another tip, the fruits and vegetables that are on sale are also typically the ones that are in season.
Winter Months: Brussel sprouts, citrus fruits, squash, dates, leeks, persimmons, pomegranate, bananas, turnips, pears.
Spring Months: Apples, apricots, asparagus, avocados, bananas, broccoli, cabbage, carrots, celery, garlic, kale, mushrooms, peas, pineapples, strawberries, spinach, Swiss chard.
Summer Months: Beets, bell peppers, blackberries, blueberries, watermelon, cantaloupe, honey dew melon, cherries, corn, cucumber, eggplant, green beans, mangos, peaches, tomatoes, zucchini
Tip #3 | Try coupons
Individual stores have catalogs (usually located in the front of the store) with coupons you can use that same day! You can also find great online coupons — which you can even search for by your area (so you get the best grocery deals near you!)
Many stores also now have apps you can download to your phone, where you can clip coupons, and then scan a code.
Tip #4 | Buy generic
Brand names cost way more. That's just a rule of thumb. And most in-store/generic brands are just as good! Case in point: Whole Foods' 365 brand which, especially when on sale, is extremely affordable.
Tip #5 | Buy frozen:
Frozen produce is just as good as fresh produce, and it works perfectly if you're looking to spend a little less, especially on out-of-season items.
Tip #6 | Buy bulk:
The bulk section has become my best friend. Many grocery stores now have a bulk section where you can get everything: spices, nut butters, oils, honey, maple syrup, grains (like oatmeal and quinoa), pasta, beans, cereals, dried fruits, the list goes on.
And you save a ton because you don't pay for the "packaging" at all.
In addition, you only buy what you need. If you're making a recipe that calls for 1 cup of something, all you need to buy is the 1 cup, instead of a whole package of something you may not use again!
Tip #7 | Avoid the middle of the store
Most packaged foods don't have nearly the same nutritional value as whole unprocessed foods like produce, fresh dairy, fresh meats, and whole grains.
You end up paying a lot more for a lot less nutrition – so my suggestion would be to stick to the perimeter of the store and cook meals at home using tons of spices for flavor!
Tip #8 | Make a list
And stick to it! That way you aren't distracted by any of the enticing goodies you might come across during your shopping (but that you don't need!)
It's also helpful to create a meal plan. Use this helpful meal planning template to stay on track!
Tip #9 | Don't shop hungry
This relates to Tip #8 above, but basically, if you end up going to the grocery store hungry, you will buy a lot more of those "impulse" purchases that you probably don't need. Eat first, then shop.
Tip #10 | Choose meatless protein sources
Foods like beans, lentils, etc. are wonderful protein sources and are also extremely good for you! They're also insanely cheap – especially if you buy them dry and in bulk (although canned is pretty cheap also). Switch to meatless a couple of nights a week and your health and wallet will thank you!
Check Out These Other Helpful Grocery Guides!
I hope this post helped you to find some strategies to make your grocery shopping more budget friendly! You can also FOLLOW ME on FACEBOOK, TWITTER, INSTAGRAM, and PINTEREST to see more delicious, healthy, family friendly food!
32 responses to "Top 10 Budget Grocery Shopping Tips"